Maundy Thursday (2006)
Posted on November 1, 2013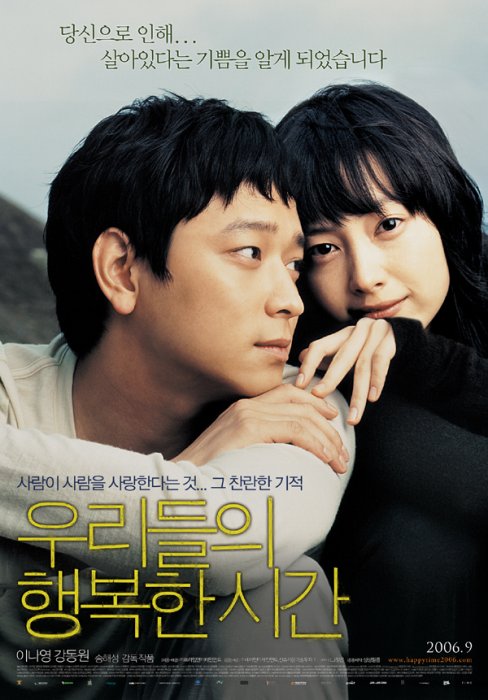 Director: Song Hae Seong
Casts: Kang Dong Wan and Lee Na Young
Genre: Melodrama and Romance
Running Time: 120 minutes
Certi: 18
Yu Jeong (Lee Na Young) and Yun Soo (Kang Dong Wan) are introduced by Yu Jeong's aunt, Sister Monica. Yu Jeong wants to commit suicide while Yun Soo has a tough time in his life because of his abusive father. He was left in an orphanage with his younger father after his father's suicide and his mother left them behind. Because of that, he was involved in a violent crime so he has to be punished through three counts of murder. On the other hand, Yu Jeong comes from a rich family. However, she was left alone due to lack of love and attention from her family. Two of them open their hearts and have the motivation to live and care for each other. Yu Jeong realizes how selfish she is while Yun Soo felt guilty about the crimes he had committed.
Among Director Song's films, "Maundy Thursday" is my favourite. Two main characters meet and understand about each other. Each of them has their own story to tell. Each of them understands about themselves and the meaning of love, happiness, and life. I admired their chemistry in acting well together in portraying as lovers and friends. It was interesting to see how two persons start to have great relationship and friendship. Their side stories are shown but they meet each other to share their problems and support each other. The flow of both side stories and the story of talking to each other is smooth and steady without confusion. At first, it was rocky but then things go smoothly until Yun Soo has to go. Both of them know what they had done wrong and they have to forgive, apologize, and thanks to their friends and family. This is a perfect storyline.
Yu Jeong and Yun Soo meaningful conversations and meetings on every Thursday
Also, this film consists of a little bit of metaphorical elements. It reminds me of "Tuesday with Morrie". Every Thursday, both Yu Jeong and Yun Soo meet to have joyful conversations until Yun Soo is executed. Each meeting that they have is meaningful and memorable as their conversations give them the light and realisation for their own mistakes and what can actually make them happy. Then, the ending is amazing. Instead of having credits and black screen, polaroid pictures with wonderful memories are shown together.
I would recommend you all to watch this film. There is great chemistry between Yu Jeong and Yun Soo as lovers and friends. There is great cinematography. The storyline is wonderful. It reflects what it means to be loved and be happy in life. You'll love it.
Rating: 9/10
Tags : Film,Kang Dong Wan,Lee Na Young,Melodrama,romance,Song Hae Seong