My Love From Another Star (2013 – 2014)
Posted on April 1, 2014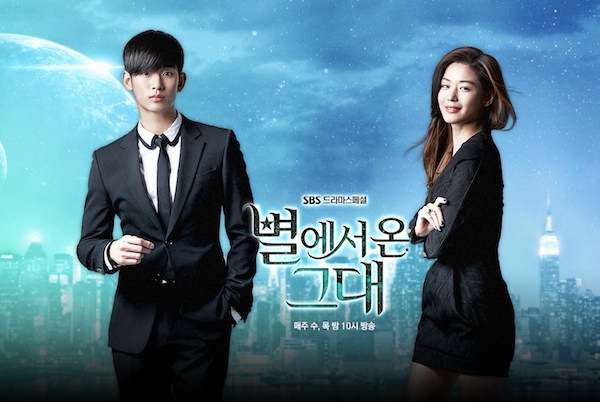 Do Min Joon (Kim Soo Hyun), an alien, came to Earth during the Joseon period. He has live for the 400 years. Not only he still has his young and charming looks, he has supernatural abilities such as time control, teleportation, and sharp hearing. He doesn't get along with humans. So, at times, he does his activities alone. One day, the news announce that the orbit will be passing Earth in three months. While preparing to leave, he meets and fell in love with the A-list actress, Cheon Song Yi (Gianna Jun), because of her resemblence to a young girl whom he met during the Joseon period. Cheon Song Yi does what she can do in keeping up with her talent and personality as a A-list actress. At the same time, she falls in love with Do Min Joon.
(Source: 1theK YouTube)
I was looking forward to this drama because of Kim Soo Hyun and Gianna Jun. I watched both of them in the film, The Thieves, which I like them together as a couple. I wanted more from them and was so excited that they were acting together in this drama. Its storyline, focusing on love within time and destiny, was quite interesting especially influenced the audiences to either think or fantasize about loving someone within limited time. The time and destiny that keeps Min Joon and Song Yi love on wild ride. Also, it presents the side story of certain plots and 'interviewing' with Min Joon about his love and life on Earth. For example, before the episode ends, a small side story of either Min Joon or Song Yi is revealed about how either one of them or both end up in situation including when the love sparks. Their side stories gear back into the main plot of the storyline which give understanding about what is going on with them. Even though the middle of the storyline was slightly loose, during the chase of mysterious killer, the storyline later comes back into a steady pace. There is the push-and-pull love relationship between Min Joon and Song Yi which can be a bit annoying but I continue to watch till the very end. So, you probably have to keep watching until the exciting parts pop up in the later episodes.
The characters in "My Love From Another Star": Do Min Joon (Kim Soo Hyun) – Cheon Song Yi (Gianna Jun) – Lee Hui Kyeong (Park Hae Jin) – Yoo Se Mi (Yoo In Na) – Lee Jae Kyung (Shin Sun Rok)
The characters have their own different personality. Both Min Joon and Song Yi have strong characteristics while others are mild but they are able to support the storyline along the way. Min Joon is a serious guy but has sensitive feelings as he questions himself about being in the human world. At the same time, slowly, he started to have feelings for Song Yi. He, sometimes, used his superpowers to protect and be together with Song Yi especially when he has the power to stop time. These moments fantasy but also romantic which made me fantasize for a moment in what sort of romance would you want to be in with that special person. Song Yi has the most over-exaggerating personality I have ever see and I love her to bits. She learns what is loving someone and hoping that someone will be there by her side. It was sweet and heartbreaking to watch the lovely Min Joon and Song Yi couple that makes us laugh and cry. I still remember the best moments they have in this drama including the snow scene. As said before, the casts of supporting characters are not that strong. Both Hui Kyeong and Se Mi have slightly weak personality but doing what is right for themselves and their closed ones. Jae Kyung is scary with his actions and facial expressions. Still, they don't spark my interest as the characters' attributes are not as strong as Min Joon and Song Yi. At least it is supporting both the storyline and Min Joon and Song Yi couple. 
Love and hate relationship between alien (Do Min Joon) and human (Cheon Song Yi)
I am absolutely impressed with Soo Hyun's and Gianna's performance in this drama. Soo Hyun did well in presenting his serious charisma and sensitive emotions. I was moved by his performances including the scenes where he cries in tears. Also, it was enjoyable to watch how Soo Hyun try to make some scenes funny while his facial expression is serious. Gianna Jun is one of the best actresses that I loved. Through this drama, she gets the opportunity to expand her acting skill, both actions and personality. She is so hilariously funny in portraying with exaggerate feelings and actions. She courageously do the craziest things that made me laugh so much including the scenes where Song Yi was totally drunk or heartbroken or talking in English. Also, she did well in acting being sad and heartbroken that made me tear a bit. In my opinion, both Soo Hyun and Gianna are the perfect duo that has splendid performance. The duo made me laugh and cry so much that I give huge applause to them. They are one of my favourite acting couples, with great chemistry, in dramas.
(Source: 1theK YouTube)
Although My Love From Another Star's storyline is slightly lose in the middle, but, as a whole, it is enjoyable to watch how to look into Min Joon's and Song Yi's feelings about each other in their side stories while the both of them have love arguments. With the theme of love attached to time and destiny, it makes the storyline quite interesting including the moments that you will fantasize or something you could relate to when it comes to romance. Soo Hyun and Gianna Jun gave excellent performance in this drama. Their acting skills are getting better. I hope to see more of them in both films and dramas. This drama started off with so much laughter and, then, being more romantic which will make you smile and cry. So much love fights and wanting to be together and forever. However, trust me, by watching it till the very end, you will not be totally disappoint with this drama.
Rating: 8/10
Tags : drama,Fantasy,Gianna Jun,Jeon Ji Hyun,Kim Soo Hyun,romance,Romantic Comedy,TV