No Breathing (2013)
Posted on May 1, 2014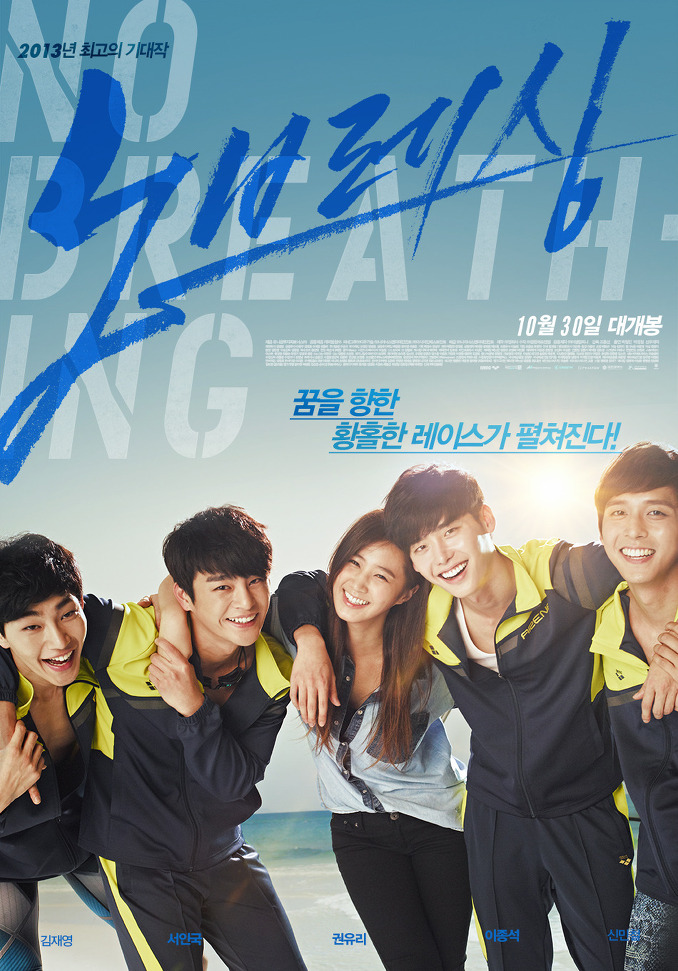 Director: Jo Yung Sun
Casts: Lee Jong Suk, Seo In Guk, Yuri, Shin Min Chul, Kim Jae Young, Park Chul Min, and Park Jung Chul
Genre: Sport
Running Time: 118 minutes
Won Il (Seo In Guk) is talented in swimming but he has not interest in being involved in sports. After he is kicked out from his high school, Jae Suk (Park Chul Min) persuades him to join the swimming team at the sports high school. Then, Won Il decides to attend this school and join the team. Meanwhile, Woo Sang (Lee Jong Suk), a national swimmer, is sent to the same school because of fighting with other competitors in the previous competition. Woo Sang always aim to be number one. Both Won Il and Woo Sang, who are in the same swimming team, meet which starts the journey of passion, rivalry, and friendship.
You can easily spot a few themes that you could relate to in your everyday life. I like how the film take it slow and easy from the introduction of characters till the build up on how each of them want to fulfil their dreams and happiness. Both Won Il and Woo Sang have different personalities. Won Il is the bright and jovial one while Woo Sang is serious but has charismatic charms. There is a lot of build up on rivalry between the  both of them. Yet, Won Il tries to make friends with Woo Sang like how he hangs out together with his new swimming mates. The friendship blossoms as they soon realize each other's problem that they decide to help each other. That friendship is not beaten by their love crush, Jung Eun (Yuri).
Woo Sang (Lee Jong Suk) and Won Il (Seo In Guk)
Meanwhile, you see how the close relationship with their fathers are. Won Il thought that his father, who passed away since at a young age, always think about swimming rather than spending time with him. On the other hand, Woo Sang's father set what is right for his son without thinking how he feel about it. Again, their side stories build up as they soon realize that their fathers love them but they don't actually know how to convey their feelings to their sons. I did tear up a bit when Won Il watches a touching video message by his father who was interviewed a long time ago. The bond between father and son is presented clearly that viewers can recall their memories and moments with their fathers and children.
The choice of cast is selected nicely based on their personality and acting skills. Seo In Guk, Lee Jong Suk, and Yuri showcase their individual talents which you could have seen in the dramas that they have previously acted in. Seo In Guk goofy, cheerful, and serious personality had always make me smile. Lee Jong Suk charismatic aura shines while being sweet and lovely. Both of them certainly melt the viewers', especially the ladies', hearts. Honestly, compare to the drama Fashion King, Yuri plays a better role in No Breathing. Rather than being the sexy lady, Yuri is able to show the 'girl-next-door' style that really suits her well. Still, it shows how much she could do to improve her acting skills along the way. These young rising actors have talent but of course there is so much that they are willing to take the challenges in improving themselves in their acting careers.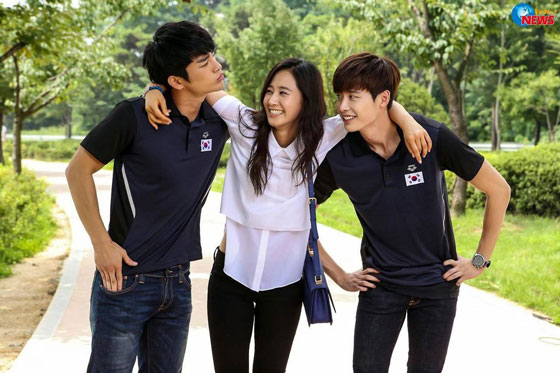 The young rising actors: Seo In Guk, Yuri, and Lee Jong Suk
Overall, No Breathing is a light-hearted film that conveys the importance of friendship and family that viewers can relate to. Seo In Guk, Lee Jong Suk, Yuri, and the rest of the casts have played their part in bringing out youthful and cheerful energy through the portrayal of characters. Not too complicated. It is simple but meaningful film that you will definitely enjoy watching.
Rating: 7/10
Tags : Film,Jo Yung Sun,Kim Jae Young,Lee Jong Suk,Park Chul Min,Park Jung Chul,Seo In Guk,Shin Min Chul,Sport,Yuri