Oasis (2002)
Posted on August 27, 2013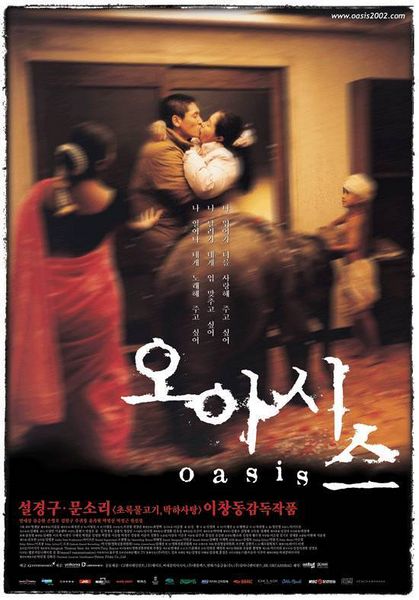 Director: Lee Chang Dong
Casts: Sol Kyung Gu, Moon So Ri, Ahn Nae Sang, Hong Jong Il, and Ryoo Seung Wan
Genre: Drama, Romance, and Arthouse
Running Time: 132 minutes
Certi: 18 (South Korea)
Jong Du (Sol Kyung Gu) just released from prison, where he served for three years, because of a hit-and-run accident. He finds that his family has moved without telling him. Jong Du is a social misfit and mentally disturbed person. He got himself into trouble for not paying for the meal at a restaurant. The family, reluctantly, takes him back. One day, Jong Du decides to visit the victim's family. The son is moving out of the house and leaving behind his sister, Gong Ju (Moon So Ri) who has cerebral palsy. The neighbours take care of her while her brother checks on her. Even though her family kicks Jong Du out of the house, Jong Du starts to like her even more.
Here is my thought in my mind: Oh my god! Yes, that's what I think. The film blew my mind away and left my mind having the 'no comments' scenario. If you were in the audience with me, you could see my over-the-top reactions I have while watching this film. At first, I thought it would be a couple who met at India and become a lovely couple. However, this is totally different from what I thought it would be.
This film explores around how the society perceive towards disabled people. Also, it explores how two people, who are not accepted by the society, become two lovebirds in their own little world. Sometimes, you might be disturbed. Sometimes, you might think some parts are cheesy. Sometimes, you find it shocking. Sometimes, you find it lovely when the two of them are together. It is a mix of elements that are packaged into one that shocked your mind.
Jong Du is the character that I love and hate. I hate him because I couldn't accept him as a person who didn't care about how people think. It is the lack of common sense and respect that he has. Besides that, he does have a little bit of sweet side, well only to Gong Ju. There are times that I clenched my fist or cover my mouth or sighing. It is a complicated character which I have no idea what's wrong with him but Kyung Gu has managed to grab hold to the character which gives a perfect bang to the film.
I was so surprised that Moon So Ri has the capability to portray a disabled person. I literally smile and cry towards Gong Ju. I thought that she would normally take on a character as a mother, sister, or a girl-next-door. To me, it was shocking for her to portray Gong Ju in this film but it is very impressive. Moon So Ri blends in with the character on how she acts and feels as a disabled person who wants to be accepted by her family and society. Also, she craves for love and happiness. I like Moon So Ri even more because how she has the capability in portraying various female characters including as a disabled person. I think it is hard to act as a disabled person but I wonder how she can pull it off perfectly.
'Oasis' is a shocking and difficult film to watch but it is also impressive. The characters will make you either love or hate. Yet, it all comes to the point on how people are accepted by the society and their own family and friends. Also, the couple are in their own world of love and happiness where no one would try to break them apart. Although I have the biggest reactions that I ever had throughout my whole life while watching Korean films, but this is by far the best one that I've seen.
Rating: 9/10
Tags : Arthouse,Film,Lee Chang Dong,Moon Soo Ri,romance