Our Sunhi (2013)
Posted on October 16, 2013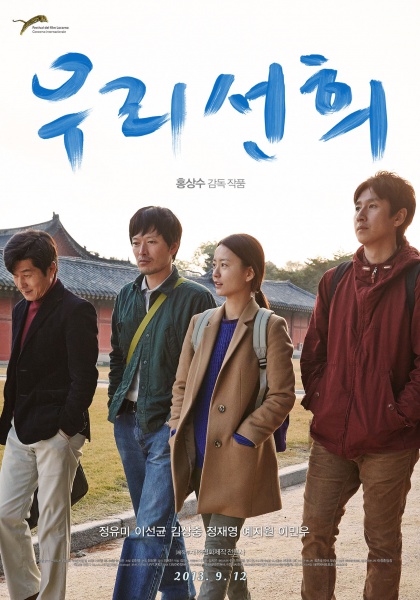 Director: Hong Sang Soo
Casts: Jung Jae Young, Lee Sun Kyun, Jung Yu Mi, Kim Sang Joong, Lee Min Woo, and Ye Ji Won
Genre: Romance and Arthouse
Running Time: 89 minutes
Sunhi (Jung Yu Mi), who graduated from the university in film, wants to continue her studies in the US. She decides to visit Professor Choi (Kim Sang Joong) to get a recommendation letter from him. She expects to get a good recommendation because he likes her a lot. Meanwhile, she meets Moon Soo (Lee Sun Kyun), who just became a film director, and Jae Hak (Jung Jae Young), who is a well-established director. These two men also like Sunhi. This film have been shown to the film festivals in Busan, London, Locarno, Toronto, and Vancouver.
Hong has input his unique filmmaking skills and, some, elements of storyline in his previous works, such as Hahaha, Nobody's Daughter Haewon, in Our Sunhi. If you have watched some of his films, you may have notice some particular elements: characters who are associated in the film area, camera panning and zooming, and repetition of scenes and/or lines.  Majority of his works focus on the concept of film and media sectors. For example, most of the characters are either working for a film company or just graduated from universities in film. He tends to address the importance on people dealing with the ups and downs in film sectors.  Also, he constantly uses the camera to pan or zoom the characters, scenes, or objects which needs to be focused. It draws the audiences' attention on these elements that Hong wants to show.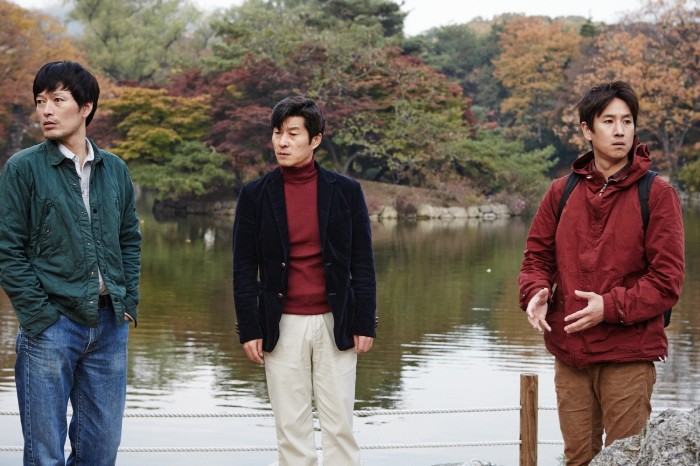 Where is Sunhi? (Source: HanCinema)
Our Sunhi focuses a lot of the characters who said the exact words or concept of sentences in conversations. When two characters are having a conversation, one of the person who heard what the person said will be relayed to another person in other conversations. For example, Professor Choi tells Jae Hak that Sunhi is reserved, has artistic sense, and is smart. Later, Jae Hak tells the exact words, which he heard from Professor Choi, to Sunhi when they had drinks in the evening. This emphasizes on the repetition of adjectives or motivations that present Sunhi's characteristics and telling her to not give up her dreams in filmmaking. Hong's aim in repetition of sentences or words is to lay the person's characteristics and capabilities in situations.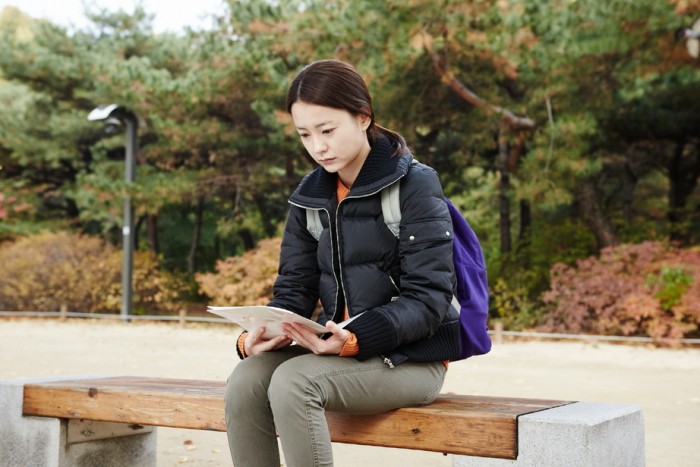 Sunhi reading the recommendation letter which is written by Professor Choi (Source: HanCinema)
In the case of Sunhi, she is confused about her own personality even though she is told so many time by three men. Sunhi is considered as a mysterious person who has no idea what kind of person she is. She secretly meets the three men, who loved her, individually and disappears after having conversations with them. She takes in all the advices and conversations she receive from men and leaves quietly. Furthermore, she doesn't want them to get into arguments if they found out that they like her. The three men like her because of her personality which she doesn't exactly know about herself. They are identified based on their personalities. Professor Choi is a mentor who shares his thoughts. Jae Hak shares his stress over his work. Moon Soo talks about his doubts on just becoming a film director. Each of their conversations are subchapters as they end with the trot song or piano song that signifies their confusion or struggles.
From left to right: Sunhi individually and secretly meets Jae Hak, Professor Choi, and Moon Soo (Source: Critic.de)
All the casts has done well in portraying the characters especially when they are shouting (almost pierced through my ears) and drunk talking. They are able to build up the characters with mild tone emotions which are thrown among each other in conversations. They also put a lot of emphasis on repetition of words and sentence concepts since the main goal is exploring Sunhi's mysterious personality. Our Sunhi fits well with the autumn because of the clothing, with autumn colours, which they worn and the setting which are shown in Korea, such as the  Changgyeong Palace. Hong's unique style in his works clearly identified in terms of mis-en-scene, characters, and storyline while having constant repetition and focus on key elements of the films. Some audiences will have to take time to understand his works especially for first-timers who might be dazed and confused with Hong's auteur films. Others enjoyed his films because of honest storyline and unique concepts in filmmaking. Yet, Hong is one of the good examples in signifying his individualistic style in his works.
Rating: 8/10
Tags : Arthouse,Hong Sang Soo,Lee Sun Kyun