Reply 1994 (2013)
Posted on January 24, 2014

The good old days start in 1994. Six university students from different provincial areas (Jeolla Province, Chungcheong Province, and Gyeongsang Province) live together at the boarding house which is in Sinchon, Seoul. The boarding house is owned by a married couple, who has a daughter, Na Jeong (Go Ara). The timeline paces back and forth between 1994 and 2013 while leaving the viewers to wonder which guy is Na Jeong's husband. From 1994 till 2002, we see a flow of pop culture and key events that happened in South Korea such as oldies music (Seo Taiji & The Boys), TV and drama series (The Hourglass including actors and actresses), Korean Baseball League, IMF crisis, World Cup, and many more.
I was a bit skeptical about Reply 1994 after watching the first two episodes due to its lack of excitement to it. I thought that Reply 1997 was way better than Reply 1994. Yet, I continued watching this drama until I have changed my mind. Reply 1994 is equally as good as Reply 1997.
In each episode, I was drawn to the pop culture and key events that is like memories and reminders of the good old days between 1994 and 2002. You have the hit tracks that were shown in the music channel monthly, while the Sinchon boarding house family were singing and dancing along to these songs, and the Seo Taiji & The Boys fandom. The background music and OSTs are excellent. Then, you listened to them talking about actors and actresses like Bae Yong Joon and Jeon Do Yeon who, currently, are popular within on major films and TV dramas. Not only the pop culture, but also addressing a few key events like the IMF crisis and World Cup 2002. These examples reminds us how they were quite popular and memorable back in the days which people from Generation-Y would talk about it. Younger viewers would appreciate how these people had their moments from 1994 till 2002. The ending rounds up the whole drama nicely with Sam Cheon Po's (Kim Sung Kyun) message about reminiscing and appreciating those memories. Even though we are living in the modern society with technology, there is still room for looking about the past key events and pop culture which we would talk about.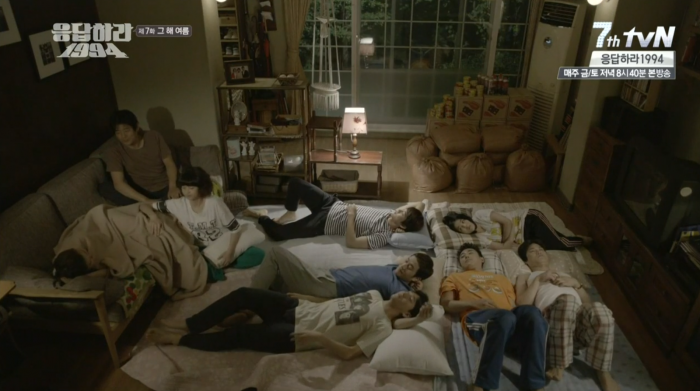 Sinchon boarding house family spend the night together with warmth and love
I wouldn't say that there is the main characters and supporting characters. Every single character in Reply 1994 has something to say about their experiences in the past, such as their own monologues during certain side stories and events. The whole cast is one big happy family who share their happiness and sadness together in each and every year. Sam Cheon Po, Yoon Jin (Min Do Hee), Haitai (Son Ho Jun), and Binggurae (Baro) tried to adapt to the Seoul city lifestyle while missing their hometown. As time goes by, they still have each other including Na Jeong and her family. I admire how Il Hwa (Lee Il Hwa) and Dong Il (Sung Dong Il) treated them like her own children and make them feel comfortable at home. Even though there have been arguments among each other, but they still stick to each other like close friends and family. I enjoyed watching the Sinchon boarding house family that gives me lots of joy, tears, and memories. Every cast has done a good job in playing their characters which led us to say who is our favourites in Reply 1994.
Who is Na Jeong's husband? Trash or Chil Bong?
The best part is that we have to guess who is Na Jeong's husband. Narrowing from five guys until finding out whether it is Trash (Jung Woo) or Chil Bong (Yoo Yeon Seok). In 2013, the wedding video, which Na Jeong's husband face was covered, made me die into curiosity about who he is. This curiosity led me to watch the next episode till the very end of this drama. There were lots of love scenes that made my heart feel jumpy. I even watched certain scenes a few times because those unexpected romantic scenes were really good. They could either make me smile or cry with happy tears. Although Na Jeong went towards to be together with Trash, but some of us wish that Chil Bong and Na Jeong should be together. Trash may look silly but he gives so much love for Na Jeong and does what he can to make her happy. Chil Bong has the pure innocent charm who is trying his upmost best in revealing his feelings to her. I love both of them. Sometimes, I hate either one of them to get hurt but that the love triangle is so intense yet gripping while we are rooting for which couple should be together. 
For me, two thumbs up to Reply 1994. There is a hook that grips me to watch the next episode. I enjoyed watching the Sinchon boarding house family with their own side stories to share. It was good to recall the pop culture and key events in Korea during the 1994 and 2002. That made me loving more of the oldies and classics that I listened to. It's really a walk down the memory lane. There were so many scenes that I really love and those probably will be stuck in my head. The guessing game and romantic love triangle were enjoyable to watch. Reply 1994 has left us wonderful memories and we will miss the warm Sinchon boarding house family.
Rating: 9/10
Tags : Baro,drama,Go Ara,Jung Woo,Kim Sung Kyun,Lee Il Hwa,Min Do Hee,Son Ho Jun,Sung Dong Il,TV,Yoo Yeong Seok