Secret Sunshine (2007)
Posted on August 25, 2013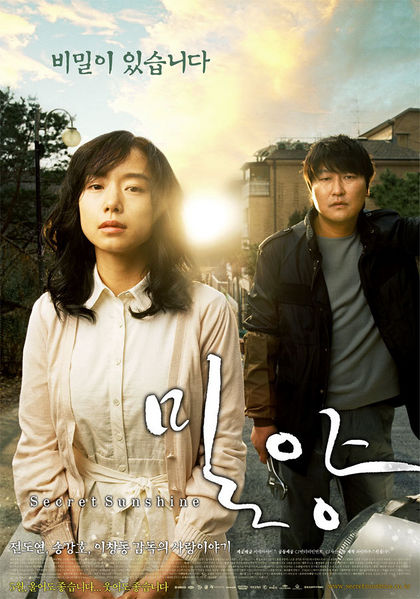 Director: Lee Chang Dong
Casts: Jeon Do Yeon and Song Kang Ho
Genre: Drama and Arthouse
Running Time: 142 minutes
Shin Ae (Jeon Do Yeon) and her son move into a small town of Miryang which means 'Secret Sunshine' in Korean. After her husband passed away, she decided to start a new life at her deceased husband's hometown. On her way to Miryang, Shin Ae's car breaks down and calls for the local mechanic, Jong Chan (Song Kang Ho). Jong Chan falls in love with her instantly and tries to get Shin Ae's attention. One day, Shin Ae's son is abducted that cause her whole life torn apart. While going through this shocking tragedy, she finds a light that lead her within the dark space.
Shin Ae becomes from a single parent to a lonely spouse who is going through the hard times of losing both her husband and son. The most heartbreaking moment that I have to hold back my tears is when her son is abducted. Shin Ae's facial expression and reaction shows how worry she is for her only child. She represents how single mothers or spouses in society have to go through the struggles and pains in their lives. She also tries to get out of the dark path with having hope in the 'light' but she felt betrayed that made her mentally disturbed. Her personality becomes complicated yet attention gripping from blending in with the local community in Miryang to finding her own happiness and diminishing the emotional and mental pain. She even has to cry out loud in agony while beating her chest to get rid of her pain.
Also, there is a strong significance of how some Koreans have faith towards Christianity which sparks my curiosity. It is based on their daily activities in local church and visiting each other's houses. They commit in sharing and spreading this faith to those who are struggling through lives. Although there is positive reaction on how Christianity gives people happiness, but Shin Ae felt differently at the second half of the film. Besides Shin Ae's story, what was Director Lee's intention on inputting the aspect of Christianity among the Korean community in this film? It seems that there are both positive and negative perceptions of this element through how Shin Ae goes from believing in this faith to feeling betrayed later on.
I was totally impressed with Jeon Do Yeon who put on the full extent of emotional and psychological behaviour that blew my mind away. At first she portrayed Shin Ae as an innocent and pure hearted woman who wants to start a new life with the only son. Then, she moves on to evoke an emotionally heartbreaking moment where she cries in pain after encountering the tragedy. She continues to portray two kinds of personalities from one scene to another without letting the viewers in confusion: a pure heart and a mentally unstable one. I could see that she puts whole heartedly on the mentally unstable behaviour that to the extent that she has gone really mad. I applaud for her performance and this is by far one of my favourites among the films which Jeon Do Yeon starred in.
The film itself showcases social and religious values of the Korean society. It breaks my heart to see a woman who lost her loves one and want to get the pain off her chest. Again, Shin Ae is in a dark path and mentally disturbed on what makes her happy while starting a new life. It goes the same with some people who are also going through struggles in life. Christianity in South Korea is clearly shown through this film as some audiences might be intrigued about it. Besides singing hymns and prayers, this makes me wonder how strong and why they do believe in this faith so much to the extent that some people might perceive that they have overdone it. Jeon Do Yeon deserves to be one of the 'Year of the Four Actors' because she is able to pull off very well with various characters with different personalities on each film that she had acted for many years. 'Secret Sunshine' made me emotionally and mentally drained, in a good way, because of both Shin Ae and storyline that caught my attention. I can't express in many words but I could just say about this film in just one word: 'Wow!'.
Rating: 8/10
Tags : drama,Film,Jeon Do Yeon,Lee Chang Dong,Song Kang Ho