Sweet Treat at Cafe Green, New Malden
Posted on November 26, 2013
After doing some Korean groceries shopping at the H-mart, New Malden, what could end the day perfectly with a nice cup of coffee and sweet treats at the cafe. We wanted to go to The Place cafe but it is closed on Sundays. Sad that I wasn't able to savour their delicious coffee and waffles.  I will come back to this cafe next time on weekdays.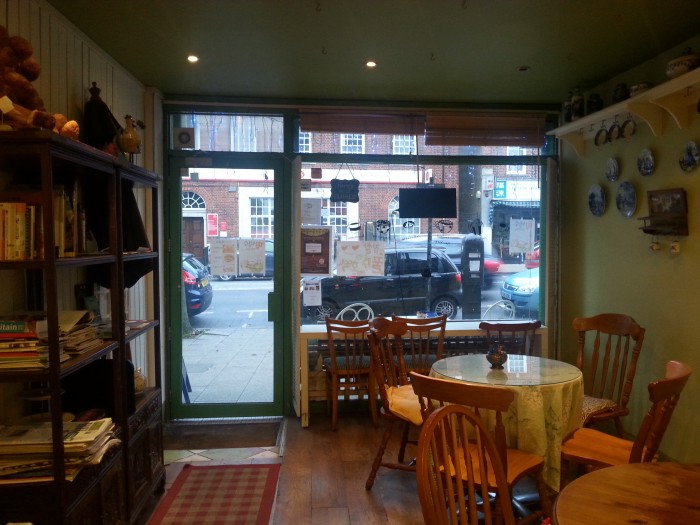 Luckily,  my friends told me that there is another cafe along the high street. That cafe is Cafe Green. It may look small on the outside but size of its cafe stretched towards the back where customers can sit comfortably to enjoy their tea time. We are welcomed with warm atmosphere with simple decorations.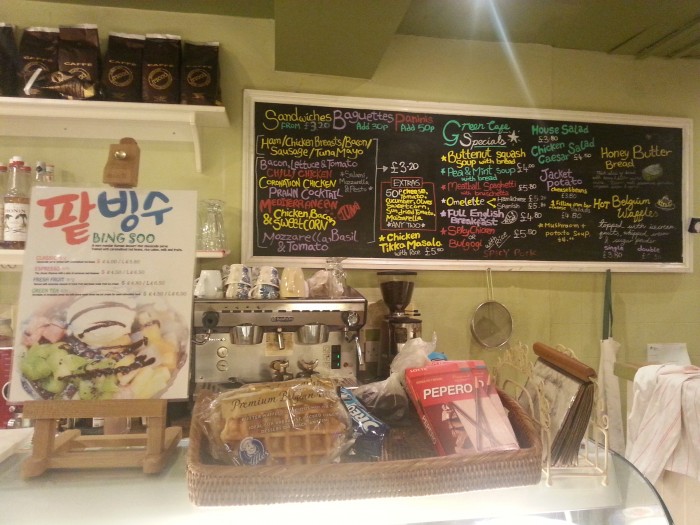 After we found a table to seat, we went over to the counter to check out the menu. We couldn't decide what to eat because there are so many dishes which look so tempting. Later, we came to a decision on what to order.
From left to right: Chocolate Latte – Cappuccino – Green Tea Latte
For the drinks, my friends had Green Tea Latte and Chocolate Latte. I got myself the usual drink whenever I am at cafes: Cappuccino. The lattes were not to milky as I can still taste both green tea and chocolate from those drinks. You can ask for a shot of sugar syrup if it's not sweet enough. For me, I rather have just as they were without the sugar syrup. The cappuccino has the bittersweet taste since I prefer not to put sugar in it. The drinks are served nice and warm. The drinks are quite reasonable as one drink costs between £1.80 to £3. My cappuccino costs £1.80 and it's a good coffee that I loved.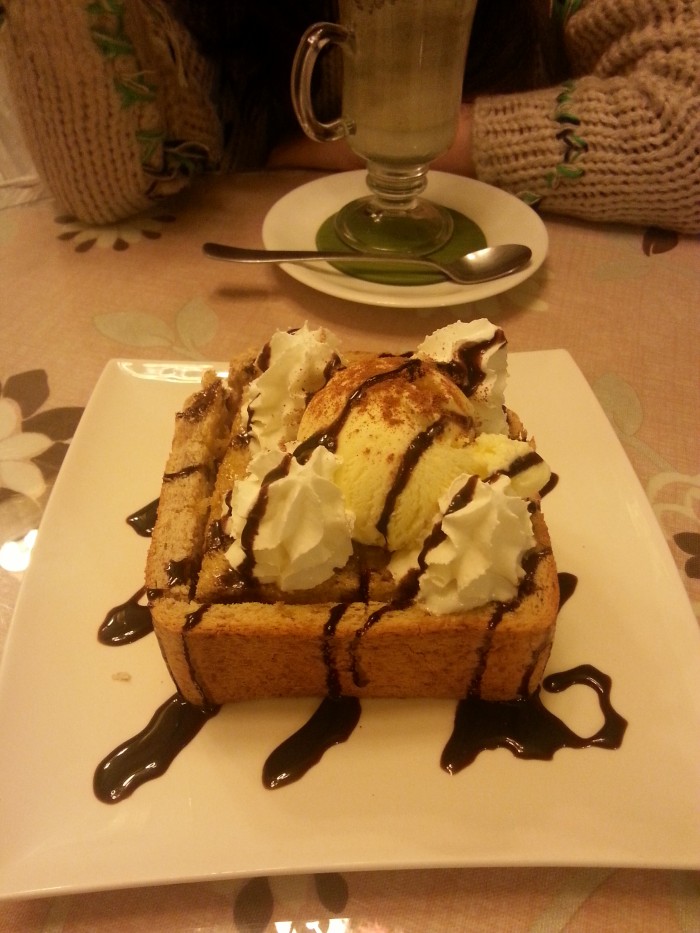 Honey Butter Bread
We slowly enjoy our drinks until our sweet treats arrived. We had the Honey Butter Bread. The texture of the bread is not too dry because it is slightly soaked with honey and butter. It is quite sweet which made me smile. Also, by eating together with ice cream, whip cream, and chocolate sauce, it is an absolute sweet delight. A definite warm treat to keep us comfy in the cafe.
Hoddeok, Korean Pancake
The dish of the day is the Hoddeok (호떡), Korean sweet pancakes. This is the star because the pancake is not to hard and dry. Inside the pancake is the delicious cinnamon sauce that rounds up the taste of heaven that is dancing in my mouth. It is the perfect warm treat to be eaten during winter. Till now, I still keep thinking about the heavenly warm hoddeok that makes me crave for more.
Having warm drinks and yummy treats are perfect for the cold winter. Both food and drinks are affordable.  It is best to eat these treats together with your friends. So, you can try a little bit of everything while chatting with your friends. If you are looking for a nice cafe, in New Malden, Cafe Green is the place where you should drop by. In the cold winter, if you are planning to go to that cafe, be sure to order the warm sweet treats. These will definitely warm you up with smiles and joy.
Tags : Cafe,Hoddeok,New Malden