SXSW 2017 Announced K-Indie Artist Line-up
Posted on January 13, 2017

(Source: SXSW Official Website)
South-by Southwest (SXSW) 2017 has released the list of artists who are going to perform at this year's music showcase. The event will be held on 10 – 19 March 2017 in Austin, Texas. Talents from around the world come together to showcase their music to old and new audiences, enhance their career and gain promotional exposure.
Here are the artists who will be performing at this year's event.
Galaxy Express
호롱불 (Source: 3cookresist YouTube)
Back in 2011, they embarked their first North American tour including their performance Canadian Music Week (CMW) and SXSW. Then, in 2012, they had their second American tour and received praises from New York Times and The Austin Chronicle. This year, they will be back to perform at the SXSW 2017. Upon hearing the news announced on their Facebook page, both old and new US fans are excited to see their live performance  in March.
Glen Check 
 60's Cardin (Source: BoiceinPink YouTube)
The popular new wave Korean electronic music duo, Glen Check will be bringing their genre-bending mix of addictive electro-beats, rapid synths and upbeat guitar sounds. This will be their second appearance at SXSW.
Luna Lee
 Paint it Black (Source: Luna Lee YouTube)
Luna Lee plays Gayageum since she was 11 years old. After she graduated from university, she started to expand her Gayageum playing skills by covering songs by Nirvana, Rolling Stones, U2, Pink Floyld and many classic rock musicians. Luna continues to create new playing techniques and widen her music palette. She has been posting over 100 videos on YouTube, covering blues, classic rock and popular songs for the past seven years. These videos gained 15 million views and over 90,000 YouTube subscribers. She will be making her first appearance at SXSW 2017.
Neon Bunny
Romance in Seoul (Source: Sofar Sounds)
Neon Bunny is invited to have her second appearance at the SXSW 2017. In my earlier interview with her, she mentioned that she was surprised that her fans know the lyrics and they sing along to them while she performed last year. She will be performing her setlist including the new songs from her latest album, Stay Gold.
Windy City
(Source: sashimikid YouTube)
A reggae & soul band, Windy City, had their first live performance at the SXSW back in 2013. This year, they will be back to introduce the old and new sounds of traditional music. Listening to these sounds made you imagine that you are taken on a journey and relax in an island with a nice cocktail as you watch the mesmerising sea view.
XXX
1775 (Source: BANATV YouTube)
Hip-hop duo, XXX, consists of rapper Kim Ximya and producer FRNK, debuted last year in June and become internationally known by major labels and media, With their debut album KIYOMI, '1775' was officially released in a live performance video. They will be performing at the SXSW 2017 for the first time.
Kollaboration Music Showcase – Big Phony and Run River North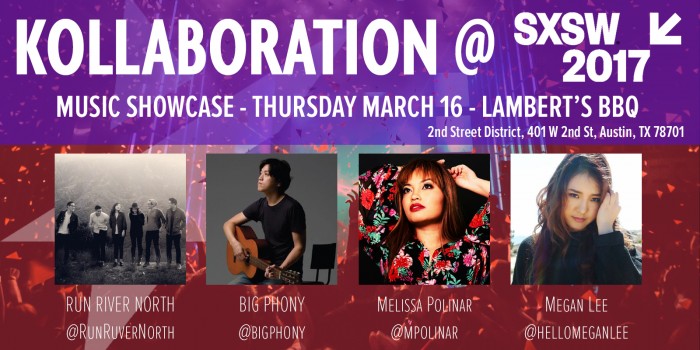 (Source: Kollaboration Official Website)
Kollaboration will be having their first official music showcase at SXSW 2017. The music showcase features Asian American artists which will take place at Lambert's Downtown Barbeque on Thursday, 16 March. Along with Melissa Polinar and Megan Lee, Big Phony and Run River North are part of this year's lineup.
Big Phony
(Source: Kollaboration YouTube)
Known for his honest lyrics and natural talent, singer-songwriter and K-Town Cowboy star Big Phony fell in love with Korea, his parent's home country, and decided to stay to expand his music career. From there, he discovers the connection between himself, his family, people and culture. He started to understand the Korean indie music scene and performed in more than 50 live venues as well as radio and TV. He is the lead actor of his own indie music film Fiction & Other Realities (2017) which is currently in post-production. He is excited to be heading back to the US, where he is born and raised at, to perform again at SXSW.
Run River North
29 (Source: Jam In The Van YouTube)
Run River North expand their music talents by releasing Drinking From A Salt Pond, an ambitious rock album while maintaining their modern folk sounds. Last year, they came to Korea for the first time. They appeared in local radio and TV shows including EBS Live Music and performed at Incheon Pentaport Rock Festival.  While they perform across the US, they will be back at this year's SXSW. 
Sign in at SXSW schedule to find more details about when and where they will perform.
Tags : Big Phony,Galaxy Express,Glen Check,Luna Lee,Megan Lee,music,Neon Bunny,Run River North,SXSW 2017,Windy City,XXX