"Talk to Me Darling" with Ji Eun Kim
Posted on October 12, 2014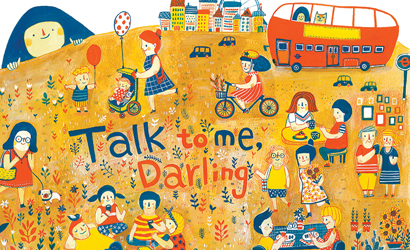 Credit: The Drawing Hand
Ji Eun Kim, known as the Drawing Hand, came to London to have her second solo exhibition at Mokspace. The theme for this exhibition is Talk to Me Darling which means having fun conversations with close friends and the people they meet along their journey. Similar to her previous illustrations which she had shown at her Serendipity exhibition last year, Ji Eun continues to bring the colourful, joyful and dreamy-like illustration to the visitors.
"Drinks" Illustrations from different countries – "I am a Dreamer" Illustrations [Photo Credit: Maksim Kalanep (maksimkalanep.info)]
In her previous interview, she mentioned that all her colourful illustrations are based on her experiences in London and other countries. These experiences inspired her to create different colour palettes and illustrations. The different objects and colours within each illustration are based on the different cultures that she exposed to such as the "drinks" drawings. She also previously collaborated with MiZi Show which led her to create "I am a Dreamer" drawings. These are based on how each character has their own personality, story, and dreams that shown within themselves. It has a mix of mystical and dreamy vibe that takes visitor to another inspirational world. Ji Eun had a mini workshop for visitors to colour their character that has different shapes which they can put any colour they want to. It a great fun activity for visitors to be creative.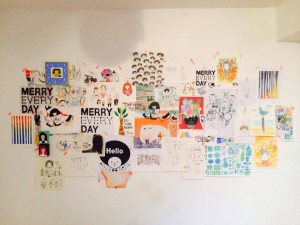 Mini Workshop – Cups with Summer Drawings – Ji Eun's Mood and Inspiration Wall (Credit: The Drawing Hand Facebook)
As this exhibition was held during the summer, she drew out lots of summer-themed illustrations with bright and sunny colours. You can see how the characters are enjoying the summer by the park and beach. Ji Eun's mood and inspiration wall is one of my favourite pieces to admire and appreciate. It is a collection of her drawings which she had drawn out on a daily basis, whenever and wherever she feels to create illustrations with different colours and characters within the surrounding. It is a form of happiness, experiences, and memories that she aims to share to the lovely visitors.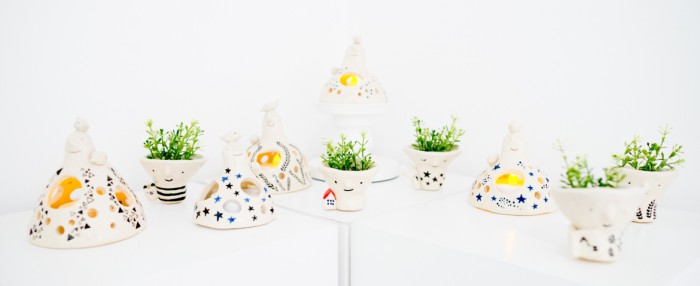 Ceramic Pots and Candle Holders [Photo Credit: Maksim Kalanep (maksimkalanep.info)]
She started to create different art forms which are ceramics. She created small pots and candle holders. Each of them has the curvy form and cheerful smiles that complimented their unique personality. It certainly is a good choice of having them as decorations to light up the visitors' homes and workspaces. A great start for her to try to create something different but keeping her aim in spreading happiness through her works.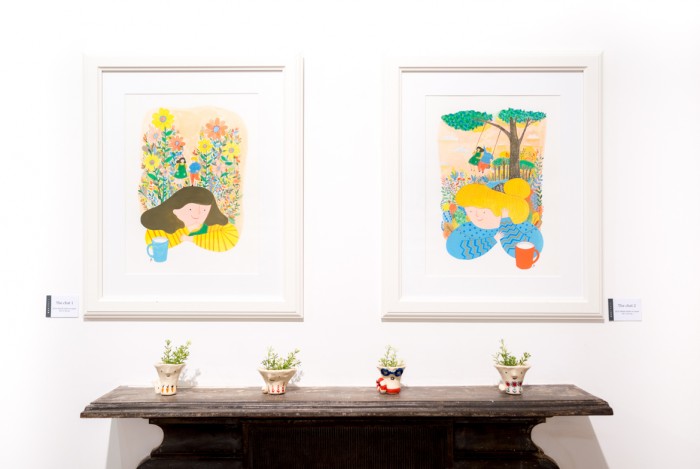 Photo Credit: Maksim Kalanep (maksimkalanep.info)
Ji Eun is an illustrator who shares illustrations in communication form. Colourful and happy illustrations that brightens the visitors' moods and hearts. Even when you feel moody especially on a cloudy day, you will look at these illustrations, smile, and think: "You will going to have a lovely day. You will have a great time with your friends and families. You are going to share joyful tales and laughters with them." Her illustrations and ceramics engage with the visitors' heart, mind, and soul.
To view more of her works, follow her on Facebook, Twitter, and Instagram. You can also look at how she created her works at her website and Grafolio.
Tags : Art,Illustration,Kim Ji Eun