Taste of Korea: Exploration of Korean Food
Posted on July 4, 2014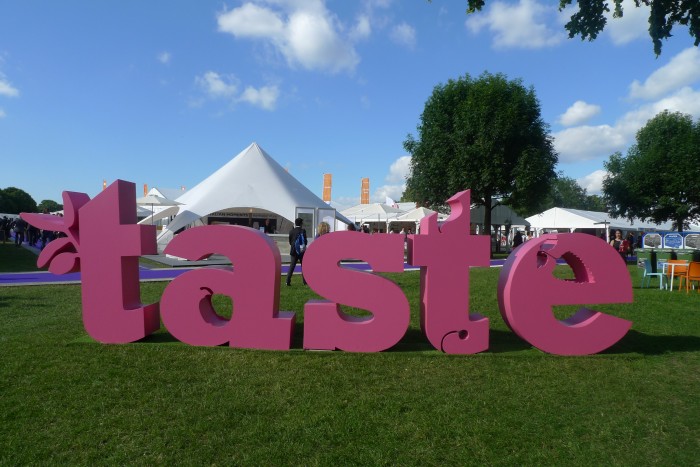 The Taste of London is a place where Londoners and many visitors from around the world savour different kinds of food from different restaurants. This summer, 18 – 22 June at Regent's Park, Korea Foods, the main importer, retailer, and distributor of Korean foods in Europe, grabbed this opportunity to present the wonders of Korean food to the visitors. They gave visitors the opportunity to savour different kinds of Korean food, from street food to products from each brand.
Visitors sampling Korean food products
During my visit at the Taste of Korea booths, I saw many visitors trying out samples of products that included kimchi, sauces as either cooking or dipping sauces, mandoos (dumplings in Korean), snacks, instant ramen noodles, red ginseng tea, aloe vera drinks, and many more. It gives the visitors an idea of what kind of ingredients, like the sauces, make the Korean food so delicious that they would ask for more. Some of them came back for trying more of the samples. In addition to that, some of them bought the products so they could use them for cooking.
Busan BBQ and YOGIYO! giving some samples to the visitors
At each session (afternoon and evening) of the day, different Korean street food traders provide some samples of their food speciality. Busan BBQ (burger sliders), YOGIYO! (while serving with their special gochujang which will be in stores soon), KORRITO (kimchi fried rice), Yijo, Choi Boys, Jubo London (Korean fried chicken), and Galbi Bros (burgers) sparked the visitors curiosity about the mouth-watering food that they know where to find them in different London street food areas. A mix of Korean and Western fusion on street food pleased the visitors' palettes followed by cravings for wanting more and more.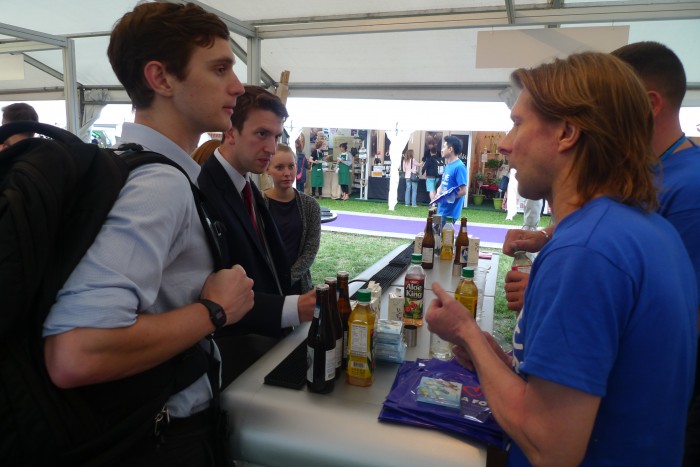 Explaining about the Korean alcohol drinks at the bar
Popular drinks like somaek (combination of soju and beer), soju with aloe vera, and just soju and Hite beer alone are sold at the bar while the Korean tunes were played out loud. Simple drinks but another great introduction to visitors to understand the drinking culture that is popular in Korea. Surprisingly, soju were not only sold in bottles but also in packets which is really new to me.
Hand massage at the Korean Tourism Organisation booth – The after effect hand massage on my hands
After feeling tired from all the walking around the Taste of London to savour some dishes, it was time to drop by at the Korean Tourism Organization booth. The booth features various aspects of Korean culture. Not only the food but also in tourism aspects which visitors would like to do when they want to visit Korea in the near future. Also, visitors get the chance to have a hand massage through a machine. It takes about three to five minutes of hand massage that made you feel relaxed. It may be pressured on some points of the hand but it means that some part of the organ or blood circulation are not healthy. Thus, with the hand massage, despite having pressing points all over my hands, I felt energized and continue in enjoying the rest of the day at the Taste of London and Taste of Korea.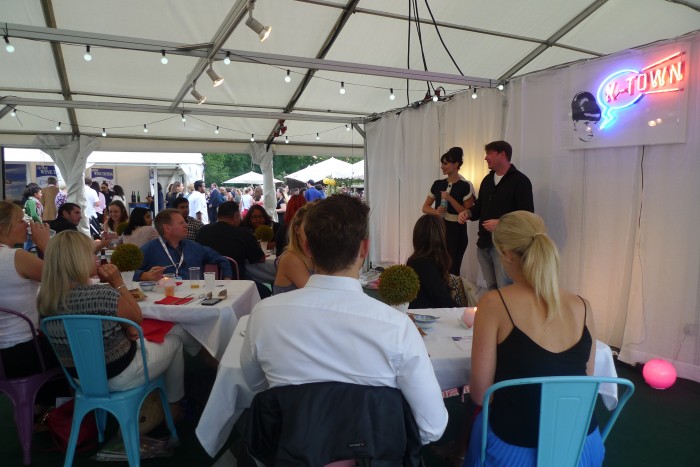 Sunday Times writer, Gizzi Erskine, and ZenKimchi Korean Food Journal writer, Joe McPherson talking about Korean food to the diners
The main highlight that blew my mind, plus the taste which I would never forget, is the six course Korean meal, cooked by the Sunday Times writer and cook, Gizzi Erskine. Gizzi Erskine went on an all-round food tour in Seoul, Busan, and Jeju Island to enjoy the five senses of Korean food. With that experience, she incorporated them into her cooking and served to ten to twelve lucky diners in each session. I was lucky to be one of the diners to try these dishes. Looking at the menu made me really excited to eat every single one of them.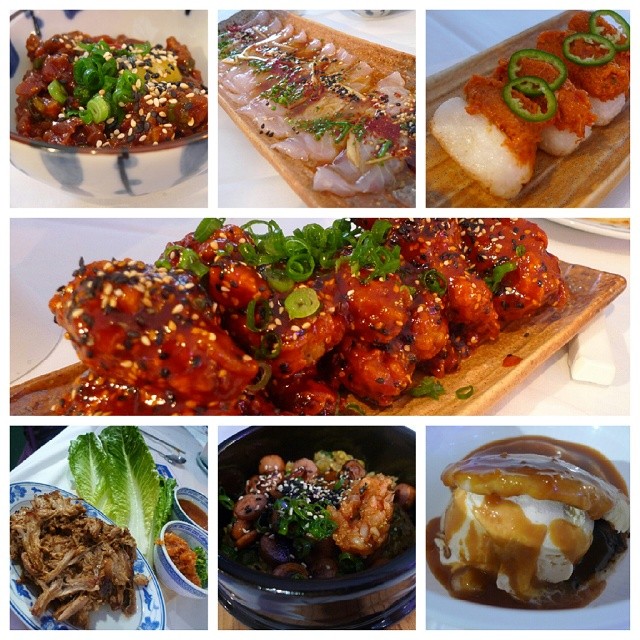 Yukhoe – Hot Splash Sashimi with Ponzu and Korean Pepper – LA Style Korea Town Crispy Tuna Rice – Korean Fried Chicken – Bossam Style with Pull Pork – Hotdog Fried Rice – Hotteok with Miso Ice Cream from Ice Cream Union
Every single bite of food melted in my mouth but it made me smile with squeals of happiness. The sashimi-style raw fish with a spicy kick served together with yukhoe (raw beef tartar) had a wholesome flavour that were wrapped up in a package followed by its taste which jumped around my tastebuds. Sticky rice with tuna started with the bouncy texture together with some chilli that settled down before we started to get our hands dirty with the Korean fried chicken. The sweet tangy and spicy sauce together with crispiness of the fried chicken kept me quietly and continuously eating them.
The six course meal turned into seven as the bossam served in lettuce, sauces, and pull pork was not part of the menu. Each of us grabbed a lettuce and made the bossam wrap before putting into our mouths.  The hotdog kimchi fried rice served in a small hot pot has the taste of home together with meaty flavours. The course is completed with 'the' dessert. Hotteok (pancake in Korean) served with miso ice cream is 'the' dessert that gave me so much tears of joy and happiness. It was both sweet and salty caramel-like taste with hotteok that swirled me up in a dreamy land. My imagination for this dish is sitting by the warm fireplace with a cup of hot chocolate. The seven course meal made me feel so stuffed but it was truly a satisfaction meal, as I said before, the taste which I will not forget.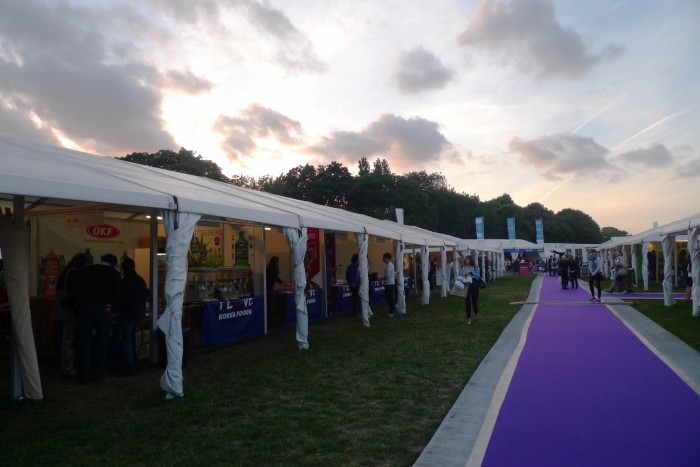 The Taste of Korea was an enjoyable experience to know about Korean food. Not just the street food and the dishes but also products and ingredients that made these food amazing. It was a great introduction to see how Korean food is cooked and served in both traditional and contemporary elements that pleases both local and international food lovers. It also impacted the visitors to know more about Korea, not only the food but also its culture. Korea Foods, street food traders, and brands are showing the layers of Korean food and cuisine that invites visitors to be on the wild ride of five senses in having an awesome Korean food experience. I hope this concept, especially Korean food festivals, still continues on in London and other parts of the UK.
Tags : Food,Korea Foods,Street Food,Taste of Korea,Taste of London