The Barberettes: The Three Little Gals in Harmony
Posted on August 26, 2014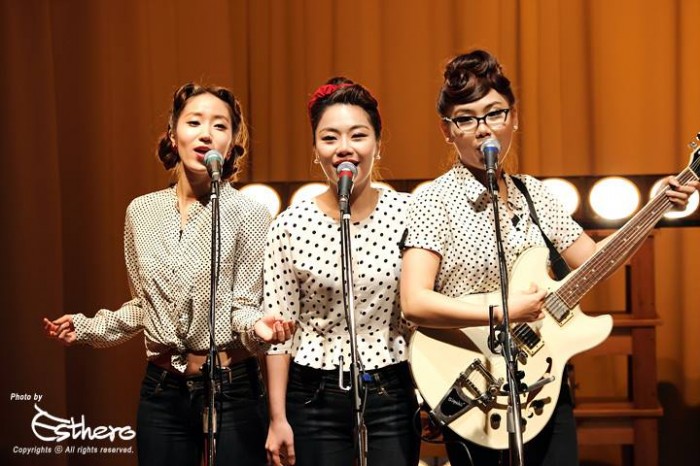 Shinae An Wheeler, Grace Kim, Sohee Park (Source: The Barberettes Facebook)
Seoul-based, three-piece girl group, the Barberettes are known for singing 1950 – 1960s Do0-wop harmony with Korean traditional twist. When they started their band, they fell in love with 1950 – 1960s Doo-wop when they discover this genre through the Internet. They have been enjoying doing live performances at various places for young and old generation audiences. I discovered them through watching their live performance videos on YouTube and Facebook including some cover songs such as their recent cover song on the Beach Boys, "Barbara Ann (Barberettes)". This year in June, they officially released their first album "바버렛츠 소곡집 #1″.
(Source: NAVER onstage YouTube)
I fell head over heels with their harmonized voices from the three lovely ladies that I decided to purchase and listen to their first album. I love them even more. Their angelic harmonic voices gave me so much goosebumps, in a good way, and sway your body from left to right. The songs have diverse style, from cheerful to romance to sentimental, that is music to our ears. "The Little Gals" flutter the listeners' heart with love and happiness. The lyrics in English is about three little girls in pretty dresses singing and dancing together which make the audiences want to see and listen to them perform live. The song starts the album nicely by giving a melodic tune with cheerful story-like lyrics.
(Source: Mirrorball Music YouTube)
The combination of "Summer Night Wind" and "Summer Night Dream" grabs your heart instantly. They start off with calm and strong harmonic voice followed by feeling the wonderful romance as they serenading the rest of the song. It makes you imagine a romantic dream that you would love to have with your girlfriend/boyfriend. Both "Thoughts in Love" and "Mrs Lonely" have strong and sentimental style. As the instruments are played, you can clearly listen to the main vocal while the other two sings along and then sing together in synchronized manner while they empahsize on conveying the lyrics with emotions. "Kukerichoo", which is "I Love You" in a different way, are sang in both Korean and English version. It spreads plenty of love and happiness which makes you want to dance. The Barberettes bring the listeners back in time by singing a Korean traditional folk song, "Spring's Greeting".
Source: The Barberettes YouTube
The Barberettes and their first album are the source of healing: making listeners be calm and happy without having any worries. Their angelic harmonized voices from three ladies and subtle meanings of the lyrics are perfect for all listeners, both young and old generation. Their music has reach to wider international audiences who are amazed with the Barberettes' vocal talents and bright personality. This is a 'must-listen' album to listen to.
Follow them on Facebook, Twitter, YouTube, and Instagram. Purchase their 1st album via iTunes and YESASIA.
Tags : Barberettes,Doo-wop,K-Indie,music,Retro