The Berlin File (2013)
Posted on August 25, 2013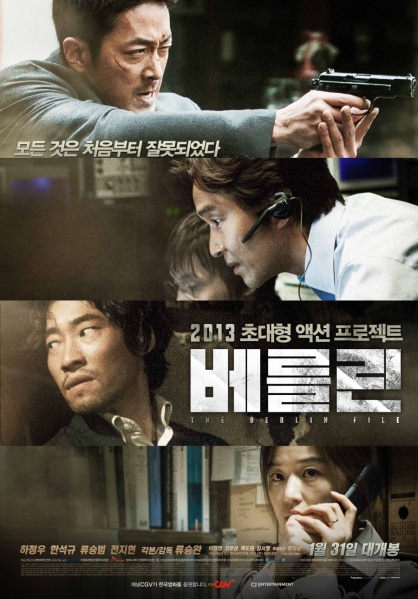 Director: Ryoo Seung Wan
Casts: Ha Jung Woo, Han Suk Kyu, Ryoo Seung Bum, and Gianna Jun
Running Time: 120 minutes
Genre: Action, Drama, and Thriller
South Korean NIS agent Jung Jin Soo (Han Suk Kyu) and his team are on duty to catch North Koreans who are involved in illegal weapons activities. At a hotel in Berlin, Germany they overlook the illegal weapon deals between a Middle Eastern buyer, an unidentified North Korean seller and a Russian broker. When the transaction commenced, the South Korean NIS team set out to raid the hotel room. At the moment the transaction is about to be consummated, the South Korean NIS team set out to raid the hotel room but another team barge into that room which gives the North Korean man, Pyo Jong Sung (Ha Jung Woo), an opportunity to escape. On the other hand, a North Korean agent is told by the North Korean ambassador (Lee Kyoung Young) that Dong Myung Soo (Ryoo Seung Bum), son of the North Korean official, is coming to Berlin. Jong Sung finds out that Myung Soo comes to kill the ambassador, himself, and his wife (Gianna Jun) so that Myung Soo and his father's men can take hold of the power in Berlin. As targets to be killed, they desperately tried to leave Berlin alive.
The film itself consists of two parts: (1) Jo Sung finds out about the truth behind the North Korean government and (2) escape from being killed by the North Korean government. For me, I do really need to think a lot while watching this film. From the beginning, same as Jo Sung, I was cracking my head into figuring out the whole complications of between Myung Soo and Berlin. Also, some things that Jo Sung didn't even know from the very beginning. Then, it comes to the point where Jo Sung finds out the 'truth' that made him enrage. Then, I was move on to the second part where there is a lot of fighting action scenes going on. I was definitely in a roller coaster ride.
Jo Sung and his wife are having a hard time while being secret agents in Berlin. They wished to go back to their home country but they couldn't because of the North Korean government. Because of power, this affects their marriage badly. First, they are giving the cold shoulders. Then, they slowly are open their hearts to truly love each other and escape from being killed together. You will see that there is the push and pull in terms of love and saving each other's lives. Jo Sung does tries to approach his wife with love but he just couldn't show it affectionately. That leads his wife to believe that he doesn't care about her at first. The government's power stops between them but their power of love has overcome that barrier which brings the couple closer. Then again, Jo Sung is the one who makes the first move of using forceful love in a manly way while his wife is the damsel in distress even though she tries to be strong.
I love all the main casts including Ryoo Seung Bum who is Myung Soo in this film. You can't have an action film without the main bad guy who takes the wheel of killing people. Myung Soo has both madness and cocky personality and action that I wish that I want to kill him badly. That's a good thing. Having a heartless bad character with great acting and choice of words made me impressed with how one actor could portray an antagonist perfectly. Every single scene that Myung Soo takes into killing from one person to another keeps me to the edge of the seat while thinking what on earth is he going to do next. Director Ryoo selected his brother, Seung Bum, not because of family. It's because he believes that Seung Bum has potential in portraying Myung Soo and gives him the opportunity to show and polish his acting skills.
Director Ryoo's intention to have Berlin as the main setting is because it depicts various aspects. There is having East and West Germany. There is the North Korean embassy where it is the largest in the world. And, in Korean history, during the earlier times, North Koreans escape from their home country and South Korean students were falsely accused for being secret agents. Besides being intrigued with Berlin while he attended the Berlin Film Festival, he was interested of having Berlin as the film set because of its history between South Korea, North Korea, and Berlin. This influenced him to create action secret agents storylines that captivate the audiences. There are scenes that give you the chills and mysteries.
The action scenes are fast-paced. The camera shots make these scenes become reality. Surprisingly, the casts did most of the major action scenes more than the stunt team crew. From fist-fighting combat to shooting, Ha Jung Woo and Ryoo Seung Bum are willing to act out these scenes without hesitations.  These scenes are seriously painful that made my mind go wild from one scene to another during the second part of the film. This is how Director Ryoo put had perfectly put these action scenes and storylines into place that put the international audiences at the edge of their seat.
With international setting and casts, this South Korean film has become internationally known across the world through film festivals (eg. Edinburgh Film Festival and Cannes Film Festival). Although he has no intention to make Hollywood films like Park Chan Wook's 'The Stoker', Kim Jee Woon 'The Last Stand', and Bong Joon-Ho 'The Snowpiercer', he wants to make his own 'local' talent of directing South Korean films that would captivate the international film market. I would say this film is another eye-opener about South Korean films to the international film audiences. The ending itself make you believe that there is a continuation but sadly Director Ryoo said that there won't be. He wants this ending to be like that because they want to make the audiences more curious and talk about it instead forgetting about the film. The Berlin File makes you think a lot but you will be amaze with the action cinematographic scenes in Berlin while having interesting storylines from the main characters.
Tags : Action,Film,Gianna Jun,Ha Jung Woo,Ryoo Seung Bum,Ryoo Seung Wan