The Heirs (2013)
Posted on December 15, 2013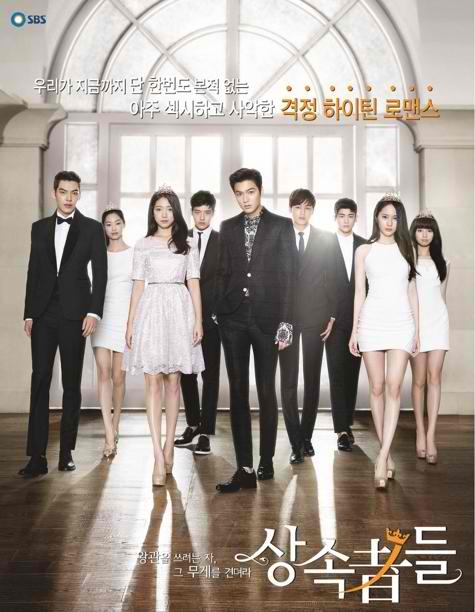 The Heirs looks into the love, friendship, and rivalry among the young heirs including Kim Tan. Cha Eun Sung (Park Shin Hye), a girl with an ordinary life and poor background, decides to go over to California to bring money to her sister. She wants to escape from the harsh life that she has been through in Seoul. However, she finds out that her sister has lied and cheat on her. Her sister takes the money away and run while Eun Sung is left behind and crying. From afar at the beach front restaurant, Kim Tan, the heir to Jeguk Corporation, sees her crying in tears. He falls in love with her at first sight and decides to spend time with her. Later, she meets Kim Tan's fiancee, Rachel Yoo (Kim Ji Won) who asks her to leave immediately. He feels lonely after Eun Sung returns to South Korea. Thus, he decides to go back to South Korea even though his older brother, Kim Won (Choi Jin Hyuk) ordered him not to come back. Later, he finds out that Eun Sung is staying at his home. The relationship between Kim Tan and Eun Sung slowly develops while they encounter various situations such as friendship, family, and rivalry. Both of them have friends and rivals such as Choi Young Do (Kim Woo Bin), Yoon Chan Young (Kang Min Hyuk), Lee Bo Na (Krystal), Jo Myung Soo (Park Hyung Shik), Lee Hyo Shin (Kang Ha Neul), and others.
(Source: Allen9xVEVOchannel YouTube)
The Heirs has the most common concept that we all see in Korean dramas: the relationship between rich guy and poor girl while conflicts arise in between them. Yet, somehow we do love some typical dramatic moments where we see families, friends, and rivals get in their way. Thanks to the great selection of OSTs, it amplifies the atmosphere of scenes and characters that grabs the viewers' attention. There is not a lot of cliches except toward the last two episodes of this drama. The ending was kind of disappointing even though it doesn't need to be over-exaggerating with dramatic moments in it. The tension from one episode to another was quite gripping. There were certain scenes which are memorable especially when focusing on each character's story and linking the relationship with the characters together. However, again as said before, I was not impressed with the ending. Every single character live happily ever after and forget, also might not learn, about their mistakes and move on with their lives.
A blossom relationship from strangers to lovers between Cha Eun Sang and Kim Tan
As you notice, at the end of each episode, there is a narrative hook which grabs your attention and will lead you to keep watching this drama especially when it comes to the love triangle between Kim Tan, Eun Sung, and Young Do. Also, there are times that you might be surprised with both sudden and romantic scenes between Kim Tan and Eun Sung. Every single time that Kim Tan make sudden unexpected romantic gestures toward Eun Sung, I would be hugging my pillow really tightly while the words of "OMG" blast in my mind. Also, when conflicts come in their way, there were times I was a bit annoyed with the push-and-pull relationship. Even though they have their own reasons why both Kim Tan and Eun Sung did so, it still intense to the point where they should get together as soon as possible. This is all thanks to Kim Tan's father who cause this topsy turvy relationship. On the other hand, as similar to other Korean dramas, Young Do is the 'other' guy who, the obvious thing could happen, is that he ends up not going to be with Eun Sung. Asides from 'bullying' Eun Sung and fighting with Kim Tan, he has hard times in conveying his feelings of love and friendship to others. It was interesting to see the love triangle that makes you want to root for who they should be together as a couple.
Choi Young Do who is a bully but tries to understand his own feelings and situations including within his own surroundings with the people around him including Kim Tan and Cha Eun Sung
The first three actors of The Heirs casts whom I am impressed with is Lee Min Ho, Park Shin Hye, and Kim Woo Bin. The chemistry between the three of them are strong as they portrayed well in love triangle, rivals, lovers, and friends. Min Ho has done well in acting Kim Tan through various scenes with great balance including the times when this character has ups and downs with Eun Sung. The best part is when Min Ho acts out in making unexpected romantic scenes with Shin Hye. He is willing to just do these actions without any hesitation. Shin Hye conveys lots of various emotions through Eun Sung who plays various roles in The Heirs such as a daughter of housemaid and Kim Tan's lover. Sometimes, she acts out being the strong headed girl, with cheerful and sweet smile, while at times, that she will cry in tears when huge conflicts happened especially when she is forced to leave Kim Tan behind. Although Woo Bin is known to act out well as students in dramas such as School 2013 and A Gentleman's Dignity, he has done well in portraying, Young Do, a bad student and bully at Empire High. At the same time, based on Young Do's side story, Woo Bin conveys how Young Do is in a situation on showing his actual feelings to others. Both Woo Bin's actions and emotions are impressive and well-balanced in different situations and conversing with other characters.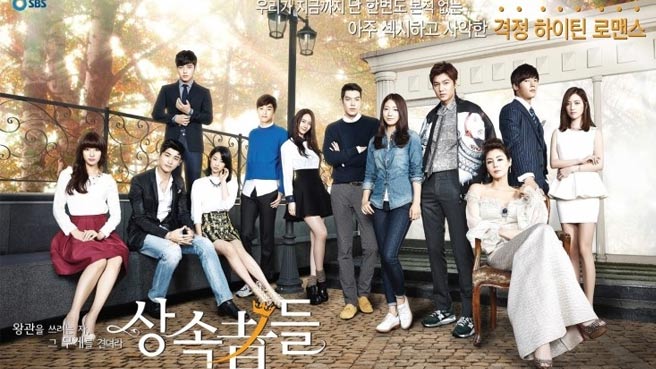 The main casts of The Heirs
I am quite happy with the great selection of casts who could portray their own characters in The Heirs. The casts are able to portray the characters which you make you love and hate. Each of the character are focused by having their own storyline while, based on their connections, builds up along the way. Kim Ji Won and Krystal, at first, starts to make you hate the character from the beginning, but later on, you will start to like them because you will feel sorry for them in going through their own personal problems. Min Hyuk, Hyung Shik, and Ha Neul has done their parts very well as they give you lots of smile while building up the chemistry with other casts such as the sweet couple, Bo Na and Chan Young. Although Choi Jin Hyuk did not get much on being on screen, he tries his best to be the bad older brother, Kim Won, to Kim Tan follow by starting to have concerns with him. It was quite sad that Kim Won has a sad ending while others have happy endings. Other older casts who played the older characters have done well. So, the whole casts in The Heirs have acted well while building up their own characters and developing the chemistry with each other. 
(Source: YozohhhCH2 YouTube)
Overall, I enjoyed watching The Heirs because the following reasons: (1) great endings for each episode, (2) focusing on each character's stories and link their relationship with others together, (3) a great selection of casts, and (4) memorable and unexpected moments, especially the main couple, Kim Tan and Eun Sung. Although The Heirs has common concept storyline, it still make you want to continue to watch from one episode to another till the very end. Still, the only major flaw is the ending which I was not satisfied with it. The Heirs has positive elements but there were a few aspects which should be polished.
Rating: 8/10
Tags : Choi Jin Hyuk,drama,Hyung Shik,Kang Ha Neul,Kim Woo Bin,Lee Min Ho,Min Hyuk,Park Shin Hye,TV