The Hen Who Dreamed She Could Fly by Sun-Mi Hwang
Posted on February 19, 2014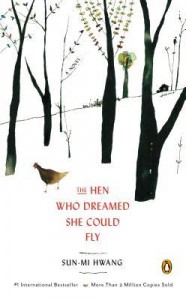 Sprout, an egg-laying hen, has the dream: roam free and hatch an egg on her own. She looks to her future every morning while being stuck in the cage. When she is unwell, the farmer and his wife put her into a wheelbarrow and carted off to The Hole of Death. Thanks to Straggler's, the mallard, help, she manages to survive and escape from the hungry weasel. Sprout is not accepted by the farm animals to live in the barn. Thus, she has no choice but to live in the wild. A miracle happens when she finds an egg in the patch. She decides to take care of the egg as her own child. At the same time, Straggler takes care of Sprout even though he is injured. One day, Straggler is killed by the hungry weasel. Once the egg is hatched, Sprout, later, finds out that her child is a duckling, Straggler's child. Despite the different kinds, she still insists of taking care of the child, Greentop. This is a story about Sprout who has a fighting spirit of motherhood, freedom, and individuality.
I couldn't stop myself from reading as the whole story is meaningful. Sprout brings out various characteristics that are universal which readers understand. She calls out for freedom by going against the traditional aspects of the barn. She wants to be free and be like the acacia tree who wants to have her own life especially wanting to be the mother. At the same time, she survives from the harsh reality. She has the courage to fight for what is right and what she wants in her life that makes her happy. 
One of the most remarkable strength that Sprout has is the motherhood. Even though Sprout and, her child, Greentop, are the different kind, they still accept and understand each other with love and care. Sprout wants what are best for Greentop. She not only concerns about his safety but she is also worried about him being accepted by his kind. Yet, she still doesn't want to let go of her own child. Same goes with Greentop who doesn't want to leave his mother. The elements of motherhood stir my heart with happiness and sadness.
The Hen Who Dreamed She Could Fly is a delightful short story to enjoy. Sprout is a perfect example of how mothers are going through hard times in having their own strength to give love and courage to their loved ones. It touches the readers' hearts as they will recall the mothers' effort in taking care of them since young. Also, Sprout's characteristics symbolize how each person can relate to including having the sense of freedom and choice in their own daily life. A beautiful fable and children story that can be read among all the readers from different ages.
Sun-Mi Hwang is one of the ten authors who will be taking part in the Korea Market Focus at the London Book Fair. She is also the author of the day. On 9th April, she will be sharing her views about the Korean literature, her career, and this short story.
You can purchase this book at Waterstones bookstores. Make a pre-order at Amazon (both physical and Kindle).
Tags : Literature,Short Stories,Sun-Mi Hwang