The Sound of a Flower (2015)
Posted on July 7, 2016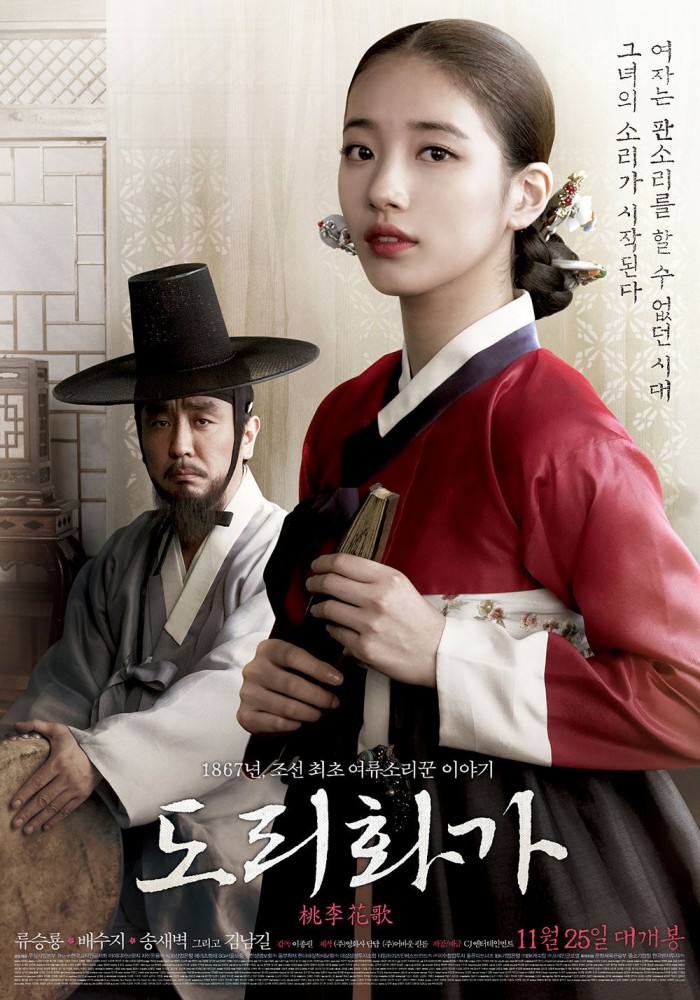 Director: Lee Jong-pil
Casts: Ryoo Seung-ryong, Bae Suzy, Song Sae-byeok, Kim Nam-gil, Lee Dong-hwi and Ahn Jae-hong
Genre: Drama, Period and Music
Running Time: 109 minutes
The film is based on the true story about Shin Jae-hyo and Chae-sun who changed the history of Pansori, a musical storytelling by vocalists and drummers. Going back to 1867, Shin Jae-hyo (Ryoo Seung-ryong) runs the Dongli Academy that teaches Pansori. Chae-sun (Bae Suzy) approaches him and wants to be a Pansori singer due her inspiration of watching her first Pansori performance when she was young. However, Jae-hyo doesn't accept her because women are not allowed to learn and sing Pansori in public. Chae-sun disguises herself as a man to study at Dongli academy but Jae-hyo doesn't accept her as his student. One day, Prince Daewon(Kim Nam-gil) holds a national Pansori singing competition. Due to Chae-sun's passion and beautiful voice that fits a Pansori singer, Jae-hyo has no choice but to take her in and perform Chunghyangga without being caught that Chae-sun is a woman.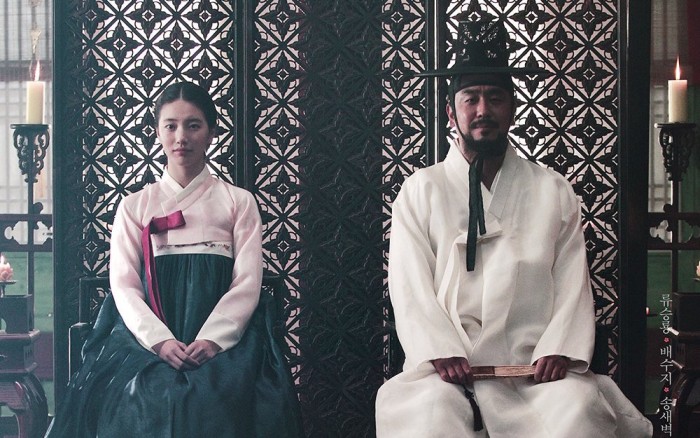 Director Jong-pil emphasizes the importance of Pansori in an emotional context that can be enjoyed to both old and young generation. Also, he wants to let the audiences know about how Chae-sun became the first Pansori female singer with the support from her master, Shin Jae-hyo. The script is done poetically detailed along with popular Pansori song verses that make your heart skip a beat. At the start you smile and then emotionally shocked after watching the sad ending. He takes some of the recognizable Pansori pieces like Chunhyangga, Sugungga (The Tale of Rabbit and Turtle), and Song of Peach Blossom that will not be lost in translation and memorable for the audiences. Popular verses from Chunhyangga including "Unkempt Hair" are expressed in honest emotions with laughter and tears which is why Chunhyangga is one of the popular Pansori pieces in Korean films and art & performances loved by all generations, locally and globally. It doesn't stay out of focus between the commoners' and royals' lifestyle in the Joseon dynasty, Pansori and subtle and delicate relationship between Jae-hyo and Chae-sun. Word by word, the conversations are strong and delicate especially intimate conversations between Jae-hyo and Chae-sun and Chae-sun convinces Prince Daewon to let Jae-hyo live followed by singing passionately.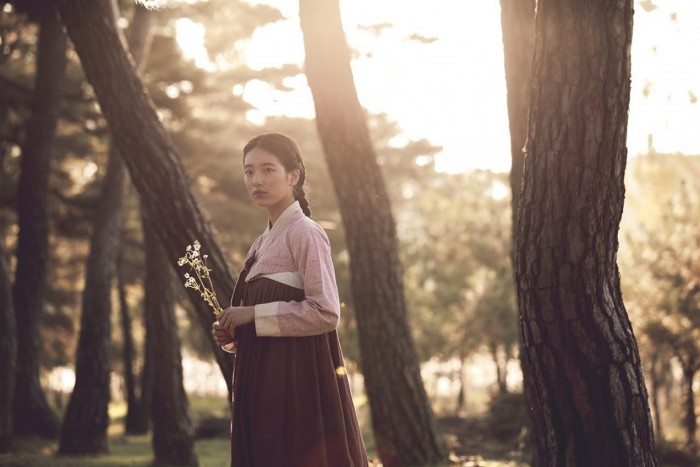 Bae Suzy's performance has soared marvellously by taking on a challenging role that not only acting as Chae-sun but also singing Pansori and evoking in-depth emotions. Her innocent smile, strong aura and mesmerizing voice & words make my mind blown away. I am impressed with her cheerful and emotional Pansori performances that show she is willing to challenge herself to expand her acting career in films. Ryoo Seung-ryoong has done splendidly with sensible emotions that moved me to tears through his singing a few verses of Pansori songs including frequent singing on "Unkempt Hair" and his caring for Chae-sun to fully bloom as a beautiful flower with wonderful scent. Having experience in acting periodical films such as The Piper, Roaring Currents, and Masquerade, he has done well in conversing in Korean historical language smoothly while fully expressing emotionally in Jae-hyo's situation. The chemistry between Bae Suzy and Ryoo Seung-ryoong is strong as it stirs up plenty of emotions towards their characters' relationship. Song Sae-byeok's seems to enjoy portraying Kim Se-jong with fun and caring personality including singing Chunhyangga joyfully and playing the drums. Kim Nam-gil portrays well as being the bad Prince Daewon that has arrogance with a lonely heart. Both Lee Dong-hwi and Ahn Jae-Hong, who acted in the popular Korean drama Reply 1988, adds their happy aura and appearance in the film to make the whole group from Dongli Academy complete along with Jae-hyo, Chae-sun and Kim Se-jong.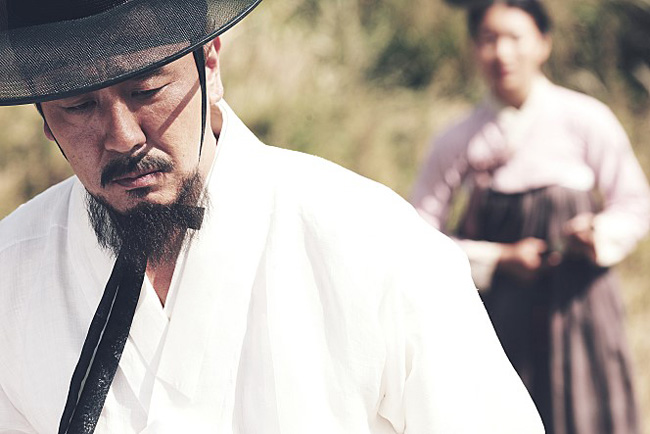 The cinematography is done well with close shots on the characters and far shots of beautiful sights of Korea's countryside. The lighting adds a lot of emphasis on the overall characters emotions such as the conversation between Jae-hyo and Chae-sun at night. However, I am disappointed with the scene where Jae-hyo and Chae-sun takes part in the national Pansori competition by performing on the boat in front of both royals and audiences. The scene would have been the best one in the film if it wasn't for the bad use of green screen and live shots as the boat is moving along the lake while both of them are singing Chunhyangga. To make it worse, the background music starts to get louder when Chae-sun sings the climax of the verse as Jae-hyo is mesmerized by her voice and facial expression. It ruins the overall mood on how Chae-sun sings emotionally as her tears fall from her eyes.
The Sound of a Flower is one of the most beautiful and emotional films to date when it comes to sharing true stories about well-known Pansori singers and their popular pieces. Korean filmmakers should continue to direct and produce films that focus on traditional culture and music to introduce audiences to their beauty.
Rating: 8/10
Bae Suzy won the Most Popular Actress at the 52nd Baeksang Award. The Sound of a Flower screens at the New York Asian Film Festival 2016 (NYAFF).
Tags : 15th New York Asian Film Festival,52nd Baeksang Awards,Ahn Jae-hong,Bae Suzy,Chunghyangga,drama,Film,Kim Nam-gil,Lee Dong-hwi,Lee Jong-pil,music,Pansori,Period,Ryoo Seung-ryong,Song Sae Byeok