The Spy: Undercover Operation (2013)
Posted on February 11, 2014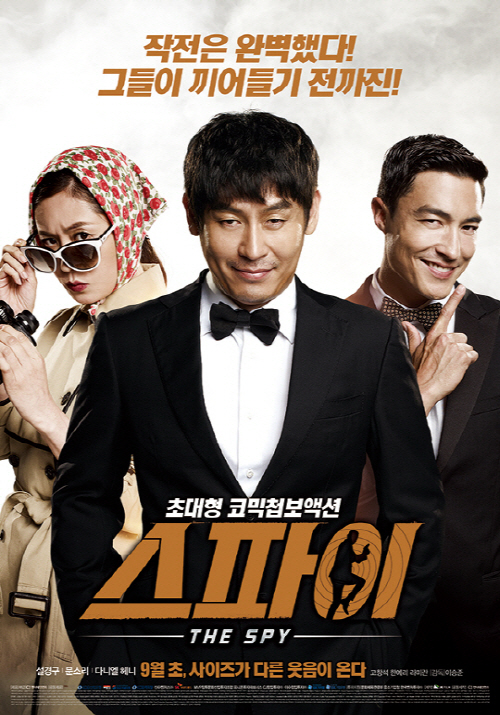 Director: Yi Seung Jun
Casts: Sol Kyung Gu, Moon Soo Ri, Daniel Henney, Han Ye Ri, Ko Chang Seok, Ra Mi Ran, and Jung In Gi
Genre: Action and Comedy
Running Time: 121 minutes
Chul Soo (Sol Kyung Goo) works as a secret agent while not letting others, including his wife, Young Hee (Moon Soo Ri) who works as a flight attendant, know about his career. One day, Chul Soo is asked to go on a mission in Thailand. He lied to his wife that he has to go on a business trip in Busan. While running through the mission, he finds his wife is having a date with a handsome young man, Ryan (Daniel Henney). He has to handle his missions while being so concerned about his wife.
The Spy: Undercover Operation is very character-focused. Its storyline didn't grab my attention because it is quite common for the secret agent to stop the missile from being launched to the country that will start a war. A very common storyline which I didn't find it quite entertaining. However, the action and laughter are there to entertain you while watching the whole film. There were lots of shooting and fighting scenes that you enjoyed while you set your sights over to each main character in action.
Chul Soo (Sol Kyung Goo) being a secret agent while being a husband to Young Hee (Moon Soo Ri)
The characters of this film are clear and defined that, mostly, make me love them. Chul Soo trying to get together with his two roles: agent and husband. He goes out to save the world while he tries his best to work out with his wife who have been with him as a married couple for seven years. He always managed to be in action in various situations especially not making his wife getting hurt and upset. So, he is balancing almost every 'mission' as he can to save the world and his marriage, including family since he finds out that Young Hee has a child in her belly. Young Hee is my favourite character who has a comical personality. She tends to be naggy towards her husband but she is pressured about not getting the love and having a child. She may be silly and naive about what is going on, especially when she gets involved in her husband's mission, but she has her own reasons to be worried about herself and her husband. Ryan is both a romantic charming guy and a bad rough guy. He has his ways how his plans should work out while being smooth that ladies might fall head over heels for him. Like Young Hee, ladies might feel some tickle of loves from this guy.
Chul Soo, Young Hee, and Ryan (Daniel Henney)
Previously, Sol Kyung Gu and Moon Soo Ri had acted together in Oasis and Peppermint Candy. It is great to see them acting together in this film. This time, as a funny married couple. There is a great chemistry between them that made me laughed especially their naggy conversations. I was amazed that, despite his age, Sol Kyung Gu is able to be in action as a spy agent. He did well in portraying Chul Soo as a spy agent and husband while complimenting the actions and personalities well in each scene. I enjoyed seeing Moon Soo Ri's strong and funny personality that adds some spices to this film. She did well on how she speaks and acts out especially when she takes the machine gun and shoot, which I didn't expect that scene to happen. Daniel Henney may be charming and handsome but he certainly portrays the "romantic and sweet turn evil" bad guy well. He did his upmost best in going through the action scenes and building up the chemistry with other casts.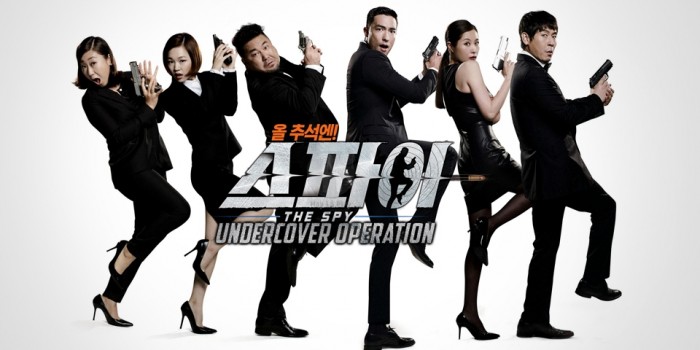 The Spy: Undercover Operation wasn't the kind of action comedy film that I enjoyed a lot. The storyline is too common and simple but it is entertaining while seeing the characters in action. A lot of focus on each individual characters that I was impressed especially how the casts portray their roles. If you are into some action and laughter, then this film might entertain you with spies on the move in completing the mission.
Rating: 6/10 
Tags : Action,Comedy,Daniel Henney,Film,Moon Soo Ri,Sol Kyung Gu,Yi Seung Jun