The Suspicious Housekeeper (2013)
Posted on November 29, 2013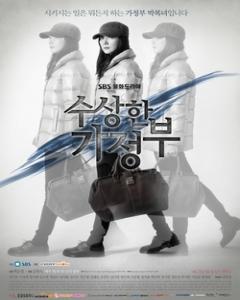 Eun Sang Chul (Lee Jung Jae) and his four children are facing their own difficulties after his wife unexpected death. After 49 days, the housekeeper, Park Bo Nyeo (Choi Ji Woo), comes to their house. With her help, the family goes through arguments and, in the end, love and give each other happiness as family. In the mean time, the family is curious about Bo Nyeo's pasts and wonder why she doesn't always smile. As time goes by, her past starts to be revealed when the detective and murderer shows up.
There were some bits of funny moments when Park Bo Nyeo, the robotic Mary Poppins, taking care of the house while the children were amazed that she can do anything especially when taking things out from her magic back. However, at the first half of the drama series, things started to get twisted when Park Bo Nyeo's past revealed. Although Bo Nyeo's story was quite slow but there was a steady pace in each episode while exploring the mystery behind it. The best part is when Bo Nyeo has her own plans in catching the murderer and making the family realized what they had done. Sneaky but interesting to see what she has done. I am impressed with how Choi Ji Woo is able to convey emotions through her eyes while not smiling. By looking through her eyes, I could how she is concerned about the family and herself. At the same time, she said in a monotone voice with emotions. Choi Ji Woo has clearly show what she can in being the housekeeper who has a mysterious past.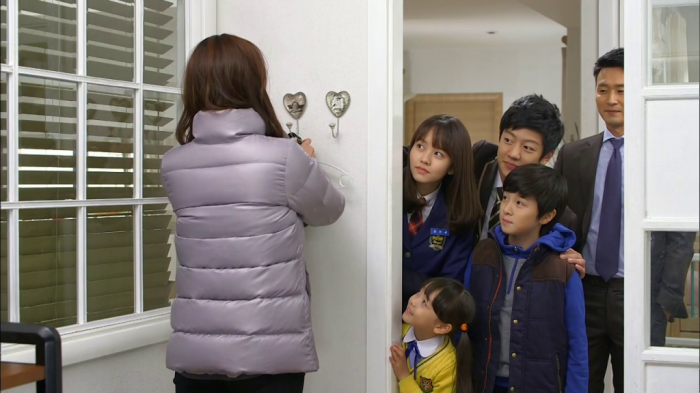 The Gyeol family are happy to see Park Bo Nyeo
As for the other characters in the drama, there are some which I love and hate. Among the four children, Hye Geol is the most annoying character but sometimes, I like her a bit. Even though she is meant to be the youngest daughter, who goes to kindergarten, she has a certain personality that she is being spoiled. That annoyed me a lot at times. However, it is heartbreaking to see Hye Gyeol cries in tears when Bo Nyeo is either hurt or leaves. Other older siblings had done well in portraying the character who has their own problems while supporting each other as family. Lee Sung Jae, who portrayed Eun Sang Chul, has done well in acting as a father who is going through hard times between work and family. At the same time, he managed to act out the certain scenes where he in making decisions that he believed what is best for his family and Bok Nyeo. These casts had played well in supporting Bok Nyeo while trying their upmost best to make her feel lively and happy again.
Although The Suspicious Housekeeper focuses on the characters who have family and personal problems, their own side stories tend to be confusing. Bok Nyeo's story is much more focused and understandable while the others' situations are complicated. Their stories paced back and forward which left me some question marks in my head. Then again, there are moral lessons about importance of being together as family and helping each other out whenever certain people has problems. There are some parts which are interesting but there are some parts which are quite vague. The whole storyline are quite detached in terms of linking each character's side stories.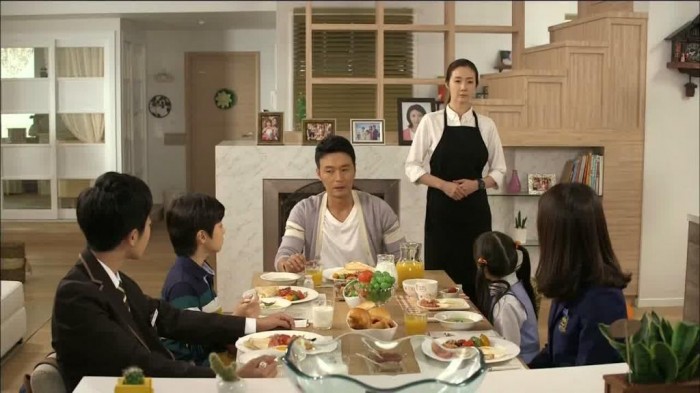 Park Bo Nyeo stand at the side while the family is having dinner which is prepared by her
Overall, the whole casts has done their best in portraying the characters. I was impressed with Choi Ji Woo on her facial expressions and actions that she made in this drama especially conveying Bok Nyeo's storyline emotionally through her eyes and voice. Some characters were annoying, some characters were scary, and some characters were funny. Yet, that was part of making the drama quite interesting. Still, while mostly focusing on Bok Nyeo's storyline, there was a lack of focus on each character's storyline. It was quite enjoyable to see the lovely housekeeper who come and save the family from being in misery but the storyline could have been much better.
Rating: 7/10
Tags : Choi Ji Woo,drama,Family,Lee Sung Jae,TV