The Taste of Money (2012)
Posted on October 25, 2013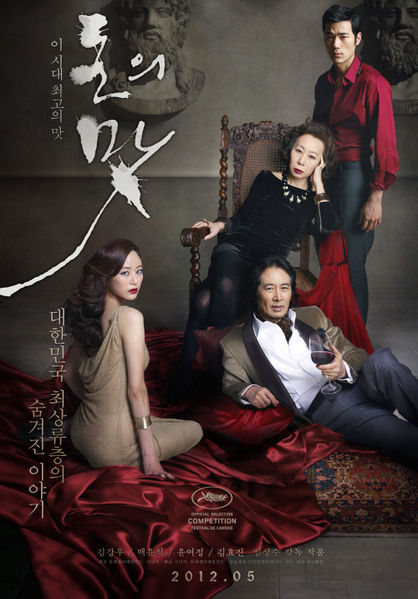 Director: Im Sang Soo
Casts: Kim Kang Woo, Baek Yoon Sik, Youn Yuh Jung, Kim Hyo Jin, On Joo Wan, and Darcy Paquet
Genre: Drama
Running Time: 115 minutes
Certi: 15
Young Jak (Kim Kang Woo) works for CEO Yoon (Baek Yoon Shik) who is married to Baek Geum Ok (Youn Yuh Jung), the daughter of the richest man in Korea. Young Jak has been working for ten years. In the family, they have children, Na Mi (Kim Hyo Jin) and Cheol (On Joo Wan). With extreme wealth, the whole family, except Na Mi, believes that they gain unlimited power to do whatever they want to including getting away from scandals and controversial issues. Later, Young Jak found out that CEO Yoon married Geum Ok for the money. CEO Yoon is not happy with his life because he has to work for his wife and her father. Also, CEO Yoon is having an affair with the Fillipino maid, Eva (Maui Taylor) but caught by his wife through the hidden camera. CEO Yoon decides to leave the rich world and spends the rest of his life with Eva. After he left, Young Jak has to settle the problems in the family.
The Taste of Money talks about the world of chaebol family which is so suffocating that I was fuelled up with anger and frustration. The chaebol family can get away with anything by just having money and power. They couldn't care about the underlings and lower class as they believe that they are the great power of gods who can control how the society and world should be. With money, they smirk on the prosecutors and politicians who have the greed for money. They believe that these people are mindless animals who will do anything to get their hands on the money. It is a tough world which Young Jak and Na Mi could not take it anymore.
The wealthy family (Cheol, CEO Yoon, Geum Ok, and Na Mi) having a "nice" family dinner
There were a lot complications and situations among the characters of The Taste of Money. Yuh Jung has done well in portraying Geum Ok that I really hate, in a good way. Geum Ok wants how her life should be with the money and power she has in her hands. She has a devil-like cold and sharp personality that I wished that I could go up to her and slap her in the face. She takes advantage of everything and pretends nothing happened such as forcing Young Jak to make love with her. CEO Yoon regrets about how his life turn out to be due to his greed on wealth. Thanks to the power of love with Eva, he truly realised how his life should be with love and happiness. Yet, Geum Ok and her father have to ruin CEO Yoon's life in the harshest situation that pierced his heart.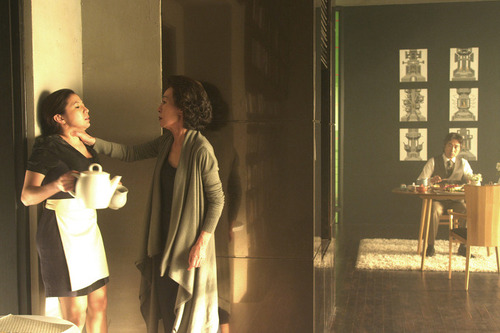 Geum Ok strangling Eva while CEO Yoon is at the breakfast table
For Na Mi, she feels sorry for what the family has done and concerns about Young Jak follow by having feelings for him. She wonders why on earth she has that kind of family. For Young Jak, he almost got into the world of chaebol family and later, he manages to escape from this harsh world because he realizes what the family, including Geum Ok had done without a heart to care about others. All the characters go against each other in the world of money and power that brings hatred, sex, love, and murder. Cheol and Robert (Darcy Pacquet) are my least favourite character because their not acting properly. For example, the part where Robert is pushed by Young Jak, he let out a shout as he fall down which made me laugh a bit. A laugh which is really awkward. The actors who portrayed these characters could have done better.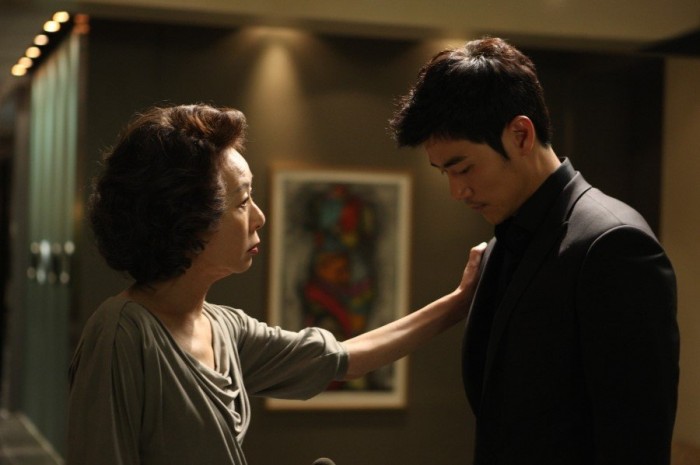 Geum Ok has a "heart-to-heart" talk with Young Jak
There were a few similarities to The Housemaid such as how the nanny commit suicide by burning herself when Na Mi was young and CEO having an affair with the maid. At first, it looks little follow up from The Housemaid, because of Na Mi who has been going through the messed up chaebol family since young. However, this is not the case, as an excerpt from The Housemaid was shown as the family is watching it. Although The Taste of Money's storyline is better than The Housemaid, Director Im could have done something better for the deranged chaebol family. Also, it was a bit awkward when the characters said a few expressions in English like "Oh my god" and "Come over baby".  This is only the slight issue I had in the conversations.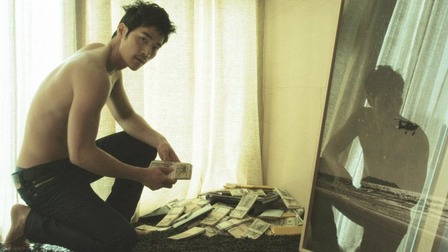 To be in the world of money and power or not?
The Taste of Money brings the audiences to the twisted world of money and power that is controlled by the chaebol family. You will feel sorry for Young Jak who has to go through the hard times. You will love some characters and you will hate the others. Compare to The Housemaid, The Taste of Money storyline is better as there are a lot of build ups especially the climax where the audiences will get really angry for what the characters had done. It is a heartless minded chaebol family that stands before you. The family makes you decide to leave that chaotic world which you had experienced while watching this film. It is a world where you imagine yourself being with the chaebol family until you decide to leave with the obvious reasons.
Rating: 6/10
Tags : drama,Film,Im Sang Soo