There a Petal Silently Falls by Ch'oe Yun
Posted on August 25, 2013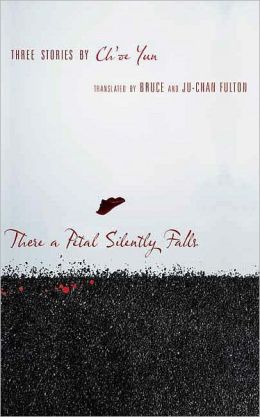 There a Petal Silently Falls consist of three short stories. The first story, 'There a Petal Silently Falls', tells a story about a girl who looks for her long lost brother. Before that, she was shocked by seeing her mother's murder. It is based on the aftershocks of Kwangju Massacre of 1980 that was reported that about 2,000 civilians were killed for protesting against the government military rule. While the girl is looking for her long lost brother, she was being treated badly by violence and men. The second story, 'Whisper Yet', is based on the woman's childhood story on the level of education and knowledge is rated based on the persons' rank. Lastly, 'The Thirteen-Scent Flower' explores a young couple, who planted the 'special' flowers that attracts both community and academicians to be amazed with these plants. These stories are symbolically representing the post-World War II in Korea.
While I was reading this novel, I was heartbroken and sighing at the same time. Ch'oe Yun has definitely taken on an experimental writing emotional storyline with post-modern writing style. The first two stories explore the main female characters who has been going through hard times during the World War II in Korea. The third story emphasises on the beauty of flowers that are attached to the people symbolically and materialistically, especially when it comes to people's status.
The first story definitely made me visualize a girl who is invaded by the power of men who took advantage of her. It explores the whole story, including the backstory about why she starts to look for her brother. There is a surprise at the end of the story which shaken my heart in pain. She is in the complications of dreams and reality after being traumatized by her brother's disappearance and her mother's violent death at the soldiers' hands. Out of the three stories, the first story is my favourite.
In the second story, there were lots of monologues and back stories from the main female character. She criticizes a lot about how she had hard times getting education and wanting to learn something. Her past also explores about her friendship with a male friend until she found out about his true identity. Her male friend and her father have a strong brotherhood. Due to her harsh pasts, she hopes that her child will not have the similar situations which she had faced previously. Based on these two stories, Ch'oe Yun has done well in making the storyline flow, such as the connection between the sub-stories that are based on timeline. She has wrapped these stories nicely in a bow.
The third story depicts the complications between a young couple and 'others'. The young couple wants to have their own special life for each other. It is adorable to understand how they share each other's thoughts about what they want to do in their lives with happiness. The flowers, which they planted, symbolize their passion and happiness. On the other hand, the community and academicians thought of the flowers as a source of 'cure' and getting money through selling these plants. So, there are clashes among the peoples' intention with the flowers.
'There a Petal Silently Falls' definitely pulls the reader to imagine the characters' stories who are going through various scenarios (violence, men, status, education, love, and happiness). Those scenarios specifically happened during the post period of World War II. Ch'oe Yun has applied her inspirations in words that described with symbolic emotions and connections. If you begin to have interest in Korean literature, this novel is definitely a good read to start with.
There a Petal Silently Falls can be purchased at Amazon.
Tags : Ch'oe Yun,Literature,Short Stories