Twenty (2015)
Posted on December 27, 2015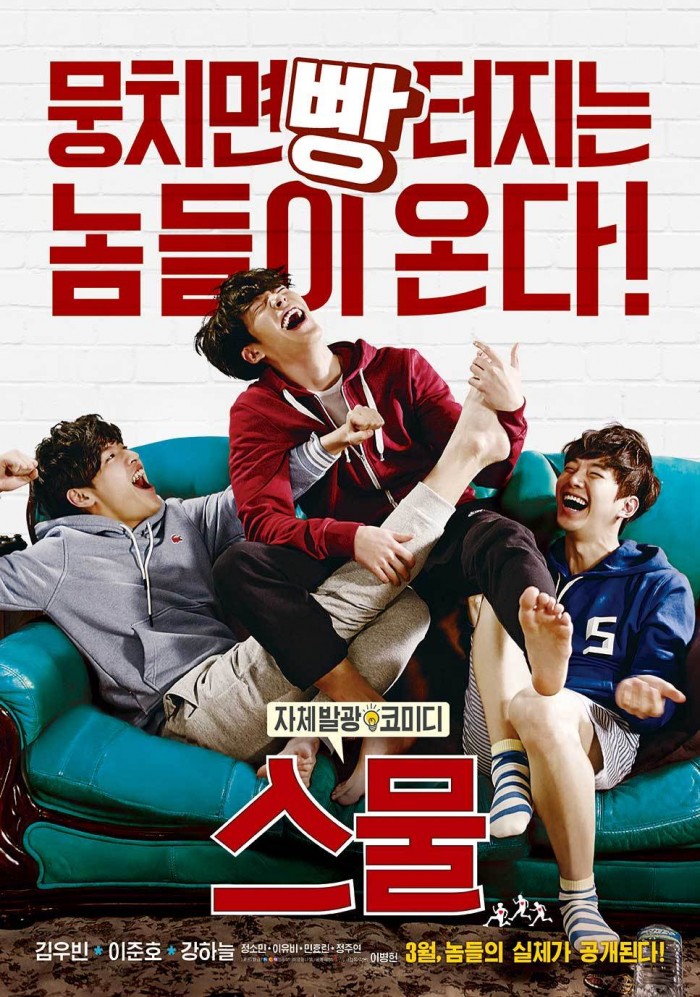 Director: Lee Byeong-Hun
Cast: Kim Woo-Bin, Lee Jun-Ho, Kang Ha-Neul, Jung So-Min, Jung Joo-Yeon, Lee Yoo-Bi, Min Hyo-Rin, Kim Eui-Sung, Park Myung-Shin, Oh Hyun-Kyung, and Park Hyuk-Kwon
Genre: Comedy and Drama
Running Time: 115 minutes
Source: 민병석 YouTube Channel
Chi-Ho (Kim Woo-Bin), Dong-Woo (Lee Jun-Ho) and Gyung-Jae (Kang Ha-Neul) become best friends after having an argument over getting the girl of their dreams in high school. After graduation, they made their resolutions on what they want to do in their 20s. However, by the time they turn 20-years-old, they are not on the right track. Chi-Ho is unsure about what he wants to do while enjoying his life. Although he has a girlfriend, So-Min (Jung So-Min), he has fun with other women. An accident leads him to spend time with aspiring actress Eun-Hye (Jung Joo-Yeon) where he learns about the tough film industry. Dong-Woo hopes to be a comic artist but he has to do several part-time jobs due to support his family. Gyung-Jae enters college as a freshman in studying business and falls in love with an upperclassman, Jin-Joo (Min Hyo-Rin). The film focuses on three guys sharing their personal roaring 20s stories.
Going through their roaring 2os
Their personal stories are relatable to what we had been through during our twenties and also an eye-opener to those who are entering in their 20s. Both comedic elements and realistic experience hits the mark of laughter and emotional connection between the film storyline and audiences through relatable stories. Their honesty in talking about relationship, career and sex especially their drinking culture reflects additional aspect of Korean youth culture. It is enjoyable to imagine when we are in the characters' shoes back in our days or how youngsters could feel before becoming 20s.
Chi-Ho (Kim Woo-Bin), Dong-Woo (Lee Jun-Ho), and Gyung-Jae (Kang Ha-Neul)
Kim Woo-Bin, Lee Joon-Ho, and Kang Ha-Neul bring the script come to live with their entertaining personality and character portrayal. Three of them have the perfect chemistry as being the best friends that we could laugh about, from conversation to helping each other out as much as possible. With Jung So-Min, Jung Joo-Yeon, Min Hyo-Rin and Lee Yoo-Bi, they further build up the guy's experiences in their 20s and more humour. Without them, it would not be an enjoyable experience to watch going through the ups and downs in the guys' relationship with girls which most of us could relate to.
Also, the film's cinematography added more entertaining elements to it, from three guys choosing path after their graduation to a small segment of animation to slow motion fighting scene with cheesy song. Director Lee and the film production team are showcasing their variety of filmmaking talents within Twenty. They are able to bring the characters' stories to live with fantasy and realistic visuals that we enjoy to watch with some laughs such as Chi-Ho sharing his crazy storyline idea with the director while the animation is played. Instead of common good guys win in fighting the bad guys, the production team decided to make the fighting scene in slow motion and the good guys are trying their best to fight, but fail, to make it even funnier.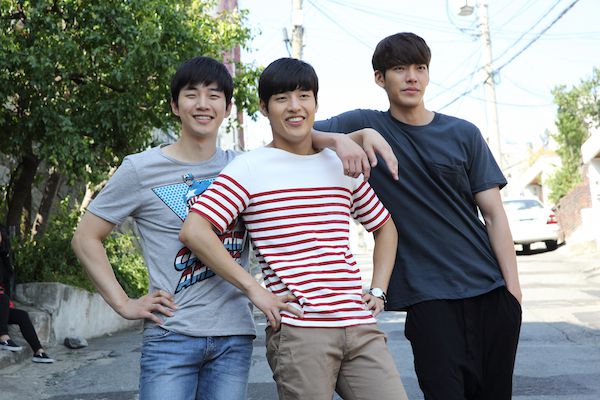 Three best friends going through their ups and downs in their 20s
Twenty is about three 20-year-olds guys who are learning to become an adult and taking responsibility in their lives. A balance of characters with great chemistry, entertaining script and varied cinematography makes the film special in ways that we laugh and relate to our own stories. It has a funny and realistic emotional connection which some of us could talk about the good old days during our 20s.
Rating: 8/10
Tags : Comedy,drama,Film,Jung Joo-Yeon,Jung So-Min,Kang Ha Neul,Kim Eui-Sung,Kim Woo Bin,Lee Byeong-Hun,Lee Jun-Ho,Lee Yoo-Bi,Min Hyo-Rin,Oh Hyun-Kyung,Park Hyuk-Kwon,Park Myung-Shin