Unfixed: A Solo Exhibition by Shin Mee Kyoung
Posted on November 19, 2013

Source: KCCUK Official Website
Korean soap sculptor, Shin Mee Kyoung continues to explore 'translation', the changes that exists in dis- or re-location between cultural and historical contexts. The replicas of artefacts, from Asian porcelain vases to Greek and Roman sculptures, are purely made of soap. The work of craftsmanship of these artefacts and sculptures associate with authenticity, exquisite art, and cross-cultural translation. Shin Mee Kyoung presents varied series of her works at the KCCUK.
Translation – Vase Series
Translation -Vase Series
Since moving into London in 1995, she experienced as an artist who is in a different country where she learned being accepted and felt the sense of belonging. Through her experiences, she recreates porcelain vases which is the main trading items between East and West. From afar I thought that they are actual porcelains, but, by taking a closer look at them, these are actually made of soap. I was impressed how each work carved out in detail such as the flowers and bamboo motifs. The packaging cases represent moving objects across the world and related to Shin's translation on her experience in moving from Korea to London. For me, it felt like walking into a museum where different porcelains are shown to the visitors. Also, these represent how these historical and cultural objects can be translated within a single space where different people come to appreciate them.
Translation – Ghost Series
Translation – Ghost Series
Shin shifts into creating different styles of vases by removing the surface details of the ceramics and leave its form and glass-like translucent colour. As I walked passed the wooden shelves of different vases, I smell the soap which is not too strong but refreshing as different colours could be different soaps with different smells.  Aside from that, each vase has its form and colour, which is created, to question about the viewers' experiences with various types such as culture, nationality, and interests. These individual objects have their own fixed qualities that cannot be change instantly. Even if they might disappear, the traces, which have significant meanings, will be left behind and recognized by visitors.
Toilet Project
Toilet Project
Shin initiates the iconic public art project by placing sculptures of Buddhas and ancient Greek and Roman heads at public toilets where visitors can wash their hands with them. The visitors will feel the sense of relief and purification when touching these iconic figures. Between July and October 2013, about 16 galleries and museums in 15 cities across the UK participated in this project by placing these sculptures in public toilets. Later, they are brought back into the museum, especially this exhibition at the KCCUK, as art displays. Within three months, some parts of the sculptures were faded away through the visitors' touch and environment which they are in. Out of all the series that I have seen in the solo exhibition, Toilet Project is my favourite. It was interesting to see how the details of sculpture could fade through time, weather, and touch within both space and environment. These sculptures represent how historical and cultural artefacts could last and be maintained from time to time. Thus, maintaining these artefacts through ongoing basis is crucial.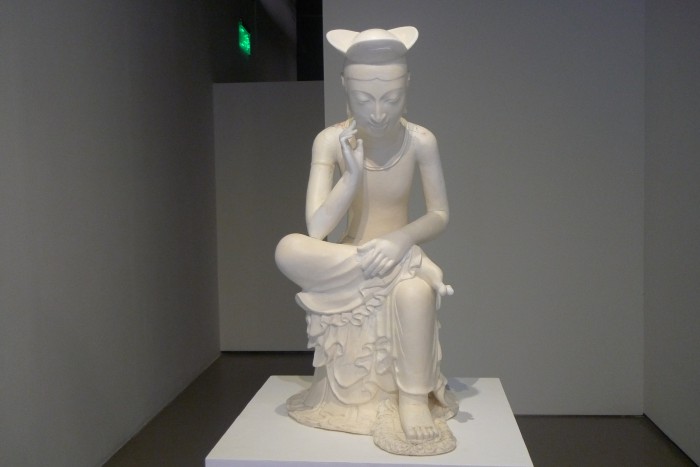 Pensive Maitreya Boddhisatva
Her works present various forms of sculptures through soap as she questions how long these objects will last in the long period of time. Also, she addresses her works to the audiences to ask themselves their understanding of the historical and cultural artefacts' existence before their very eyes and within their minds. Whether it is time and space, it depends on the survival and existence of these artefacts and sculptures which continue to withstand for different generations.
The Unfixed: A Solo Exhibition continues to be shown at the KCCUK till 18 January 2014. So, you still have opportunities to come and see her soap sculpture works. Part of Shin's soap sculpture works are also shown at the group exhibition, Heritage Reinvented, at Tyron Street, London. You can also visit the Written in Soap: A Plinth Project, which is the statues of Duke Cumberland in soap. These statues are at the London's Cavendish Square and the Museum of Modern and Contemporary Art. To find out more about this project, visit the website to see the making of Duke Cumberland statue.
Tags : Art,Sculpture,Shin Mee Kyoung,Soap,Vase