Vakki Park
Posted on January 19, 2014
What I Dreamed at Kia Surprise Weekend (Source: Vakki Park Official Website)
If you happened to watch Love X Stereo's Fly Over MV, this music video is directed by Vakki Park. Vakki Park is known as the visual pop artist where she creates retro content in different kinds of medium.
In 2003, she studied Visual Communication Design at Chung Ang University College of Arts. Then, in 2008, she studied Film and Digital Media at Hong Ik University. With her interests on visual communication design and film in different mediums, she has been working on media-art film related field including being a Interactive Graphic Designer at LG Electronics Corporate Design Center. Since 2006, she has been working as a VJ at fashion shows, events, and parties. Besides featuring her multimedia works in Seoul, she has her solo and group exhibitions at Japan, Berlin, London, and Paris.
Her works consists of different forms of medium such as videos, graphics, and infrastructures. Also, she uses a lot of colours that are placed in different patterns which looked as if there are in motion on the 'canvas'. She utilizes different sources and objects that can be combine together into a single platform with full of wonders and imaginations.
What I Dreamed at Kia Surprise Weekend (2013) (Source: Vakki Park Vimeo)
Vakki participated at the Kia Surprise Weekend (2o13) by featuring What I Dreamed, a VaVaVa dream car at the Gana Art Gallery, Seoul. The VaVaVa dream car is reinterpreted through the internal structure of Kia's automobile. This is done by combining the dynamic colours of gears into motion as a whole. Her work presents how each person dreamed to have an amazing car while having lots of curiosity of how the car should have.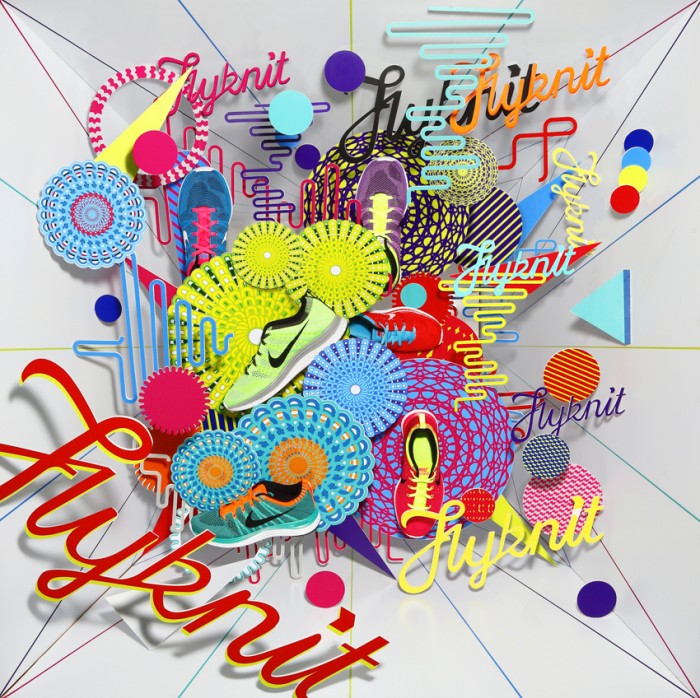 Participation in Eloquence Magazine x Nike Flyknit Artist Collaboration (Source: Vakki Park Official Website)
Vakki had also took part in the Eloquence Magazine x Nike Flyknit Artist Collaboration. For her work, she took the knitted textile of Nike Flyknit Lunar+1 into graphical patterns. She came up with these patterns which are expressed in lightweight forms. Both VaVaVa dream car and the Nike Flyknit Lunar+1 brings out a form of imagination and engagement with products. With dynamic colours and patterns, these build up the people's curiosity and imagination on how and what dream products they want to feel attached and enjoyed.
Besides creating art structural forms, Vakki directed videos that are also related to curiosities, dreams, and imaginations that are shown in retro and dynamic colours and graphics. She has been involved in creating art fashion and music video. For example, she directed a few videos for Nylon TV such as the Rogue Coco Chanel. In the Rogue Coco Chanel short clips, it has a combination of multiple shots of Rogue Coco Chanel lipsticks and models. This clip has an edgy feminine mood with the colours of red and pink while expressing how females would feel when they use the Rogue Coco Chanel lipstick.
Love X Stereo's Fly Over Music Video directed by Vakki Park (Source: Vakki Park Official Website)
Last year, Vakki made a music video for Love X Stereo as part of the VaVaVa's Video Dance Project. She brings out the various unwanted materials and objects to live with youthful aura. Some parts of the music video were taken at the alleyways of Itaewon while flying colourful pillows are jumping, flying, and having fun. The music video, which has a combination of funky and vintage colours, reminds the viewers about how they used to watch the television in the 1950s. She captures the objects' movement followed by editing these shots into forms of multiple and dynamic objects, including the singing lips, that creates the 'Korean psychedelic' atmosphere. These objects may look meaningless but by putting them into motion, it interprets how our imagination runs wild with them.
Vakki's videos and arts have funky and vintage graphics and colours that interpret dreamy imaginations. Her works are both retro and youthful vibe. These look like illusions but we are drawn to how our dreams and imaginations would be. She played and shown how colours, dreams, imaginations, and curiosities could be placed in various forms like in various visual media forms including her videos.
To view her previous works, visit her official website. Follow her on Twitter and blog.
Tags : Art,Vakki Park,Videos,Visual Pop Art