Wedding Palace (2013)
Posted on January 3, 2014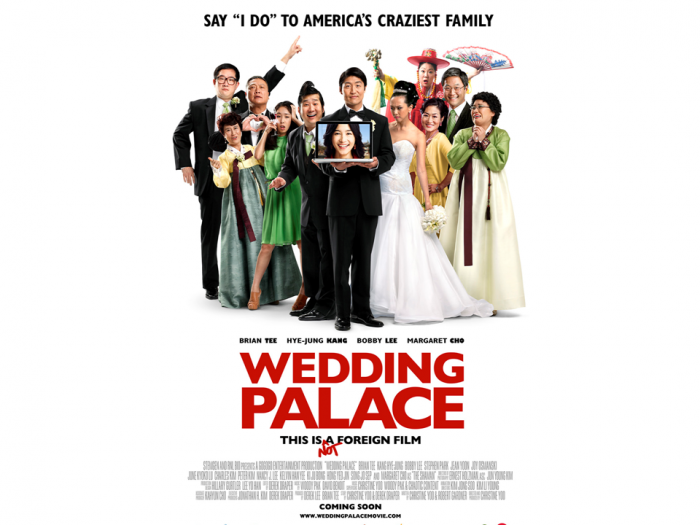 Director: Christine Yoo
Casts: Brian Tee, Kang Hye Jung, Bobby Lee, Margaret Cho, Stephen Park, Joy Osmanski, Jean Yoon
Genre: Romantic Comedy
Running Time: 98 minutes
Christine Yoo had her first debut with the Korean-American romantic comedy that was shown across the US. I managed to get to watch the film while on my way back to Malaysia via Malaysian Airlines. I would not miss the chance to watch this. A 29-year-old Jason (Brian Tee) is stood up by her fiancee on the wedding day. This causes the whole family into chaos including his parents because of the family curse. If Jason fails to get marry before 30, he will die. In the stroke of luck, he meets a lovely lady, Na Young (Hye Jung), while on his business trip in Seoul. They fall in love at first sight while hanging out together for one night at the karoke bar. Then, he has to go back to Koreatown, LA which leads to decide that they should have a long-distance relationship. They had Skype video conversations and dinner dates from time to time until Jason proposes to her. Later, when Na Young arrives at the airport in LA, Jason is shocked to see before his very own eyes. The truth that she didn't tell him beforehand. Will he still marry her? Will his family accept her?
Christine Yoo is not forcing out too much humour that could make the audiences annoyed with Wedding Palace. Instead, she placed the light of humour in both romance and family that the audiences could enjoy. It is true that there are common elements and concepts of how romantic comedies are normally shown (eg. love at first sight, the push and pull romance, funny family who gets in the couple's way etc.). However, Christine Yoo made Wedding Palace an enjoyable film to watch. Its storyline is simple yet meaningful and original that touches the audiences heart with laughter and romance.  I am impressed that Christine Yoo is taken the initiative to present Korean-American community which is hardly shown in many films. She takes a Korean-American family as an example of how they lived in terms of their lifestyle and culture such as family bondings and weddings. The style of cinematography is well-made including the family curse animation and parody dreamy music video while putting lots of effort in finding film locations in both LA and Seoul.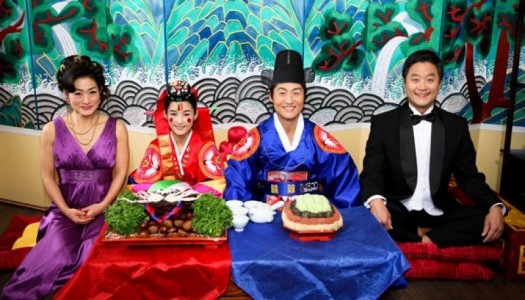 The wedding couple, Jason (Brian Tee) and Na Young (Hye Jung), together with Jason's parents (Jean Yoon and Stephen Park)
Not only I love Jason and Na Young but I also love Jason's family. Every single cast has the opportunity to shine in Wedding Palace. There are no errors in the shift between speaking in Korean and English, with the accent. Their portrayal in their own characters doesn't disappoint me as each of the character's has their own individual personality that can be easily recognizable. The two main lead actors, Brian Tee and Kang Hye Jung, have a simple and heartfelt chemistry which is build up slowly. A sweet romantic couple that makes the audiences' heart flutter. On the other hand, the supporting casts who act as Jason's family members hit the spot. Jason's mother (Jean Yoon) has the capability to shift her emotions from crying emotionally to being strong-headed and arrogant to being naggy towards Jason. Her expressions made me smile in amazement. Other family members give the audiences some laughs such as the scenes like his grandmother tries to get a ride from the Spanish guys so that she can save Jason or when Jason's funny conversations with his best friend (Bobby Lee). Na Young, Jason, and his family don't leave the audiences with boredom but giving us bountiful of joyful and romantic memories.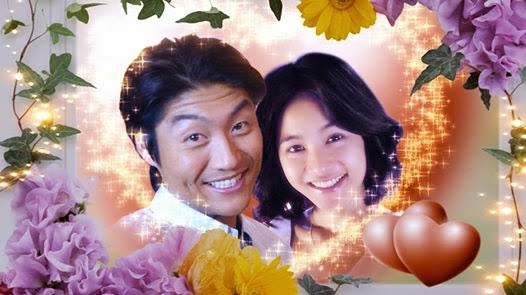 Having a long distance relationships through the power of social media such as exchanging selca pictures and having Skype video conversations
Wedding Palace made my heart skips beat by beat and made me laughed with full of joy. It is a decent mix of romance and laughter that friends and families can enjoy to watch. I love the characters with individualities. I love the lovely and funny Korean-American family. If you watch this film, you might talk about which is your favourite character and/or family member. Its storyline and cinematography are simple but thus hit the right spot of originality. It is about time that the films, which focused on Korean-Americans and directed by Korean-Americans, to shine. This is one of the hidden gems that I have found. I hope that films like these continue to be known not just only in the US but also to the whole world.
On January 7 2014, Wedding Palace will be out on VOD and DVD in North America. Wedding Palace has their own official website which you can visit. To find out more information and updates, you can follow on Facebook and Twitter. 
Rating: 7/10
Tags : Brian Tee,Christine Yoo,Film,Kang Hye Jung,Korean American