…Whatever That Means Winter Tour 2015
Posted on January 3, 2015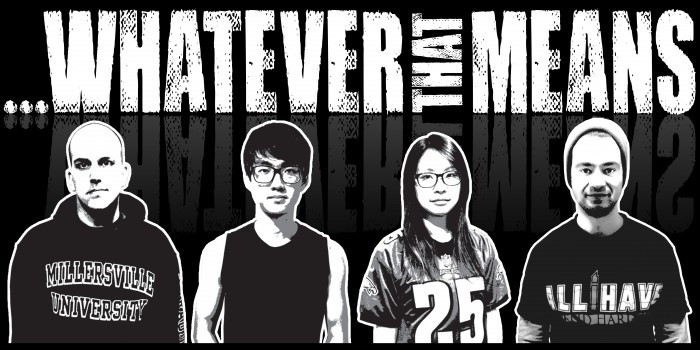 Photo Credit  from …Whatever That Means
Korean rock music has started to spread not only in the US but also other parts of Asian countries which is a great start for Asian and global listeners to know more than just the mainstream K-pop music. This month, The Geeks who will be coming over to Thailand, Indonesia and Malaysia. Another band that you need to know is…Whatever That Means. They will be going on their tour not only in Korea but also will be back in Malaysia and perform in Singapore for the first time. 
…Whatever That Means (WTM) is a melodic punk rock band that is originally formed in 2009 as a one-off project band for the punk show celebrating Jeff (guitar/vocals) and Trash's (bass/vocals) wedding. They have been building up their reputation as a hardworking DIY band for almost six years. Alternative Press Magazine (USA) described them as "the pop-punk face of the Korean music scene." WTM has always had an international lineup and currently includes Korean, American, and Polish members. For five months, they solidify a lineup and started to move on to the next step.
"Sixty-Eight, Twenty-Two" MV (Source: …Whatever That Means YouTube)
In 2010, they released a demo CD called Piracy Encouraged which has their first ever studio recording and two live tracks followed by a six-song EP, The Newest Hope. They were the opening acts for for Strike Anywhere (USA) and FCFive (Japan). Also, they had their first performance abroad by having a two-week Malaysian tour. In July 2011, WTM released their first full-length album, Sounds From The Explosion, and toured around Korea. In December, the group band had their US tour for the first time. During their tour they performed at the historic 924 Gilman Street in Berkeley, California with The Manix (It's Alive Records) and GnarBoots (Asian Man Records).
After their US tour, WTM took a one-year hiatus while Jeff attended graduate school. The band returned to action in 2013 and released an EP of cover songs called "Hong Gu Goes To Prison". They released their second full-length album, Sixty-Eight, Twenty-Two, which featured Jonghee Won of Rux, one of Korea's biggest punk rock bands, singing on the title track in May 2014. After Hong Gu left the band, Mizno took over on the drums. They continued to toured around Korea and also opened for The Bruce Lee Band (USA) and Guitar Wolf (Japan) during their shows in Seoul. In November 2014, WTM was featured in a documentary titled Us & Them: Korean Indie Rock in a K-Pop World which was released digitally. The documentary will be screened at film festivals around the world throughout 2015. Around the same time, Bialy joined the band as their new lead guitarist. Last month, WTM released their cover of The Chinkees', Asian Prodigy, as a digital single. After their Winter Tour 2015 in Seoul, Malaysia and Singapore, there are plans for having the US summer tour.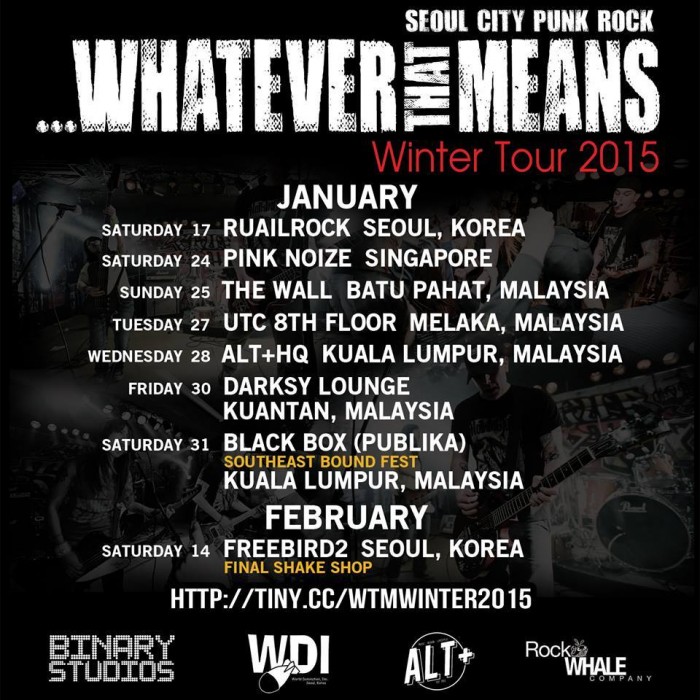 Source: …Whatever That Means Facebook Page
Here are the following details of when and where will they be performing:
17 Jan: Ruailrock, Seoul, Korea

24 Jan: Aliwal Arts Centre, Singapore

25 Jan: The Wall, Batu Pahat, Johor, Malaysia

27 Jan: UTC 8th Floor, Melaka, Malaysia

28 Jan: Alt+ HQ, Kuala Lumpur, Malaysia

30 Jan: Darksky Lounge, Kuantan, Malaysia

31 Jan: Black Box (Publika), Kuala Lumpur, Malaysia

14 Feb: Freebird2, Seoul, Korea
Don't miss their performances while they are in Malaysia and Singapore. Check out their Facebook event page for more details. Follow them on Facebook and Twitter. Interview with …Whatever That Means coming soon.
Tags : K-Indie,music,Punk Rock,Whatever That Means