Who Ate Up All The Shinga? by Park Wan Suh
Posted on March 2, 2014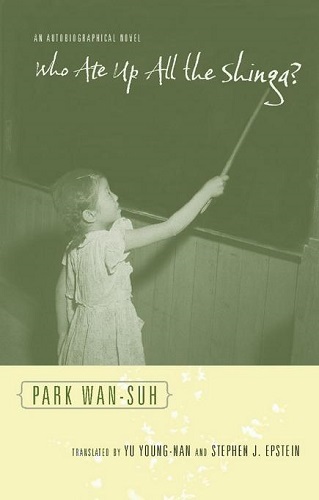 Who Ate Up All The Shinga? is about Park Wan Suh's experiences during the Japanese occupation of Korea and Korean War. In 1931, she was born in a small village near Kaesong where she had a better life without worries. However, when the Japanese occupation came to Korea, it affected her everyday life especially when she moved to Seoul. She encountered great deal of oppression, deprivation, and social and political instability that happened at time periods and key events while describing what she had experience with universal themes. Some are lovely while others are heart-wrenching.
As I flip page by page, reading word by word, Park's story touched my heart and soul followed by building up my curiosity about what happened to her back then. She has set the timeline at a good pace: from her childhood days at the countryside to her encounters in the city of Seoul. She addressed the key themes and events that are not only historical but also how, in her own views and emotions, thought about the ups and downs during both Japanese occupation to Korea and the Korean War. A great and steady shifts from one chapter to another on Park's story that grabs the readers' attention.
Specifically, it is interesting to look into her own experiences as a student, a daughter, and, most importantly, a woman who have strong personality. She tried her very best to support both family and her own happiness while surviving in the harsh reality. Although she comments about how she is being treated badly, she strived to do the upmost best in doing well in education. On the other hand, she writes a lot about her mother, stubborn but caring person who knows what is best for her children. She doesn't want her children to have rough times in the future. She placed the children's survival first before hers. Even though her mother is very strict, based on her actions and words, these truly revealed how mothers give love and care to the children.
Who Ate Up All The Shinga? has two key events that have Park's chapters of memories that addressed the harsh realities and in hopes of having a better life. It covers a lot of themes including feminism and motherly love. With these in mind and have an interest about these historical events, you might not put down this novel. You will keep reading Park's story till the very end.
Tags : Autobiography,Literature,Novel,Park Wan Suh