Yoon Hyup x Rag & Bone – Houston Project
Posted on January 25, 2014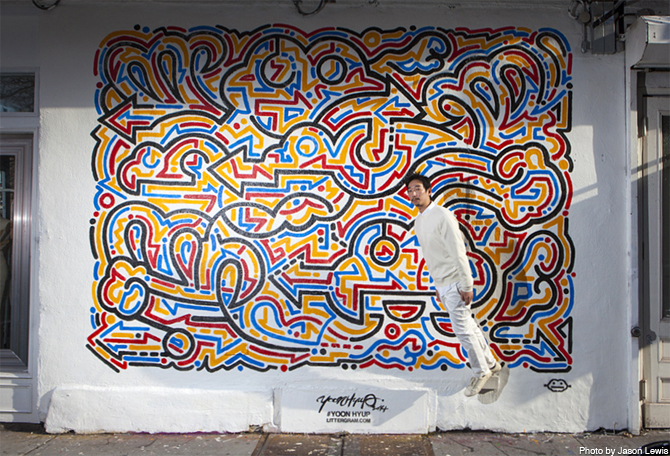 Yoon Hyup and Wishing for a Bright Sunny Day (Source: Yoon Hyup Official Website)
Yoon Hyup, an artist based in Seoul and New York, is known to blend both aspects of traditional Korean culture and early skate culture into his works by using solid colour lines on different mediums of contemporary visual artworks. He has done street arts, exhibitions, video, and group collaborations with well-known brands (eg. Nike, Tommy Hilfiger, and Brown Breath).
Behind the scenes of making "Wishing for a Bright Sunny Day" (Source: Yoon Hyup YouTube)
Recently, Rag & Bone, a US-based fashion label, selected Yoon Hyup as one of the painters for Houston Project, a rotating art space where New York-based artists and painters are given the opportunity to present their works on the white wall. These designs became the attraction for visitors and tourists who passed by the Rag & Bone store.
Yoon Hyup named his latest work, Wishing for a Bright Sunny Day. He used three primary colours (red, yellow, and blue) and black to paint on the white wall. These are the colours of "Obaengsaek" which represents the Yin & Yang and five natural elements of the universe. While using one colour at the time, he painted the lines and dots continously. He placed different elements of Korean elements which can be seen in Korean traditional architectural buildings like temples and tombs. Going colour by colour, from black to yellow, he created forms of circles, arrows, winds and clouds. Despite the cold weather in New York, he persevered in continuing to paint the wall until it was fully completed.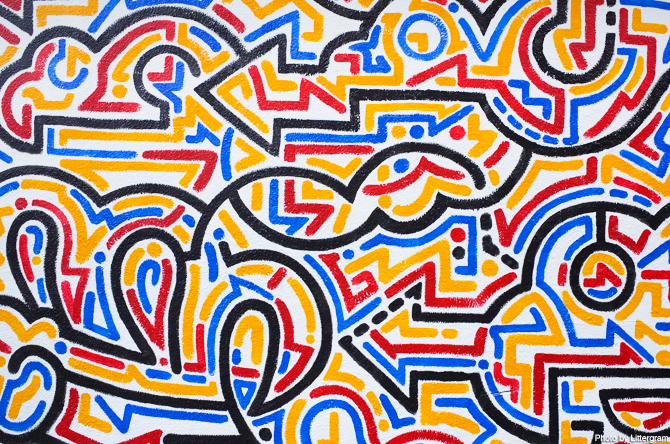 Wishing for a Bright Sunny Day (Source: Yoon Hyup Official Website)
His work has a flow and balance of all primary elements. Each colour, which represents a single natural element, compliments with other colours. With just the primary colours and black, he painted the traditional Korean motifs that are in harmony. Similar to that, he is able to combine both traditional and contemporary art elements into his work that appealed to the visitors, both local and international. Seeing his work, as a whole, fits the title well because of how the wind blows the clouds in the sky while hoping to have a nice sunny day. A work that gives a lot of bright energy and inspiration to the visitors.
Yoon Hyup, whom you should keep an eye on, continues to develop and create his visual and graphical artworks including collaborations. His previous works can be viewed through the website. You can find out about his ongoing projects and inspirations through his Instagram (@YHNP) and Twitter.

Tags : Art,Graffiti Art,Graphic,Rag & Bone,Street Art,Yoon Hyup