Zandari Festa 2014 in Korea (10 – 12 October)
Posted on July 26, 2014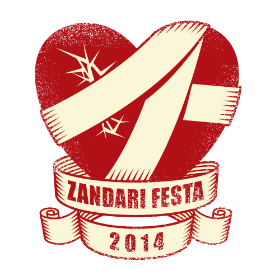 Photo Credit: Zandari Festa 2014
Zandari Festa, known for showcasing all kinds of music genres in Korea, was launched in 2012 as a town-type showcase festival that focused on 'diversity' and 'togetherness'. Indie musicians performed in the whole area of Hongdae, the home of unique sub-cultural identities among Korean youths. The young people frequently come to cafes, bars, clubs, and parks of Hongdae during their free time and listen to a variety of music, ranging from rock to reggae, jazz, and hip-hop. Indie artists perform their passion for music while engaging with audiences. It is not about the size of the venue but it is the communication between musicians and audiences that connects through music, an international language.
Last year, over 20,000 music fans came to see over 300 artists who perform while 1,000 music industry professionals and 260,000 live online streaming viewers enjoyed the festival. To celebrate their 3rd year, Zandari Festa announced that its official partnership with international festivals like Liverpool Sound City (UK), V-Rox (Russia), Shanghai Zhujiajio Water Village Festival (China), and Adam Mickiewiz Culture Institute, Culture.pl (Poland). This is going to be one of the well-known international showcase festivals where music lovers will definitely enjoy. A mind-blowing special experiences in watching musicians' live performances, both at venues and live online streaming.
Zandari Festa 2014 will be held on 10 – 12 October. They are currently receiving showcase applications from musicians until 31 August. Grab this opportunity to apply through their official website so you can perform and enjoy on stage in Hongdae.
For more updates and information about Zandari Festa 2014, visit their website, Facebook page. and Twitter.
Tags : Festival,Hongdae,Indie,music