Zandari Festa 2015
Posted on September 29, 2015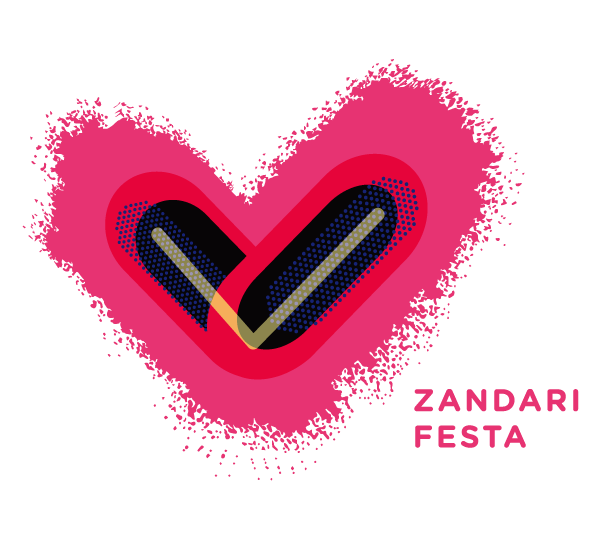 Source: Zandari Festa 2015
One of Korea's biggest music festival, Zandari Festa 2015, is coming real soon in Hongdae, Seoul. This event is going to happen on Oct 2 – 4 at different gig venues where various genres of music, from punk rock to electronic, are going to be showcased by talented bands from all parts of Korea and overseas. With one wristband, music lovers and festival goers will get to check out the live performances.
Zandari Festa was established in 2012 and it continues to be held annually in Hongdae, the youth cultural hub and indie music scene. Every year for three days in October, Zandari Festa brings together artists and industry music professionals from around the world for live gigs and conferences in more than 20 different venues in all parts of Hongdae.
2014 Zandari Festa Highlights (Source: Zandari Festa Youtube Channel)
Last year, more than 500 artists applied and 215 artists, from Korea and overseas, are invited to perform in a three-day event. By having overseas acts invited to the festival, Zandari Festa continues to build the cultural and music ties, between Korea and overseas music industries, and let audiences to be amazed by various music talents. Last month, Liverpool Sound City teams up with Zandari Festa to bring the UK acts to perform in Seoul.
For this year's Zandari Festa, more than 600 artists applied and 261 of them from around the world will be performing. Here are the ten acts that you should check them out while attending the festival. The live performances that will blow your mind away because of their music and performance. Some of the artists share what they had to say about Zandari Festa and their excitement to perform at the festival.
1. Billy Carter
You Ate My Brain (Source: 한증막 YouTube Channel)
Billy Carter are a three-piece hardcore/blues rock band who are not afraid to experiment different sounds. In my previous trip in Seoul, I watched them perform live at Hae Bang Chon Festival in Itaewon. They are surprisingly shocking and amazing, in a good way. Not only their music made me want to dance but also their extravagant performance, including Jiwon lying on stage, show that they are having fun. It is a combination of fun and passion in both music and performance.
2. 21Scott
이젠 내가 있을게 (Source: owho1004 YouTube Channel)
21Scott is an alternative punk rock band that aims to create memorable and melodic music. During the Hae Bang Chon Festival, I was fully enjoying the melodic music that has a sense of connection to the audiences. The music is simple and upbeat together with meaningful lyrics that takes you down the memory lane of enjoying punk rock music.
Seong-hoon Kim (guitarist and vocalist): I love playing at Zandari Festival because I get the chance to play alongside all kinds of bands, not just punk or bands that are similar to 21Scott.  It's also a great chance to watch a variety of musicians that I probably wouldn't come across normally and hopefully meet some new people too.
I think Zandari Festa is a fantastic chance to showcase the diversity of Korea's indie scene. There is so much talent in Korea and it's really cool to bring everyone together to not only build unity amongst musicians but also inspire each other to keep creating and pursuing what we love.
3. Wasted Johnny's
뜨거운 것이 좋아 (Source: EBSCulture YouTube Channel)
Wasted Johnny's, a three-piece rock band, showcases the frank and rough sounds of rock 'n roll, garage, and blues. One of the bands that I absolutely do not want to miss out while I was in Seoul is Wasted Johnny's who preformed previously at Live Club Day. I was so amazed by the overall performance especially Angie's excellent guitar skills and seductive vocals with rough edges and wild character. I was singing and dancing along with their music which is raw (Get Wasted), fun (뜨거운 것이 좋아), and sentimental (We are More Than Just Lovers). That was one of the unforgettable and enjoyable night.
Nils Germain (bassist): This is the first time we're playing at Zandari Festa, so that makes it pretty interesting and exciting for us!
Zandari Festa is good for the Korean indie scene because it showcases all of the indie scene's glory in just three days. All the famous indie bands play alongside lots of really good new talents who are ready to be discovered, and to me that's the essence of the Korean indie scene but put on steroids for three days!  Plus the global side of it with inviting foreign bands and sending Korean bands overseas is really good too.
4. National Pigeon Unity
Molotov Cocktail + Sevenless + Kathera (Source: C Lippe YouTube Channel)
After they finished their military in early 2014, the duo, National Pigeon Unity, got back into produce more songs and perform live gigs in Seoul. They continue to establish themselves as one of the strong rock bands in small performing venues and they will be at the Zandari Festa. The energetic and loud sounds from guitar and drums in unison that evokes in full force. You would be amazed how is it possible that they are to do that as a two-piece rock band with great chemistry.
5. MAAN
Come Around (Source: dingson YouTube Channel)
In 2014, MAAN appeared in the Korean indie scene through performing at Hello Rookie and Band Discovery. Later, they debut in May 2015 and slowly starting become more popular due to their smooth, upbeat and unique tunes. Listening to their title song 'Come Around' will make new audiences enjoyed listening to because of its unique sounds including the guitar. 
6. Lowdown 30
Hotter (Source: dmsqlc46 YouTube Channel)
Lowdown 30 is a blues rock trio that showcases the sounds of searing guitar, throbbing bass and pounding drums. The groovy and bluesy sounds of Lowdown 30 suits perfectly on enjoying a good time with your friends at the club. 
7. LudiSTELO
Summer Hill (Source: RealLive! 문화콘서트 난장 YouTube Channel)
The electronic rock trio, LudiSTELO, illustrate the sonic sounds that depicts both nature and journey. LudiSTELO's upbeat guitar and drums together with smooth electro synth beats in unison make it related to listeners' life experiences. They continue to experiment different tunes that enable audiences to enjoy and appreciate their lives.
8. Pavlov
그렇고 말구요 (Source: onstage 온스테이지 YouTube Channel)
Members of Pavlov, born in 1987, met each other in high school and formed as a band. A band that knows how to bring in the classic 1990s rock tunes. Vocalist Doharm Oh is known for dancing and jumping around crazily onstage while guitarist Jun Ryu is known for his straight up and unique guitar skills. All four of them, with their own unique character and talent, made the crowd gone wild in every gig including Soundholic Festival 2015 which I went to previously. They perform and interact with the crowd while the crowd move about in unison within the mosh pit.
Jun Ryu (guitarist): Zandari Festa provides chances to get acquainted with new bands in Hongdae and meet international bands that would be difficult to see otherwise.  We hope to take this opportunity to let music fans, musicians, and music industry professionals know Pavlov's music.
It brings the Korean indie scene together and helps promote Hongdae musicians to the rest of the world.
9. Monoban
Blue Mountain Breakup (Source: jang dayone YouTube Channel)
Indie folk band, Monoban, will remind you of a countryside where you long for home and spending time with your friends and family. Their story-like songs have a mix of calmness and entertaining. These songs are perfect to listen to you are on a road-trip and travelling. With cello together with guitar and percussion, you will find something different in the Korean indie scene when you drop by and see their live performance at Zandari Festa.
George Durham (cellist): It's a well-run event, Zandari has always been good to us, and we'll have a chance to play a show at a new club and get some new exposure.
Seoul is the perfect place for this type of festival; in fact it needs it because there are just so many small clubs. So it's good for everyone, the audience, the bands, and the clubs.
10. The Streetguns
Run (Source: 음악먹는홍대 YouTube Channel)
After being active as Rock Tigers for 13 years, The Streetguns were formed as one of the few rockabilly bands in South Korea. As The Streetguns, they bring in the new sounds but continue to maintain the rockabilly sounds going at many gigs in Seoul. Once you are there at the venue during the Zandari Festa, you will dance the night away with The Streetguns with their energetic live performance.
Tiger (guitarist): We're excited because Zandari Festa is the biggest festival of the year in Korea and lots of musicians and music industry professionals participate in the festival.
Through this big festival, the community in Hongdae becomes stronger and many more people learn about the local indie scene.
Although these are the ten acts to check them out, there are still plenty more that you should not miss out. Watch Rock 'N' Roll Radio for dance rock and Love X Stereo for electronic rock. Popular acts like Crying Nut, Galaxy Express, Asian Chairshot, and HarryBigButton should not be missed out. Punk rock? Check out PATiENTs and …Whatever That Means. Don't forget to check the amazing duo Dead Buttons' raw and powerful mix of styles, from garage rock to psychedelic music. Enjoy the glamour rock performance by Victim Mentality. Don't miss 숨[suːm], Jambinai and Coreyah's fusion of traditional and contemporary music style that are unexpectedly shocking. All of their live performances are amazing.
To find out more lineups, including more of my favourites other than what I recommend here, check out the lineup and performance details here. Find more details about the tickets and purchase the tickets at Interpark. Follow updates about Zandari Festa on Facebook and Twitter. A three-day music festival that you should not miss out when you are in Seoul.
Tags : Billy Carter,Blues Rock,Electronic Rock,Folk,Lowdown 30,LudiSTELO,MAAN,Monoban,music,National Pigeon Unity,Pavlov,Rock,Rockabilly,The Streetguns,Wasted Johnny's,Zandari Festa
Comments are closed.