Zandari Festa 2016 Day 3
Posted on November 12, 2016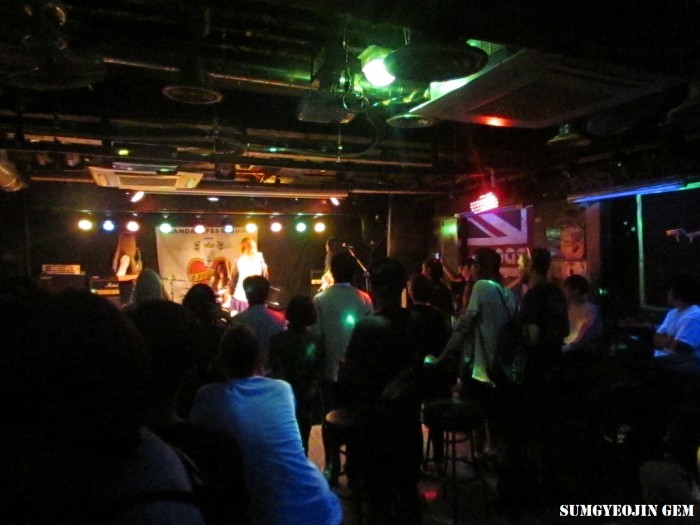 Thank goodness it's a sunny day that fits the last day of Zandari Festa 2016 perfectly. The final hour of the day was so intense because all my favourite bands were playing at the same time in different venues.  For a couple of days, when I am constantly going places during the Zandari Festa 2016, I always remind myself to fill up my tummy. Otherwise, my tummy will be crying for help. Before I make my final gig-hopping, I had a very heavy lunch at a restaurant near the guesthouse. I had a few cans of beer and chat with a couple of people at the MUV Hall. Then, it's time to go from one place to another to watch some bands.
Here are the bands that I watched on the last day.
Victim Mentality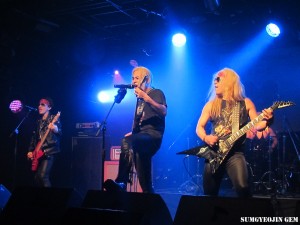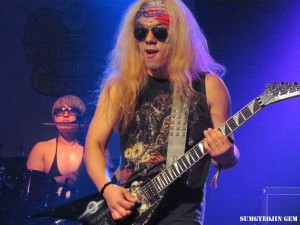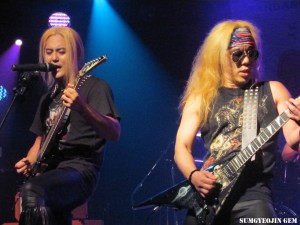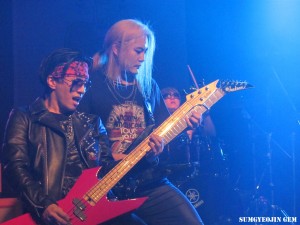 Victim Mentality shows what glamour rock truly is at the MUV Hall. Their tracklist includes 'Don't Spit On Me', 'I Hate Hip Hop' and 'Heavy Metal is Back'. Krocodile's stage presence cannot be forgotten with his straightforward but slightly confusing conversation with the audiences, taking out his whip and sword and play around with it and doing air guitar & bass magic on Diemond's and Scorpion's instruments. Krocodile's vocals let my mind in shocked and amazed by how he sang in long and high pitch without straining his voice. Scorpion and Diemond joined in the fun during the conversation while doing upmost best to speak a few English sentences. At most times, Krocodile, Scorpion and Diemond went synchronized in moving forward and backward as they played. Krocodile and Diemond wildly played their guitars. Similarly, Scorpion did the upbeat bass and going as mad as them. Kid kept up with the mid-tempo beats. The audiences cheered for them as they stood proudly on stage. It is an entertaining performance by Victim Mentality.
Ego Function Error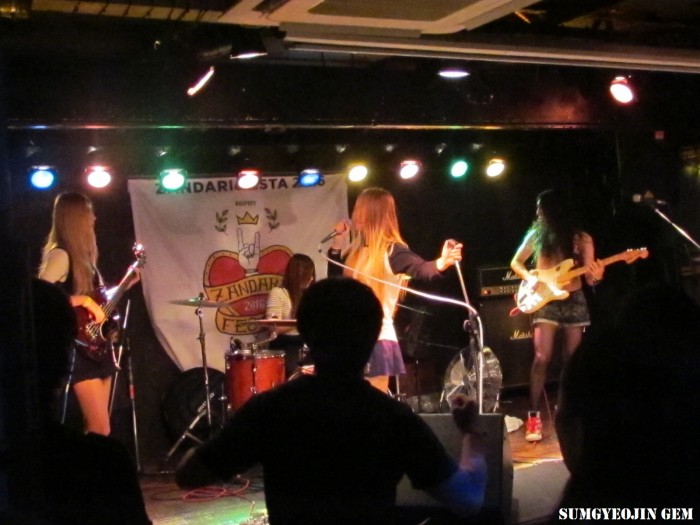 I heard Ego Function Error's music and watched a few of their live performances videos before I came to Seoul. Honestly, my first impression is 'weird'. Weird in a way that I couldn't put the puzzle pieces together because their verses, tempos, and genre within each song are all over the place. After listening to their music a couple of times, the music sinks inside me. I took this opportunity to see their live performance myself.  Min Deng has such an interesting character. She went singing and dancing cutely on stage. All of sudden, she went wild and crazy, from headbanging to air punching to singing while sitting, along with the other members. Several times, she went off stage and dance crazily. Kook Kook went mad with kicking and swinging the guitar. Towards the middle of their performance, Kook Kook took of the shirt followed by going to the audience space and lying down on the floor while playing the guitar. Seung Hyeon was calmly playing her bass while No Ja crazily beat her drums. They may look like cute and pretty girls but they sure know how to go crazy through their music and performance. The plus point is they know how to make the audience enjoy themselves along with their music. I start to like their music even more after watching them perform live for the first time. Three Cs to describe them: cute, crazy and cheerful.
The Barberettes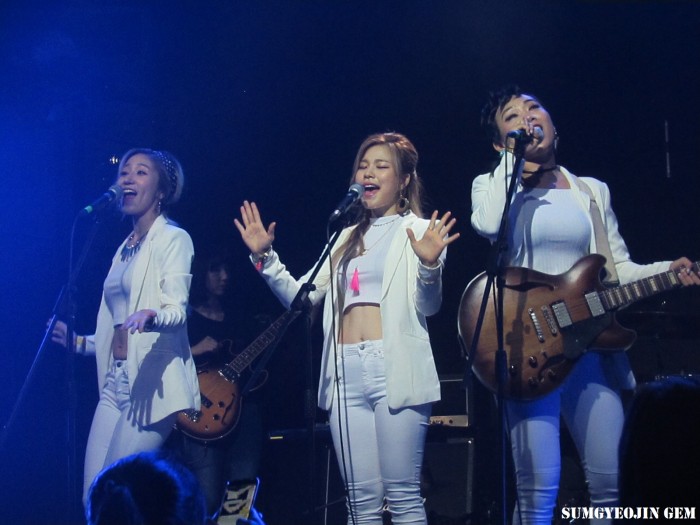 There were many instruments being set up on stage. The soundcheck took longer than I thought. It was about 15 – 20 minutes delay and the audiences had been waiting for a long time. The Barberettes went up on stage and did some soundcheck. In between, Shinae asked and thanked the audiences for their patience. Also, they perform one track for a while in soundcheck so the audiences won't get bored. They started their performance immediately after the soundcheck. Shinae, Sunnie and So Hee sang harmoniously. Their sounds are like 'honey coated candies' which melts in your mouth heavenly. Shinae danced around with her guitar as Sunnie and So Hee moved about from left to right. As for me, I was dancing and jiving along with their music. Sadly, because of the delay soundcheck, I only managed to listen to a couple of songs including 'Barberettes' and I have to check out other bands in other venues. I left the MUV Hall with a heavy heart.
FULL GARAGE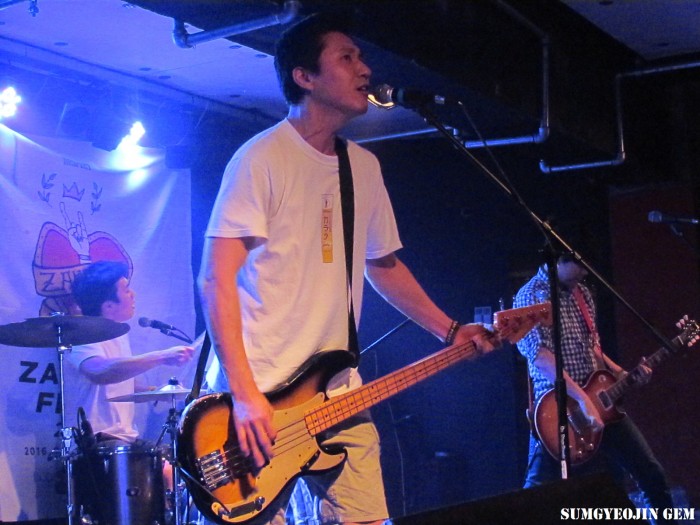 I bought a pint of beer, sat by the table and getting myself ready to watch FULL GARAGE's live performance. By the time FULL GARAGE is up on stage, most of the audiences get off from the tables and go near the stage to have fun. They keep their tracks short, simple, melodic and impactful. Their live performances are equally as good as their recent first full album. Keun Young's husky vocals compliment the whole selection of tracks along with his individual strong bass playing that I am impressed with. Hyo-Sub executed the guitar notes in fine detail. Jae Hyuk keeps in fast motion together with guitar and bass. Their transition to going to their next track by tuning the guitar's and bass's sound uniquely is done smoothly without any stops in between. The audiences cheered and shouted friendly support to them. I could feel the beat is still pumping in my brain non-stop. I also felt that a few tracks 'Better Than Yours' and 'Okubo' are still stuck for a couple of days.
Romantiqua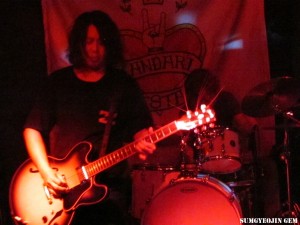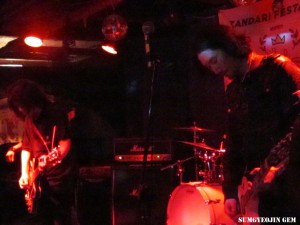 I was recommended by a friend who told me that I have to watch Romantiqua. So, I head down to Club TA after watching Full Garage at GOGOS2. I was by the seats and listened to their tracks in deep thoughts. The sound has a mix of nirvana and hardcore rock. The guitars play the role as vocals in conveying the in-depth melodies. At the same time, the hard tempo drum beats reminds me of the sound of heavy raindrops. My mind is set to the sound of calmness followed by heavier but breathtaking and it continues on in a cycle. I was taken into a faraway distance where I can be by myself at peace. Out of all the performances that I have seen so far at the Zandari Festa, Romantiqua's music is the first for me to listen to them so intensely. I feel that my mind is calm and relaxed while listening to their music.
EE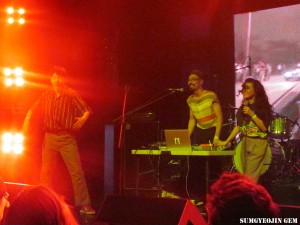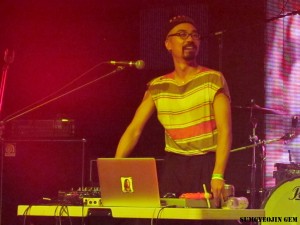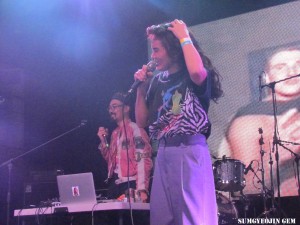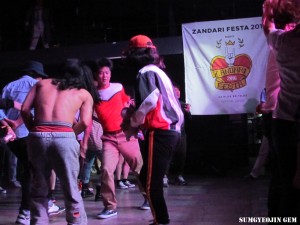 I stepped into the MUV Hall and I felt that I entered into a different realm where EE is performing. Yun Joung (Little EE) sing in conversation-like with intriguing voice and diva personality while her husband, Hyu Joon (Big EE) stands by the table in handling the synth sounds and backing up as vocals which is mysteriously addictive. At times, Hyu Joon was away from his laptop and dancing around on stage. Yun Joung had conversation with the audiences and encouraging them to just go crazy and forget about all kinds of nonsense. She talked about life based on their music. The overall concept of their performance is about 'life we live in current society'. The main highlight that goes along with the music is the dancers who not only going crazy through their hip hop and artistic performance on stage, they also perform in the audience space. That led to creating a dance-off with the rest of the audiences as some joined in the fun. The videos displayed at the screen are mesmerizing as it represents the lifestyle culture that we live in the society. I express the whole performance as mind-blowing and inspiring that the message is shared through art, dance and music. A truly remarkable performance.
Danpyunsun and The Sailors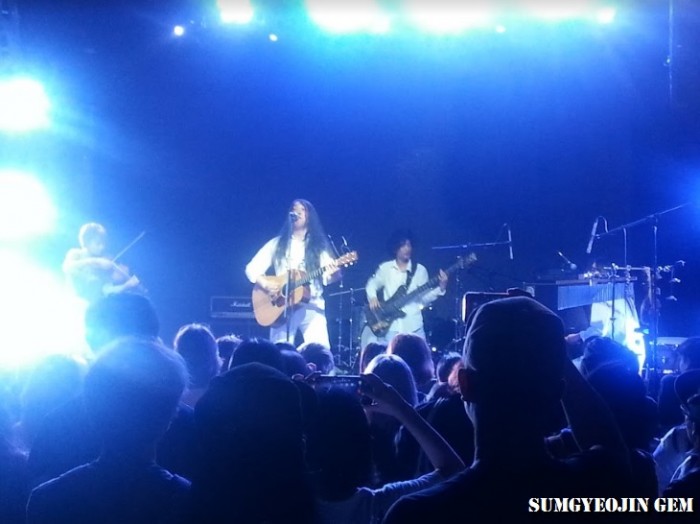 The whole audience at the MUV Hall are taken on the journey across the sea with Danpyunsun and The Sailors under the full moon at night. Captain Danpyunsun maintains his breathing amazingly well as he sang in a 'folk and pansori' storylike manner. Soo Hyun plays the violin with plenty of grace through her beauty and skills that is truly mesmerizing. It is a good idea to bring Do Hyeok up front stage so we could see how he plays all kinds of percussion. From playing the modern drums to beating the Djembe drums and slide his hand along the wind chimes. He keeps us up to the beat as we clap along to the sounds of percussion. Throughout their performance, cheers and claps to the music were heard. Their music flows beautifully like the sea and we dance along the beats that led us into dancing on the ship. Listening to the Danpyunsun and The Sailor's 'storylike' music is a wonderful treat.
Galaxy Express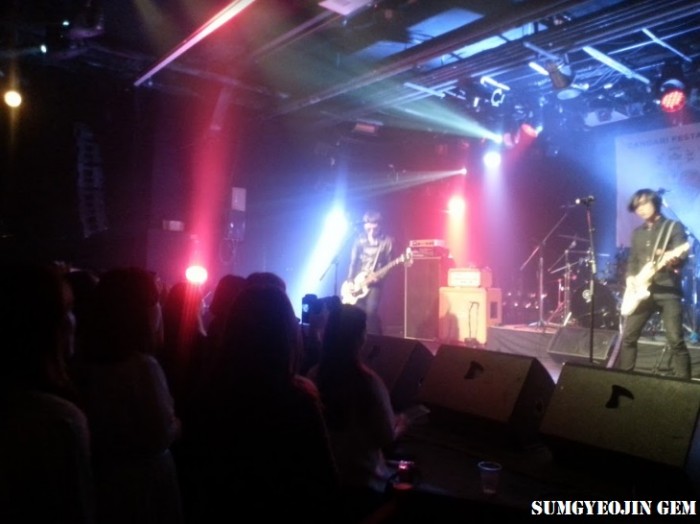 One of the bands that I definitely do not want to miss while I am in Seoul is Galaxy Express. They are the very first of my favourite bands after they had their first UK tour back in 2013. There were a couple songs that I hear for the first time at their live performance such as '여명의 설원', '매일매일' and '새벽'.  They also played my all-time favourite song '호롱불'. Ju Hyun raw-like vocals leave the audience in awe along with his heavy bass tunes. Jong Hyun executes the roaring guitar notes splendidly while, at times, jumping around on stage. He remarkably well on the slow and heavier rock tracks like '새벽' which I've seen it up-close for the very first time. Hee Kwon plays the drum with a lot of emphasis on strong beats and with a bit of lightness on the cymbals followed building up its overall beats towards the climax and ending of each track. This time, they focused more on instrumentally and emotionally driven tracks beside the popular ones. It has a good selection of tracks because it shows their capabilities on how they could showcase their talents and convey their music with emphasis on heavier and sentimental tunes that drill my heart and mind continuously. They should focus on that direction in making and performing their music.
Crying Nut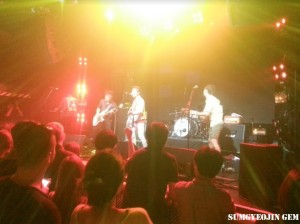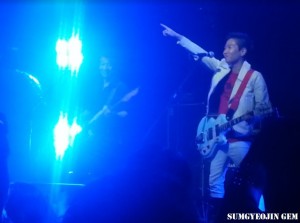 The delayed soundcheck continues at MUV Hall especially for Crying Nut. Like the rest of the audiences, I waited for about 15 minutes. During those minutes, the band interacted with the audiences and at times played a song for a short while to ensure that the sounds are just right. Finally, their performance has begun. The whole audiences were jumping, pushing each other, cheering and singing along with Crying Nut on every song. They brought in the classics like 'Luxembourg' and 'Speed Up Losers'. They also did a cover song of audiences' favourite 'Stand by Me'. Kyung Rock lifted up the whole atmosphere by encouraging the crowd to dance and cheer along with the music. He rocks his bass as equally as mad in interacting and singing with the crowd. Yoon Sik vocals are crystal-clear and execute his guitar notes perfectly. Sang Myun nerve-wrecking guitar skills are left me in amazement. Sang Hyuk was having a good time while playing with the drums. In Soo may look calm and serious but he is crazy at times especially with his unique presence. The sounds of the accordion/keyboard bring music to my ears that I joined some fun in dancing with the audiences. For the past 15 years, they have been keeping their music alive and they are loved by fans, old and new. They are truly the pioneers of Korean indie music.
PATiENTS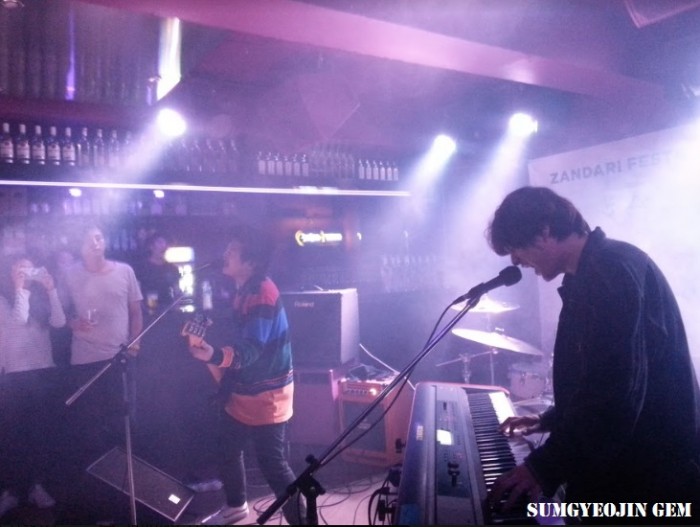 By the time I reached Club Steel Face, PATiENTS just ended their performance. Most of the fans were asking for an encore. I asked them to perform one more song. PATiENTS decided to play the song that is loved by many fans: 'SIPALSEGI'. A few people were jumping around in the audience space. Su Min sings wholeheartedly while rocking out with his bass. He is able to play some upbeat bass tunes to support the drums and keyboard. Kwon does splendidly well in playing the keyboard in the speed of light and does the backup vocals harmoniously with Su Min's vocals. Soo Won, who joined PATiENTS as the new drummer, left me a great impression with his skills. He enjoyed himself along with the other members. His drumming skills are on a steady beat with both bass and drums. I can see a wonderful chemistry between Soo Won, Su Min and Kwon. They are a really great team and I hope their teamwork and chemistry grow stronger. I am looking forward to more music from them together with new drummer Soo Won. The encore song end my final night at the Zandari Festa 2016. I am glad that I, at least, listen to one song from PATiENTS. That is good enough to make me happy.
It was a wild and crazy night. Day after day, the overall atmosphere gradually became crazier than I could ever imagine. Each and every band has their style of craziness in different angles and genres. At every single gig venue, Day 2 is 'a huge gust of wind slapping my face mentally'. For Day 3, it is 'the wild waves splashed onto me' no matter how tired and sweaty I am. Sadly, there were continuous 15 – 20 minutes delays of soundcheck at the MUV Hall since the first band that led me to skip a couple of bands including Kingston Rudieska. I understand that soundcheck is required to ensure there are no hiccups during the performance. However, the audiences were waiting for a long time in between for the next band to perform.
The bands who performed at the opening night, closing night, British Night and French Night are amazingly good. The great nights that I enjoyed are the French Night and Closing Night. The closing night ended with Colonel Mustard & Dijon 5. That night get the whole audiences to sing and dance along with the band. We created a human train. Some of us have a dance-off. Others dancing from side-to-side. It's an unforgettable night. I didn't get to enjoy much at the British Night because of the venue. British Night was held at Club Freebird. The audience space is way too small to cater so many people. I couldn't breath and I almost fainted within the crowd that I have to head out to get some fresh air. I only managed to watch Atlas Wynd, She Drew The Gun and Sugarmen. I would love to see all the British Bands but Club Freebird is too packed.
The Zandari Festa 2016 is one of my wonderful experiences that I have during my visit in Korea. There is a great and wide of selection of bands to watch within three days. Although there were a few hiccups, like the delay soundcheck at the MUV hall, the organizers and staffs handled well especially having the backup venue during the heavy rain in day 2. Even though there are a lot of bands performing at the same time in different venues, it made me discover more bands in Hongdae. The bands left me great impressions as some made me want to find out more about the new ones which I heard for the first time live.
I hope to attend the Zandari Festa 2016 next year. I believe next year's one is going to be even better. Great job Zandari Festa 2016 team and bands!
Tags : Crying Nut,Danpyunsun and the sailors,EE,Ego Function Error,Full Garage,Galaxy Express,music,PAKK,Patients,REDDOT,Romantiqua,The Barberettes,Victim Mentality,Zandari Festa 2016