ZenKimchi Food Tour in Mapo District: BBQ and Jeon
Posted on August 3, 2015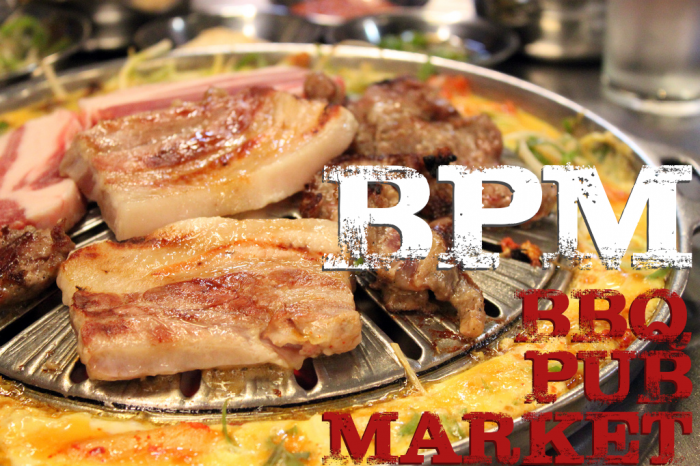 Source: ZenKimchi official website
ZenKimchi, launched in 2004, explores the Korean food scene in humorous and informational ways, from restaurant reviews to Korean food 101, which is cater for both local and international readers. The founder of ZenKimchi, Joe McPherson, launched Seoul Restaurant Expat Guide for foreign visitors who want to try some delicious food in Korea. Also, ZenKimchi organizes various unique food and youth culture tours including the popular Dark Side of Seoul which Joe takes you to explore the hidden locations. Joe shares interesting and scary stories about these places. These tours received Certificate of Excellence this year by TripAdvisor.
During my previous visit in Seoul, I took the opportunity to join the BPM Tour: BBQ, Pub and Market. In this tour, I enjoyed a night out in savouring Mapo-style BBQ and Jeon, known as Korean pancake. The night ended at a noraebang place where we sang our favourite songs with plenty of emotions to go with it.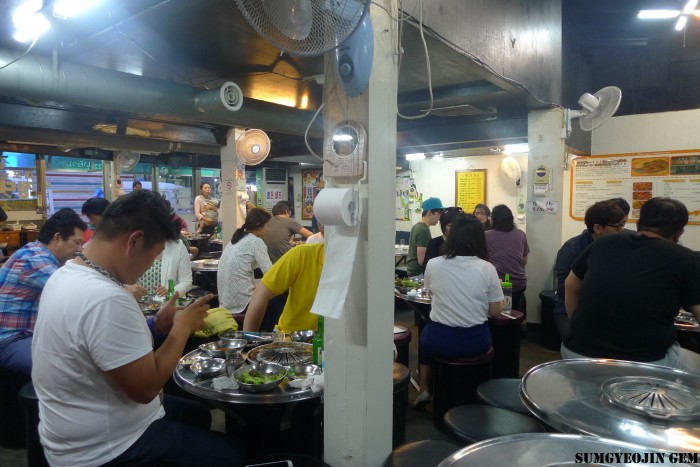 The restaurant visited by popular celebrity chef and writer, Anthony Bourdain
The tour started off in meeting outside Gongdeok station, exit 7 (line 5, 6 and AREX). Then, Joe took us to savour Mapo-style barbecue which for some charcoal grilled pork and aged kimchi together with beer and soju. This area is based in Mapo district where, back in the old days, a lot of trading businesses were held and the locals can only open BBQ places in that area. An interesting fact is that the popular celebrity chef and writer, Anthony Bourdain, previously had his meal in that restaurant where it was featured in his latest season of Parts Unknown.
Mapo-style BBQ
The Mapo-style BBQ meat includes pork belly and beef with aged kimchi. The meat is laid on the BBQ plate which is cooked through with charcoal at the bottom. The beaten egg is poured around the BBQ ring plate followed by putting the aged kimchi and spring onions. While waiting for the meat to be cooked, the oil and fat from the meat flowed down to the egg base which give the meatiness flavour to it. Once the meat is cooked, it is time to make the wrap. Wrapping the cooked meat with lettuce, perilla leaf, cooked egg with kimchi and spring onion, garlic, soy sauce with chilli and Korean chilli bean paste.
One whole bite of the wrap bursts harmony of flavours in my mouth. The juicy meat and meaty egg, including aged kimchi and spring onion, melt wonderfully with the balance of lettuce, minty perilla leaf, spicy sauces and garlic. Drink together with the mix of beer and soju, somaek, is an absolute delight which keeps me going in making wrap after wrap of delicious charcoal grilled meat and egg. It made me giddily happy. It is a sense of joy with great atmosphere in the restaurant.

Various kinds of Jeon sold in the market
The next stop is the Jeon market where we tried various types of Jeon. Aside Kimchi Jeon (Kimchi pancake) and Pajeon (Seafood pancake), all kinds of vegetable, seafood and others are made into pancake. Also, the locals take the initiative to cook interesting ingredient, like cheesestick, sausage, meat spam and tofu, into Jeon. Plenty of assorted pancakes to choose from by taking the basket and pick your choices. The price ranges from 15,000 – 20,000 won for three to four people. We came to the restaurant where frequent university students and office workers enjoy their night with Korean pancakes and drinks.
Grapefruit Soju, Chestnut Makgeoli and various kinds of Jeon
A plate of various kinds of Jeon is served together with Grapefruit Soju and Chestnut Makgeoli. The assorted Jeon have both meat and vegetables such as crabstick, cucumber, mushroom, crabstick and many more. The jeon base is soft and crispy which does not overpower the flavour of meat and vegetables. Compare to the original soju and makgeoli, the Grapefruit Soju and Chestnut Makgeoli have low percentage of alcohol. The Grapefruit Soju is fruity which is like enjoy drinking sparkling wine while Chestnut Makgeoli has a smooth and nutty flavour. These drinks are suitable for those who have very love alcohol tolerance. Jeon is the perfect night snack along with drinks. Also, the taste is even better when you had them during rainy days.
Korean pancake restaurant above the market and next to noraebang
To end the night, we were given options, either going to have another drinks at the pub or singing our hearts out at noraebang. We decided to sing at noraebang where is slightly different from the normal karaoke places. Noraebang is karaoke in Korean. Not only visitors can sing, but they also enjoy themselves by playing instruments and dance along. At the end of each song, the score is given. Basically it is all about fun, fun, fun.
It was an enjoyable night in Mapo-district in tasting BBQ and Korean pancakes with drinks followed by singing our favourite songs in noraebang. I was stuffed with delicious food but also happy with great company and atmosphere. Joe explained about the restaurants, food and drinking culture with interesting facts. He liven up the atmosphere by initiating joyful conversations while savouring delicious food and drinks. He also recommended some restaurants to visitors who are intrigue to try all kinds of food in Korea. This tour is suitable for foodies and foreign visitors who visit Korea for the first time. BPM has a unique introduction about the Korean food at a specific location, Mapo-district.
Thank you Joe for arranging and inviting me for the BPM tour. I will definitely go for the Dark Side of Seoul tour during my next visit in Seoul. You can find more information about ZenKimchi food tours through here. Please note that all tours must be booked in advance. Tours without booking one day ahead will be cancelled. 
Tags : BBQ,Food,Jeon,Korean pancake,Mapo District,ZenKimchi