엄청자시는만두: Bukchon Cold Noodles and Beef Dumplings
Posted on August 5, 2015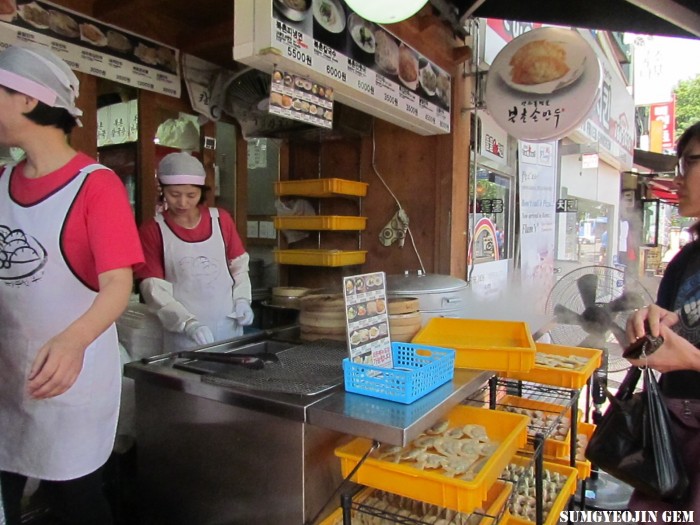 After so much walking around the Ihwa Mural Village, my traveler friend and I felt so hot, like literally hot that we sweat a lot. We thought of what we want to eat for lunch. Something that is cooling and easy for the stomach. I instantly thought about naengmyeon, which is handmade noodles serve in cold broth. One of the recommended dishes to have during summer.
We decided to look for a restaurant just to have 냉면/naengmyeon. We coincidentally found one across the road after you walk downhill from Ihwa Mural Village. The restaurant is called 엄청자시는만두. Looking at the reasonable price and mouthwatering food shown outside the restaurant, we decided to have lunch here. In addition to that, a selection of mandu, known as dumplings, are made by hand. There are quite minimal seats as the place is small but the atmosphere and food certainly didn't disappoint us. I would suggest to avoid peak hours of meal time where office workers and students stop by for lunch and/or dinner.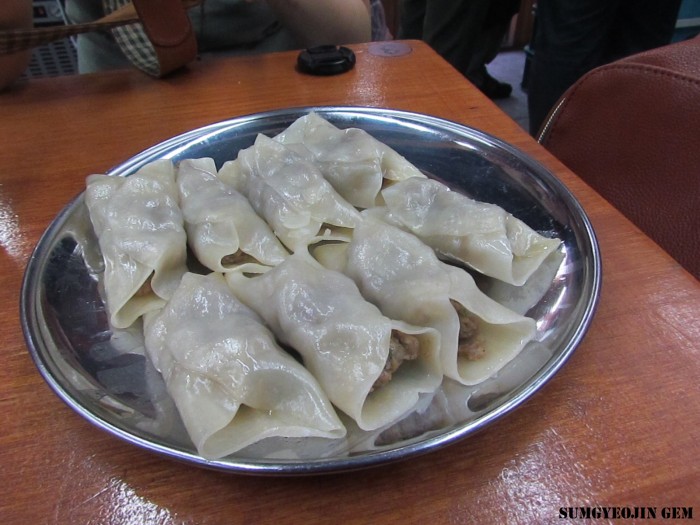 갈비만두/galbi mandu (Beef dumpling)
For lunch, we ordered 갈비만두/galbi mandu (Beef dumpling) (4,000 won), to share, and 북촌피냉면/bukchon naengmyeon (Bukchon cold noodles) (5,500 won). The skin of the beef dumpling is soft which is easy to bit through. The beef filling has the slight sweet taste that circle around your tongue while the meaty juice adds the temptation to make you eat more. Dip together with vinegar and ginger compliments well with the meaty dumplings.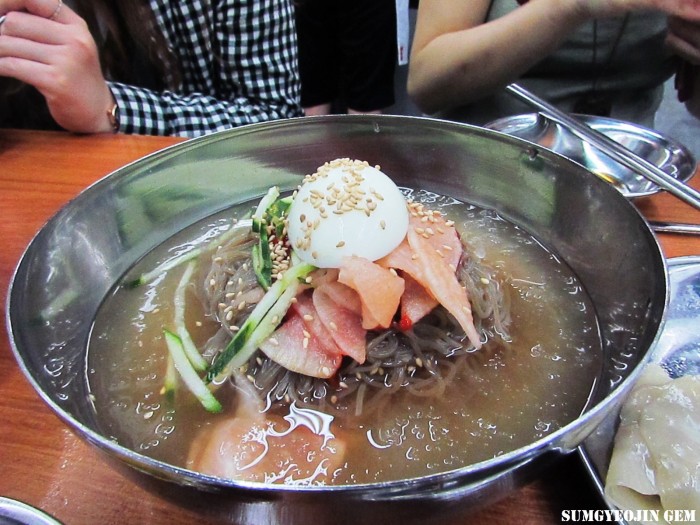 북촌피냉면/bukchon naengmyeon (Bukchon cold noodles)
Before eating Bukchon cold noodles, be sure to cut them so that you can eat the noodles easier. Otherwise, you will have the hard time eating the never-ending long noodles. I would suggest to add a bit of vinegar and mustard sauce which not only have more flavour but also easier for digestion. The noodle is not too chewy. The cold broth is cold and delightful. It is even more refreshing when eat together with half-boiled egg, crispy cucumber and pickled radish. The beef dumplings go really well with Bukchon cold noodles.

Although the place is small, the food is delicious and refreshing. The price of food is quite reasonable. So, after exploring the Ihwa Mural Village, have your lunch/dinner at this restaurant. You can also have takeaway for a variety of handmade dumplings to choose from outside the restaurant. Feel hot and want something cooling? Beef dumplings and Bukchon Cold Noodles are the perfect combination for your refreshing meal.
Tags : beef dumplings,bukchon cold noodles,Bukchon Kalguksu,cold noodles,Food,galbi mandu,Naengmyeon,Seoul