Happy End (1999)
Posted on October 23, 2013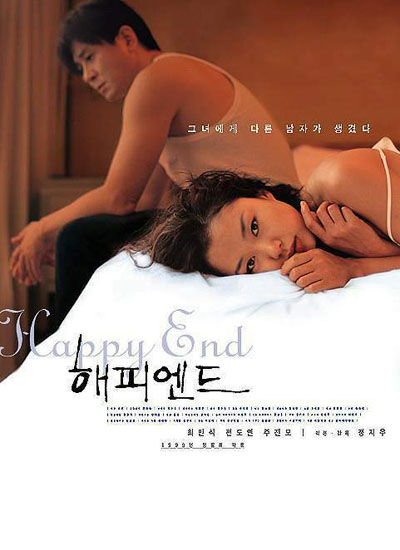 Director: Jeong Ji Woo
Casts: Choi Min Sik, Jeon Do Yeon, and Joo Jin Mo
Genre: Drama
Running Time: 99 minutes
Certi: 18 (South Korea)
Min Ki (Choi Min Sik), an unemployed person, does domestic roles, including taking care of the baby while his wife, Bo Ra (Jeon Do Yeon) is a working woman who is the director of an English institution. While Min Ki spends his free time in reading second-hand romance novels and watching soap operas, Bo Ra is having an affair with her past lover, Il Bum (Joo Jin Mo). One day, Min Ki found out the truth after using one of Bo Ra's key which he is not familiar with. 
Every single character are yearning for love, happiness, and freedom. Bo Ra is a character you could love and hate. Bo Ra is not quite happy with her husband who can't satisfy her needs, including sexual needs. She secretly looks for Il Bum to have sex with him just to fulfil her own love and happiness. What is worse that she is having an affair when she actually has a baby at home. She goes back and forth between fantasy (with Il Bum) and reality (with Min Ki) that makes her so confuse on which part of the world she would stay in. Although she wants to fulfil her satisfaction, she doesn't consider much about both Min Ki's and Il Bum's feelings especially when she is not very supportive to her husband. She made immature actions and decisions that break both of their hearts into pieces.
Min Ki, at first, is a shy person but he tries his upmost best to be both good husband and father. Later, when he found out the secret affair between Bo Ra and Il Bum, he starts to be very upset and heartbroken. He is also concerned about his first and only baby daughter while having angry thoughts about what Bo Ra has done behind her family's back. At the end of the film, he starts to seek revenge masterfully and ended up being upset. Sometimes, he blames himself for what he has done since his marriage. His mind and feelings erupt which he could not control properly.
The film revolves around the three characters that reflect on how a person wants to fulfil their own needs which make them happy. Yet, it might ended up horribly due to their actions which they didn't think twice. The storyline is slow and steady until it builds up to the climax which I shook my head in disbelief. The title fits well with the film as their happiness ended because of misfortune. I was angry about the secret affair while feeling sorry for Min Ki. At the other side of the coin, I feel sorry for Bo Ra and Il Bum who crave for each other's love and sex. Happy End gives a whole picture of the characters' complications and actions in getting what they want so that they can be happy forever but, one day, it will end badly if one takes a wrong move or more.
Rating: 8/10
Tags : Choi Min Sik,drama,Film,Jeon Do Yeon