All About My Wife (2012)
Posted on August 28, 2013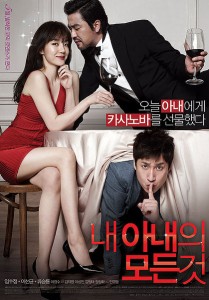 Director: Min Kyu Dong
Casts: Lim Soo Jung, Lee Sun Kyun, and Ryu Seung Ryong
Genre: Romantic Comedy
Running Time: 121 minutes
Certi: 15
Jung In (Lim Soo Jung) and Doo Hyun (Lee Sun Kyun) meet in Nagoya, Japan during an earthquake. It was love at first sight. Seven years later, they become a married couple. Jung In is still an attractive woman but Doo Hyun is having a hard time. This is because he's annoyed with his wife's constant nagging and negative nature. He wants to ask for divorce but he couldn't do it. He asks to transfer at work to escape from his wife but she shows up at is temporary apartment. A few days later, Doo Hyun notices that many women show up at his neighbour's house. It turns out that his neighbour is a legendary Cassanova named Sung Ki (Ryu Seung Ryong). He has the talent to seduce women but he wants to quit doing it. On the other hand, Doo Hyun asks Sung Ki to seduce his wife so she can ask for a divorce.
This film lifted up my smile and I laughed while watching it. Soo Jung does awesomely well in nagging especially when talking too fast. If there are no subtitles, I don't know what on earth she's saying. I'm impressed with Soo Jung. She is able to act as the attractive wife and women who nags all the time. She is on fire with her beauty and dialogue. On the other hand, Sun Kyun has done again to be the guy who always in trouble but tries to figure out how to escape. What I like about this actor is his personality. It's funny whenever he tries something. He fits very well in romantic comedies. Doo Hyun is so funny whenever he tries to escape from his wife's constant nagging. However, she just shows up and he's upset about it. He's trying to make her wife happy but he's making himself upset.
Roo Seung Ryong, who portrayed the Cassanova, OMG!!!! He blasts my mind with comedic antics. I laughed so much because of him. Even though there are some clichés, he hits the right laughter button. His seductive methods are so face palming but it's funny even though, in reality, it doesn't happen at all. Then again, it's still funny. Also, when he's with Doo Hyun, their conversation is so 'interesting' especially when the Cassnova says the words wholeheartedly. At times, when his method succeeds his laughs and smiles give me the goosebumps in a good way. The funniest and cringing scene ever is when he talks romantically with the fish. I was grabbing my head with both of my hands and saying 'OMG'. Besides that, I'm sure Roo Seung Ryong is not saying other languages (eg. Spanish, French, and African) fluently. Anyway, I think he does that to make it funny but other people who know the language can easily spot it. Still, I blame him for making me laugh so much that it stretched my cheek muscles.
Other than that, the couple reflects on other couples in the modern society. Sure, either both of them constantly nags and argues, but so long they care for each other and understand, that'll be wonderful. Not everyone is perfect. I love how they start off with love at first sight even though having the earthquake in Japan is a little bit off. Then, you see Doo Hyun is having a hard time because of his wife's nagging and negative nature. Later, both of them realize about what they had done and remember the good times they had the last time. So, this storyline about the married couple is interesting. Lesson learnt: learn about yourself, understand each other, then the married life or relationship will go smoothly. Thumbs up to this couple. Both Soo Jung and Sun Kyun have done well. The chemistry between them is perfect.
I absolutely love this film. It's because I adore this couple. I adore the concept of having a nagging wife and 'making her happy' husband. The cassanova has made me laughed too much. I already have goosebumps because of him. That's the good thing. I would recommend you guys to watch this film. Again, this film will lift up your smiles and sense of connection about the married couple. It will blow your mind.
Rating: 10/10 
Tags : Film,Lee Sun Kyun,Lim Soo Jung,London Korean Film Festival,Romantic Comedy,Ryu Seung Ryong