Burn Burn Burn x …Whatever That Means Split 7 Inch Record
Posted on June 25, 2016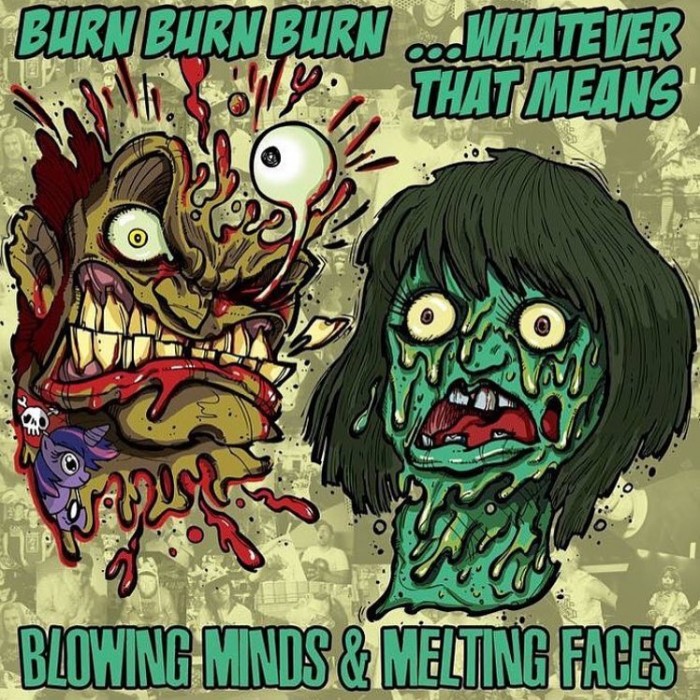 Image Souce: Burn Burn Burn Facebook Page
…Whatever That Means previously released Sixty-Eight, Twenty Two and a cover of Chinkee's Asian Prodigy a few years back which made an excellent start of their Korean punk rock music journey. They toured not only in Korea but also the US, Malaysia and Singapore. While watching their gig at Winter Tour 2015 in Malaysia and Hae Bang Chon Festival in Itaewon, Seoul last year, it totally blew my mind away with plenty of excitement flowing throughout my body. This year, they return with a split 7 inch record, together with Seattle's punk rock band Burn Burn Burn. Their songs compliment each other well in the album based on their music styles.
Burn Burn Burn has two songs: "Maps of Brick Wall" and "Drink it Away". These two songs starts off with the album by showing the true essence of fun punk rock. "Maps of Brick Wall" has wild chorus yells and fast tempo that has so much energy that spread wide to the listeners. "Drink it Away" is simple and straightforward song with melodic & repetitive chords and vocal-like conversations. As you listen to this song, you would want to jump crazily and have drinks while you at it.
…Whatever That Means return  with fresh lyrics and beats. The introduction song, "I Can't Take It", is played along with Trash's vocals and energetic instruments before moving on to their two songs: "This Betrayal" and "Just Another Day". "This Betrayal" has a firm and solid energy along with Jeff's vocals. Different verses, including the repetitive chorus "I felt my soul catch fire, the day that I met you", along with the roaring guitars & bass guitar and upbeat drums is a complete 'in your face' package right at your doorstep.  "Just Another Day" is a more fun and melodic compare to "This Betrayal". It is similar to some of the songs from Sixty-Eight, Twenty Two especially with Jeff's and Trash's vocals. Still, this song represents their band who loves punk rock and they will never stop loving it. It is suitable for all the punk rock fans to listen to this song. With drummer Daewon who joined …Whatever That Means last year, the band has becoming more dynamic than ever.
After listening to the album a couple of times, I really want to listen to their new songs live. Last year, I started to enjoy listening to Korean punk rock music because of them. A different genre that not many people knew about it in Korea. Also, it made me go back to listening to some of the classic punk rock songs that I used to listen to when I was a kid. …Whatever That Means are making the punk rock music scene known throughout Korea and globally and they should keep doing it.
…Whatever That Means will be having their 2nd US tour, 'The Blowing Minds & Melting Faces' from July 23 to August 1. Check out the full details of their tour below.
Image Source: …Whatever That Means
Burn Burn Burn will be performing with …Whatever That Means on 27 July at The Kraken in Seattle and 28 July at Real Art in Tacoma. The album will be out next month.
They will also be having a joint release show with Full Garage at 2ndSaturdays in Seoul on August 13. The show will be for the official Korean release for their split 7 inch record.
Follow …Whatever That Means Facebook page and World Domination Inc. Facebook page. Listen to their songs at Bandcamp. 
Tags : Burn Burn Burn,music,Punk Rock,Whatever That Means