Dad, Where Are You Going?: Father and Child Quality Time
Posted on October 7, 2013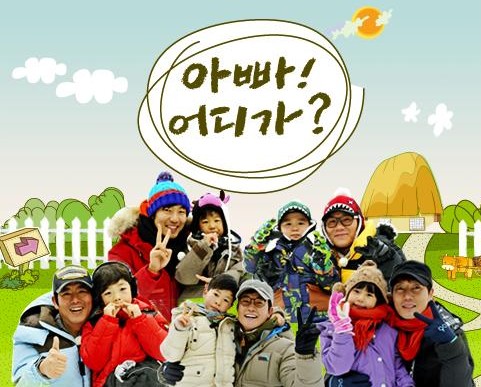 'Dad, Where Are You Going?' is a MBC variety show which was aired in 6th January, 2013. This show is about five celebrity fathers spending time with their children through weekend trips. As the celebrity fathers are always busy with their tight schedules, this show gives them the opportunity to create bonding relationship with their children. During these trips, they are given tasks (eg. preparing meals for the children, educational learning, and others) which brings them closer and understand each other.
Father and Children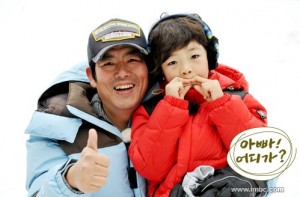 Sung Dong Il and Sung Joon
Sung Dong Il has been acting in well-known Korean dramas, such as Reply Me 1997 and Jeon Woo Chi. He has serious personality when it comes to his acting career. Yet, despite his age, he has doubts when it comes to taking care of his son, Sung Joon, and two daughters. From the beginning, although he is a strict father, he did had doubts how to be a good father because,when he was young, his parents were divorced. After each episode, Sung Dong Il slowly creating a sense of bonding with his son especially when he expresses his love for him during vacations. On the other hand, Sung Joon is considered to be one of the most mature kid among the other children casts of the show. He can be cute when he does certain tasks. Also, he mostly is calm in finishing the tasks and help his father from time to time. Both Sung Dong Il and Sung Joon are my favourite father-and-son team because not only they are mature and funny but their family bonding with love and care really pulls my attention.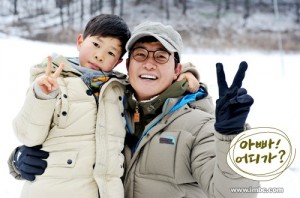 Kim Sung Joon and Kim Min Guk
Kim Sung Joon, a broadcaster, has been spending time with children while thinking about what his children feels but he is still learning to be an understanding father. Kim Min Guk is the oldest among the kids but he can be sensitive sometimes when things are not going according to plan. For the first few vacations they had gone to, they have to stay at houses which are not really comfortable. Thus, it made Min Guk cried as he believed that crying will made people give him what he wants. Currently, with his father guidance and caring words, he realized that he can't get everything he wants. During vacations, as he is the oldest kid, he takes care of the younger kids while handling the tasks such as guiding them what ingredients they should get or teaching them specific topics. Although both Kim Sung Joon and Kim Min Guk can be funny and mature, especially when it comes to dealing with the cute and adorable Kim Min Yool, they have interactive conversations. His father tries his upmost best to educate Min Guk in learning to become a knowledgeable and mature person during the vacations and offset.
Yoon Min Soo and Yoon Hoo
Yoon Min Soo, is the member of the R&B group, Vibe, who has great vocals in singing with emotions. He was part of the Season 1 I Am The Singer. He and his teammate released their single, As I'm Getting Older. Together with his only son, Yoon Hoo, they are the eye-catching team to look out. Yoon Min Soo frequently teases his son especially when he talks about Ji Ah and Hoo's close 'girl' friends. They are considered to be playful but ensure Hoo is well taken care of. Although Hoo is caring towards the other children, including Ji Ah and Jun Su, he can be at lost when doing tasks. For example, he might be distracted from other stuff while he was supposed to get certain ingredients for meals. Also, among the children in the show, Hoo eats a lot. He will ask for another portion of food after finishing the first one. Hoo is one of the kids that make the whole casts happy with his outgoing personality.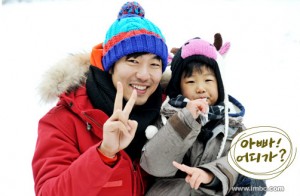 Lee Jong Hyuk and Lee Jun Su
If you have watched A Gentleman's Dignity before, then you might have spotted Lee Jong Hyuk who acted as the part-time young play boy behind his wife's back. Lee Jong Hyuk spends time with his youngest son, Lee Jun Su, who has a cheerful smile that viewers love. When Jong Hyuk tries his best to tell Jun Su to do something, Jun Su will either ignore and/or do something else that will make Jong Hyuk annoyed. Yet, it is still funny to see the interactions between the both of them. Later in other episodes of the show, Jun Su becomes more adorable and responsible in helping the fathers and children. Even though he is the youngest child in the group, he always voices out his opinions in a really loud voice. Jong Hyuk continues his upmost best in bringing Jun Su closer to him. At the same time, Jun Su slowly looks up to Jong Hyuk as a loving father.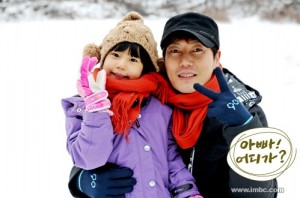 Song Jong Kook and Song Ji Ah
Song Jong Kook, a retired soccer player, shows his fatherly caring side by taking care of his only eldest daughter, Ji Ah. He makes sure that he does everything he cans to make her daughter happy, such as waking up early in the morning to prepare meals, carrying her up when she's tired, or singing her favourite songs. He just lets her go her way during the vacations. However, there is still a lack of bonding between Jong Kook and Ji Ah. Throughout the show, it seems to me that both of them have not truly understand each other. Ji Ah doesn't understand that her father is working hard to get what she want. Jong Kook tries his best but, sometimes, Ji Ah is not happy about it. Even though Ji Ah is still young, but she needs to appreciate her father's love and care for her. Yet, she understands his hard work by telling him not to work to hard. Thus, I see that there are a lot of complications between them. Sometimes, Ji Ah tends to be a bit lazy when they are asked to do some tasks. She will mostly let the boys to the job. To me, it is a bit unfair but I am sure in other episodes she will help out as much as she can.
Why You Should Watch This?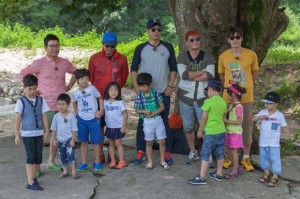 Dad, Where are You Going Sibling Special
You will get to see how the celebrity fathers allocate their time and effort in taking care of their children during the vacations when the mothers are not around. The celebrity fathers are showing the "fatherly" side. Throughout the episodes in this show, you will slowly see that the bonding between father and child will blossomed. These are done through the activities during the trips. The love, cheerfulness, and bonding between fathers and children influences the viewers to smile while watching the show.
Also, you might intrigued to visit some of the places where the fathers and children have been for vacations. They brought outside Seoul to enjoy the wonderful natures end experiences in South Korea, such as the countrysides, seasides, and farms. These locations impact the children's curiosities to new things including those that they had read through books. The tasks that were asked to do, might be interesting as it gives the viewers some brief information about the vacation places. With that, when you plan to visit Korea, you might want to visit those places and experience just like them.
As the show continues to be aired, the relationship between the fathers and children will definitely developed. Their love continues to blossomed with smiles and laughter. Don't forget to watch the siblings special and best friend special episodes where you can see the children's cute siblings and friends who join them in their vacations.
Tags : Appa Odiga,Dad Where Are You Going,TV,Variety