Ha Jung Woo: Charismatic Actor-Director with Plans and Ambitions
Posted on January 1, 2014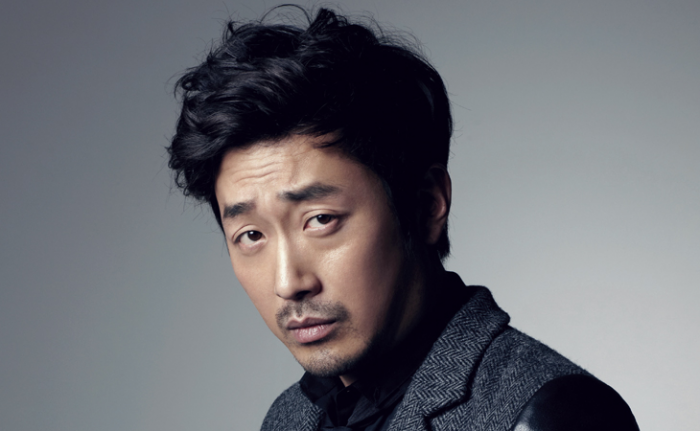 To end the Year of the 4 Actors in 2013, Ha Jung Woo is one of the 4 Actors, whose films were shown at the film screenings in the UK.
From a family who are actors, Ha Jung Woo studied theater at Chung Ang University followed by, during his military service, appearing in promotional military films. Later on, he had his first debut in a sitcom, Honest Living, and first debut film, Madeline. He acted in a few drama series like H.I.T and Lovers in Prague. In 2005, his acting career began to shine through featuring himself in Yoon Jong Bin's The Unforgiven and Kim Ki Duk's Time. Since his major acting role in Na Hong Jin's The Chaser, he has been acting in many action and thriller films like The Yellow Sea, Nameless Gangster, The Berlin File, and The Terror Live. He also acted in romantic comedy films like Love Fiction. He also hold the role as the director as he had his first directional debut film, Fasten Your Seatbelt, in 2013.
On 18 December 2013, Ha Jung Woo attended the film screening of The Terror Live at the BAFTA, London. You can check out the review on The Terror Live through here. A group of press, including myself, participated in the group interview to ask the actor himself some interesting questions. The group interview transcript, transcribed by Hangul Celluloid, can be found through here. Thank you, Hangul Celluloid for taking the time to transcribe an hour interview with Ha Jung Woo.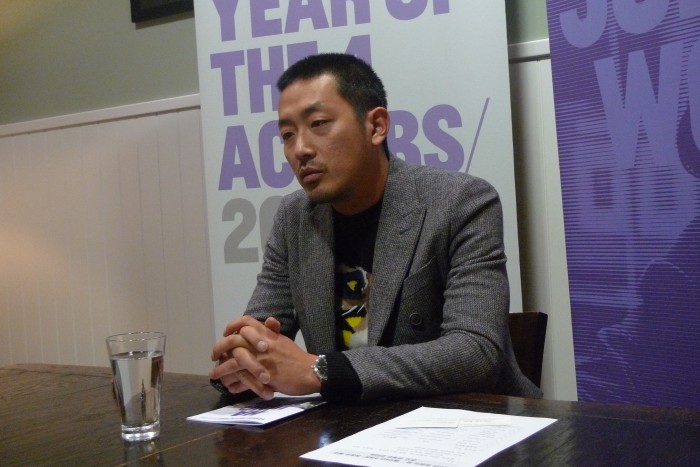 Interview with Ha Jung Woo
As he enters into the room, he has the charismatic personality that made my eyes wide open with admiration. In the group interview, most of us asked him about both acting and directing career including a few key examples of film including The Terror Live and his upcoming second directed film, Chronicle of a Blood Merchant. Most of the answers which he gave were straightforward and in-depth understanding about his career and plans as both actor and director. Throughout the interview, it was both laughter and serious aura in listening and learning about his growing career.
We asked him about the numerous roles he played in noticeable films in terms of how he selected the roles, how he works together with directors, and what experiences were when portraying the characters in films. With a few key examples of films like The Berlin File, The Chaser, Behind The Camera, and My Dear Enemy, Ha Jung Woo is always have a full of curiosity of the character that he's going to play in these films. He wanted to learn more about these characters by asking the directors a lot of questions. Wanting to know something is definitely way to learn and grow his acting career. At the same time, he took the initiative to put into the characters' shoes and bring them to life with senses of realization. Ha Jung Woo also learn a lot from the directors he had worked together with. He understood the directors' filmmaking style and perspectives while he was given the opportunities to build up his own characters.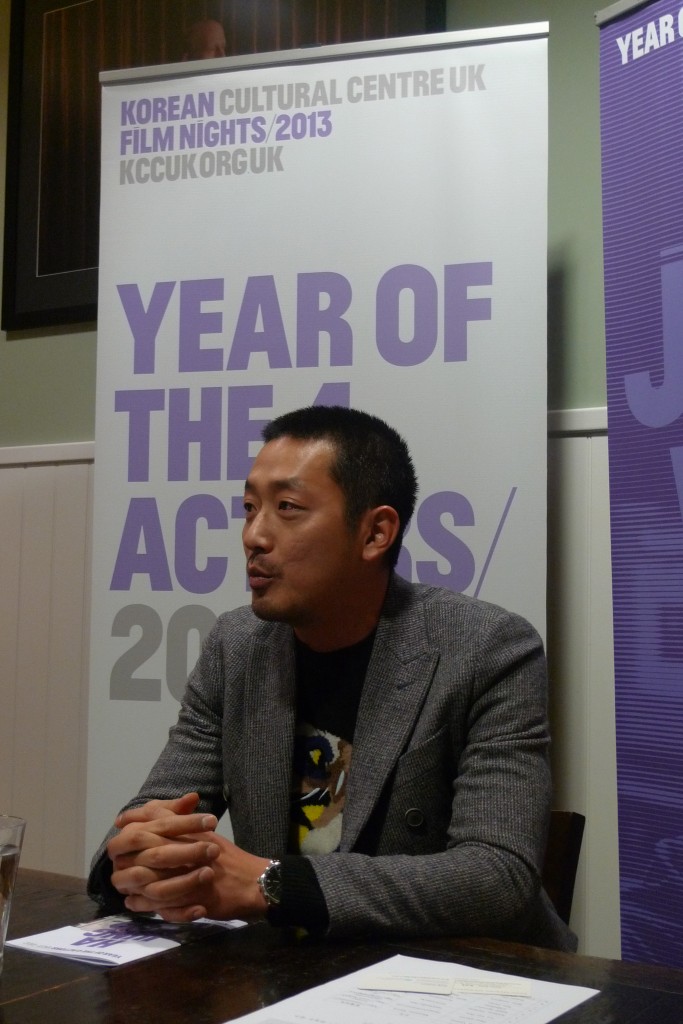 Charismatic Ha Jung Woo talks about his experiences as actor-director
With that in mind, this lead him to be the director with his debut directed film, Fasten Your Seatbelt. The reason why he decided to do directing is because that he always wanted to be an actor-director. It was definitely the right time for him to take on the role as the director. To him, the challenge that he faced while directing Fasten Your Seatbelt, from his experiences as an actor, it affected his expectations with the actors. Yet, with experiences and conversations with the directors he had worked with, he stated that communication is vital on set and off set. I do agree with that communication is needed in sharing and collecting great ideas in making films amazing. It is also important to support each other and giving others the opportunities to express their thoughts.
As for the upcoming films, Kundo and Chronicle of A Blood Merchant, he shared his interesting experiences that is interesting and funny. He had a hard time acting in Kundo because of the hot weather and he has to wear layers of clothing. It was a very hot and tiring experience that he will never forget. For Chronicle of A Blood Merchant, at first he was given to act in this film but, later, thanks to the word-of-mouth about his directing skills in Fasten Your Seatbelt, he has the golden opportunity to direct again. In the future, he wants to play Hamlet on stage since he has studied theater before. Hopefully, when his schedule is not really packed, he will play not only in films and drams but also on stage. Based on the films that he had acted and directed, it is definitely a step-by-step memorable experience for him in slowly polishing and shining his capabilities.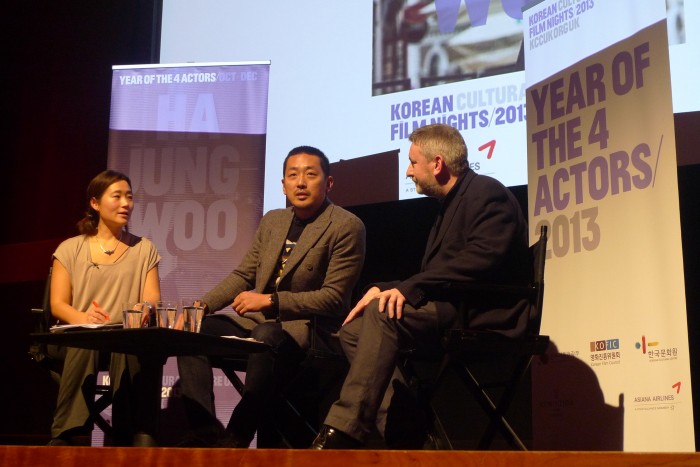 Q&A Session with Ha Jung Woo after the film screening of The Terror Live
Later, after the film screening of The Terror Live, the Q&A session with Ha Jung Woo began by asking him about being involved in this film. In order not to bore the audiences, he tried his very best not to make repetitive moves within the setting that has multiple cameras around him. For 3 months, he also prepared in acting the role as a newcaster before going on the filming set by watching news, reported by Sun Seok Ki, repetitively to learn the gestures and traits. In terms of cinematography, he explained in detailed about how the shots were taken as he stated that the film comprises of 21 chapters. Each chapter has different shots and these are combined together in order to make the film more lively while not making the scenes too boring.
The audiences also took part in asking him about his characters in not only The Terror Live but also other films like The Berlin File. Although most of the audiences asked him about The Terror Live, some questions were interesting such as the meaning behind the ending scene of the film. In his opinion, Ha Jung Woo also further stated that, based on the question which is asked by the audience, The Terror Live has nothing to do with political aspects in Korean society. This film is fictional film. He was calm and steady in answering the questions without any hesitations. 
The night ended well for this year's Year of the 4 Actors with a great film and a great actor who share his passion about his ambitions as both actor and director. He has the charismatic personality and charming looks but he also does have the sense of seriousness in learning every single bit within his own surroundings. He has plenty of plans which are part of his learning process in building up his ambitions with great determination and commitment. By exposing himself to learn more, his career as actor-director will continue to grow. We look forward to see his next upcoming film, and his second directed film soon.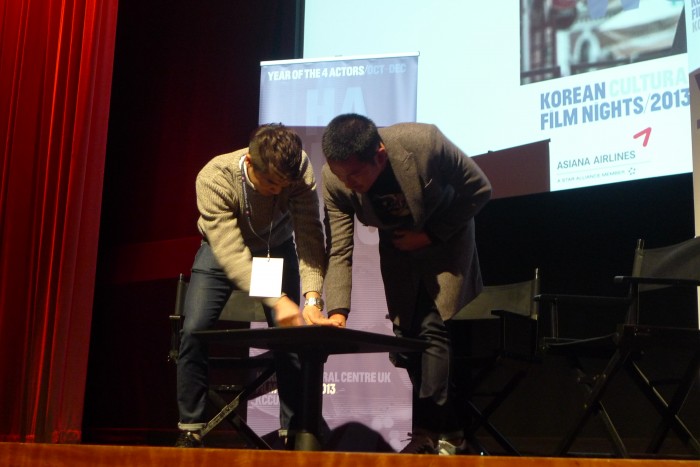 Hand printing ceremony
Thank you to the KCCUK for not only arranging the interview with Ha Jung Woo and film screening of The Terror Live but also organizing the Year of the 4 Actors. The audiences get to know the numerous number of films by Moon Soo Ri, Jeon Do Yeon, Choi Min Sik, and Ha Jung Woo. By watching these films, they realized why they are known as the great actors in the Korean film industries. We look forward to the 2014 film programme and dying to know what is next.
Tags : Film,Ha Jung Woo,Interview