Ha Young Kim's Works Focus on 'Force' Consumerism
Posted on April 2, 2014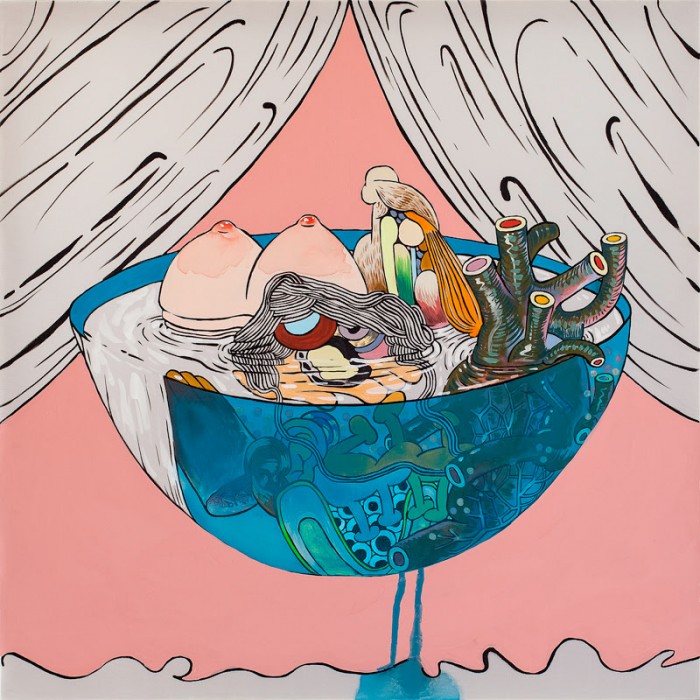 Modern Soup, 50 x50cm, acrylic on polyester canvas, 2014 (Source: Ha Young Kim Website)
Ha Young Kim studied at the Hongik University for BFA Painting. Then, she studied Fine Arts at the Royal College of Arts where she received the Jerwood Prize. She participated in the Glenffidich Artist Residency Programme at Scotland in summer 2010. A few years ago, she took part in Hazzys Artist Residency programme at Airlington House, Camden. She has exhibited her works through solo and group exhibitions in Korea and London.
Ten Faceless Girls, Acrylic on canvas, 230 x 130 cm, 2010 (Source: Ha Young Kim Website) | God Finger III, Acrylic on polyester, 50 x 50cm (Source: Hoxton Art Project Website)
Most of the works are focus on consumerism, with technology, especially food consumption and women conscious about their body image as subjects. She playfully presents these subjects with vibrant rainbow colours of fun and humour. Also, she shows the dark side of being involved in consumerism. She wants to show the viewers how they consume with products due to mediated advertisements and information which they are expose to. Thus, with overload of consumption, images of post-modern human conditions are presented on the plate or from human body.
Ha Young Kim's New Paintings (2014) at 43 Inverness Street, London (Source: Marie Jeanne Glandier YouTube)
Her two-dimensional artworks have a lot to say about 'force' consumption. The cartoon-like graphical images and technological mediated rainbow colours give off playful and scary thoughts about consuming products like food and clothing. The works are either be spitting out what we ate or the clothes that affect our own body image. Or they could even be both. Kim's draws a lot of her own exposure to how society consume mainstream products in her paintings which give clear messages to the viewers. 
To view Kim's works, visit the website.
Tags : Abstract,Art,Consumerism,Contemporary Art,Ha Young Kim