HarryBigButton – Fresh Classic Rock and Building Connection with Audiences
Posted on September 28, 2017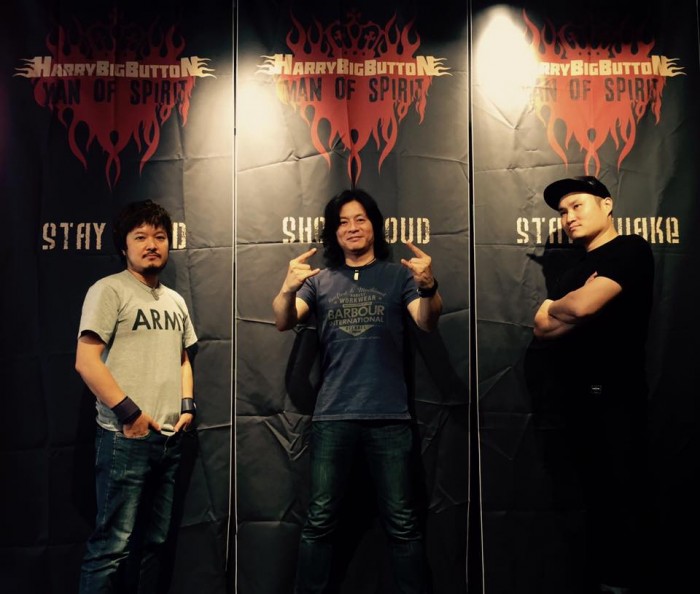 Taegi (Drums) – Sungsoo (Vocals & Guitar) – Siwon Lee (Bass) (Source: Facebook)
There are a couple of things to be a great band but two of these are really important to become one: distinct music (keeping it simple with impact) and connection with the audiences. At last year's Zandari Festa in MUV Live Hall, I saw HarryBigButton performed live for the first time. Sungsoo's husky vocals and thunderous energy with his guitar, continuous impactful bass tunes, and Taegi's thumping drum beats pull the crowd to another dimension. At times, crowd chant to their lyrics, headbanging, and jumping around in moshpits. That's what makes a great band.
'Man of Spirit' Album Review
Earlier this year, they released their second full-length album 'Man of Spirit' that contains eleven songs. Most of intros in the songs are started off with Sung Soo's roaring guitar skills. The lyrics are simple and straightforward with positive vibes. They focus on the instrumental parts that speak out to the audiences. They keep the tunes classic while making the whole compositions dynamic with layered instruments beats in momentum.
They take it slow with hardcore tunes and in-depth 'conversation' lyrics through their new tracks 'Man of Spirit', 'Contamination', and 'Drifter' which show a different side of HarryBigButton. They bring back their classic rock hits such as 'Social Network', 'Fun is Fun And Done and Done', and 'Coffee, Cigarettes And Rock 'n' Roll'.
I can see that they put in so much passion and effort in producing this full-length album. They take each song into consideration and arranging them accordingly to make it upbeat and fresh. Compare to the previous singles and albums, they have improved a lot in terms the 'positive and inspirational' tonality of expressing their music in 'Man of Spirit'.
Interview with Sungsoo
Sungsoo has been actively involved in side projects with other Korean musicians and focusing on his own band's projects. Together with his band, they had their first nationwide tour across Korea. They were successful on their first tour in Russia. Currently, they are back in Russia for their second tour. I spoke with Sung Soo about what has been going on for the past few years and what are their upcoming plans.
Your first interview was in 2014. How has it been for you and your bandmates for the past three years?
The first interview with SumGyeoJin Gem was probably just after new EP 'Perfect Storm' released as I remember. We had some serious political issues in Korea. Well… fun is fun and done is done.
We have released our second full-length album 'Man of Spirit' containing 11 songs this year. We did the new album showcase, nationwide tour and many things.
Recently our new bassist, Siwon Lee, has joined the band who was an ex-bass player in Fellas from KBS Topband 2 in the past.
Now we are creating best harmony and making hardest rock sound ever.
Listening to your album is not only hardcore but also positive & inspirational aura from the overall music and lyrics. How is the process of producing each individual song? How do you guys communicate in producing the album?
This album contains various themes from what I've seen and experienced in current Korean society to my personal emotions in past 5 years. I usually take a note when something happens. Sometimes it can be a single word, one-line sentence or sometimes a photo I take.
Everything happens around you are inspiring.
For instance 'Drifter' was written just after I heard that Dave Bowie passed away.
You had your nationwide tour across South Korea a couple of months ago. How was it to perform outside Seoul?
Believe it or not, it was HarryBigButton's first nationwide tour. Every time I planned in the past something happened so we had to cancel the tour. I am so glad that we made it this time.
We performed in four major cities like Daejeon, Jeonju and Busan also including final show in Seoul. We perform almost every weekend in Seoul which means we don't go elsewhere but Seoul!
The nationwide tour was like breathing fresh air. We had a great fun and met great people during the tour.
You also did side projects in collaborating with other Korean indie artists such as Snow Ball Project and believe in you (such as 'The Origin' <미인>). Could you explain more about the projects you have been involved with?
I and MC Meta, the leader of Garion are the founder of Snowball Project. The Snowball Project is all about the collaboration between the artists in different genres or styles.
We have produced three collaborative works so far, such as <HarryBigButtonXGarion>, <Danpyunsun and the sailorsXChoi Sam> and <Crying NutXP-Type>. What I'd like to see is that many artists join the project and get together to make some new and innovative works. It can be anything creative.
About the tribute album 'Shin Joong Hyun -The Origin', this time I participated in as a vocalist not as my band. Shin Joong Hyun is one of the legendary musician and songwriter in Korean music scene. It was honored to take part in the project.
Any upcoming projects that we might look forward to?
I have so many things in my mind. More collaborations for Snowball Project, new songs for HarryBigButton and many more
But mainly I am focused on HarryBigButton's year-end concert.
That would be something special! That's all I can say at the moment. So please keep an eye on us.
You had your first overseas tour in Russia? How was the experience like? How is it different from Korea?
More than amazing I must say. The audiences did sing-along of most of HarryBigButton's songs. Watching people singing what I am singing in our first visit! What would you feel? It was absolutely surreal.
We are going on second tour in Russia this September again. We are performing in three cities this time.
You will be back in Russia to have your tour for the second time. What you most looking forward to?
I am looking forward to meeting all our friends there again like The StarKillers band members and all other friends we met and share friendship last time and also expect to see the audience singing along together our new songs from 'Man of Spirit' album.
The Starkillers from Russia came over to have their gig in South Korea along with HarryBigButton. Could you share your experience in performing together with them and showing them around in South Korea?
The StarKillers are so energetic, entertaining and rising rock star based in Khabarovsk, Russia. They are more energetic when it come to party! But they are all real gentlemen.
I showed them around the most popular spots for foreigners in Seoul…where I don't usually go haha. That was good fun. I can wait to meet those guys again!
Any plans in collaborating in producing single/album with The Starkillers?
I have been planning for long time to make a compilation album with bands from all over the world. So I think it is the right time to push myself to produce more collaborative works together with The StarKillers and other rock bands.
And also Snowball Project always opens to new artists so if The StarKillers join the project that would be cool.
Thanks for waking my old plan slept in my closet for long time!
Any messages you would like to say to your fans?
Some say Rock is dead then it is for them. But if you believe Rock is alive then Stay Hard and Keep Rocking with HarryBigButton. lml
Thank you Sung Soo for the interview. If you are in Russia, check out their live gigs in these cities:
Follow their updates on Facebook.
Tags : HarryBigButton,music,Rock