Interview with 57
Posted on April 24, 2017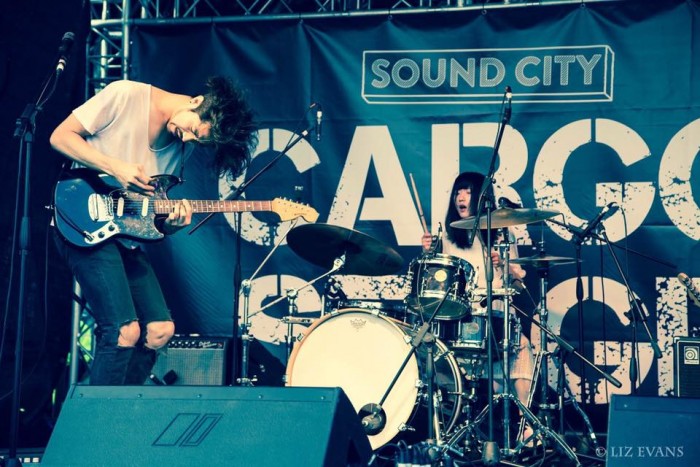 Photo Credit: Courtesy of 57 & Taken by Liz Evans
57 has just finished their show at Club Steel Face before they start their Europe tour in the next few weeks. The fiery duo, Junhong and Snow, will be having their tour in the UK, France, Germany and Poland in May and June 2017. Find out more about what I've written about 57 including the review on their 1st album 57 and single Pray for the Dead here.
Before they go on tour, we interviewed them over Skype to ask them about their music, including their EP Making Fire, and their upcoming European tour.
Can you introduce yourself?
Junhong: My name is Junhong. I play the guitar and I sing.
Snow: Hi, everyone! My name is Seol Kim. Just call me know Snow. I play the drums and I sometimes sing. Nice to meet you!
Both of you have the chemistry when it comes to producing music and performing live gigs. How you work together as a duo on stage and off stage?
Snow: When we don't have any gigs, we often meet and talk about stories.
Junhong: We always talk about music and our lives which led us to understand each other. Snow normally takes the lead during the gigs.
Your EP Album '57' truly represents you as the '57' that "flows and explodes like lava". On the other hand, you released a raw and sentimental single 'Pray for the Dead'. Can you tell us you came up in producing these songs especially since both of them have different emotions – EP album having the hardcore elements while 'Pray for the Dead' is much more sentimental?
Junhong: Pray for the Dead is emotionally strong because we have seen so many deaths. It has been really sad these days. Pray for the Dead is the song for the death which we call out for them. Our friend and Snow's father passed away which influenced our music. This song has a lot of emotions. About U&I, the title song of "57", is basically talking about myself.
You will be making a huge step this summer is having a Europe tour for two months. How this idea came about and why taking this challenge as part of your music career? How do you feel about performing in Europe?
Snow: If we go, we believe our music grows, too. When we came to Seoul from Jeonju, we met a lot of people and our music grows. So, I believe that when we go to Europe, our music will continue to grow.
Junhong: So happy! We have thinking about the tour even before we go there.
You will be back in the UK for the 2nd time as part of your Europe tour. How does it feel to be back? What are you most looking forward to?
Snow: I am so excited
Junhong: So excited! We had six to seven gigs last year. This time, we have more gigs every single day which we are really looking forward to them.
What are your best and worst memories in your previous UK tour?
Snow: It was so tired because we had so much luggages other than that everything is good.
Junhong: When we performed in Wales, I received a present, oil painting, from a painter named Adam. Then, we met him again on another day in gig. We are really honoured. Also, we met our friends, Tom and Mary from Surrey. Three years ago, we met them and became friends in Jeonju. They went back to the UK during that time. When we performed in Surrey, they came to our gig and we were surprised to see them.
What will the audiences be seeing at your live gigs in Europe?
Junhong: We try to give every meaning to our songs during our gigs.
For those who are totally know you for the first time, which songs would you recommend and why?
Junhong: Listen to our upcoming EP Making Fire. This song is inspired from one of my favourite bands. When I listen to their songs, I feel like I am going to be a caveman and want to feel burning with them.
Snow: Definitely Making Fire which has our recent songs.
If they want to know more about the Korean indie music, which bands would you recommend them to listen?
Snow: DIEALRIGHT who will be performing at the Liverpool Soundcity and Bily Carter who will be performing at Primavera Sound in Barcelona
Junhong: Billy Carter who are totally crazy. Dead Buttons' music is more 'manly'. National Pigeon Unity and DTSQ are crazy, too.
What would you like to do during your free time at your Europe tour?
Snow: I will sleep most of the time, read books and take photos.
Junhong: I will walk at calm parks. If I have the time, I will take a nap, meet up friends and record videos.
If you have the opportunity to collaborate with European bands, who would it be and why?
Junhong: Blood Red Shoes. I love her! We hope to collaborate.
Snow: Biffy Clyro. Our music is related to them.
You will be releasing an EP during the Europe tour. Could you tell us more about it?
Junhong: The title of our Europe tour is the same as our title EP Making Fire. We want everyone to know about our music. Most of our audiences watch over live performances through fan cams. This time, we want to take our music to perform live in Europe in front for them. We plan to release the full album in September. It's similar to 57 and little bit to U&I.
Any upcoming plans after the Europe tour?
Snow: We will be releasing our first album Making Fire in Korea.
What places and things to do that travellers should check out when they are in Seoul and Jeonju?
Junhong: You can check out the traditional houses at the Jeonju Hanok Village.
Snow: If you like music, I would recommend to visit Hongdae in Seoul.
Could you say a few words to the readers?
Junhong: We are really looking forward to meet you guys during our tour.
Snow: See you very soon and let's drink beer.
Thank you to Junhong and Snow for taking their time to participate in the interview. Also, thanks to Patrick Connor from Do Indie and Zandari Festa to arrange the interview.
Here are the dates and venues on where they will be in Europe.
May 11 : Undegun (Focus Wales), Wrexham (UK)

May 12 : ROC2 Studios (Focus Wales), Wrexham (UK)

May 13 : The Pot – Rhyl (UK)

May 15 : Prince Albert – Brighton (UK)

May 17 : Dublin Castle – London (UK)

May 18 : 81 Renshaw, Liverpool (UK)

May 19 : Stramash – Edinburgh (UK)

May 20 : The Telegraph – Newcastle (UK)

May 21 : Westgarth Social Club – Middlesbrough (UK)

May 26 : Asylum – Chelmsford (UK)

May 27 : Manhattan 34 (TDM Festival) – Leicester (UK)

May 29 : West Street Club – Sheffield (UK)

June 2 : Bei Ruth – Berlin (Germany)

June 7 : Chlodna 25 – Warsaw (Poland)

June 9 : Seazone Music & Conference – Sopot (Poland)

June 10 : Centrala – Gorzów Wielkopolski (Poland)

June 11 : Watch Docs Festival – Słupsk (Poland)

June 16 : L 'Alimentation Generele, Paris (France)

June 17 : Lapin Blanc – Réding (France)

June 19 : Fuel Cafe, Manchester (UK)

June 21 : White Bear – Barnsley (UK)

June 22 : The Exchange – Stoke (UK)

June 23 : The Saddle, Chester Live Festival – Chester (UK)

June 24 : The North, Rhyl (UK)

June 25 : Club 147, Llandudno (UK)
Find out more about 57 at Facebook, Twitter and Soundcloud.