Interview with Dead Buttons
Posted on April 28, 2014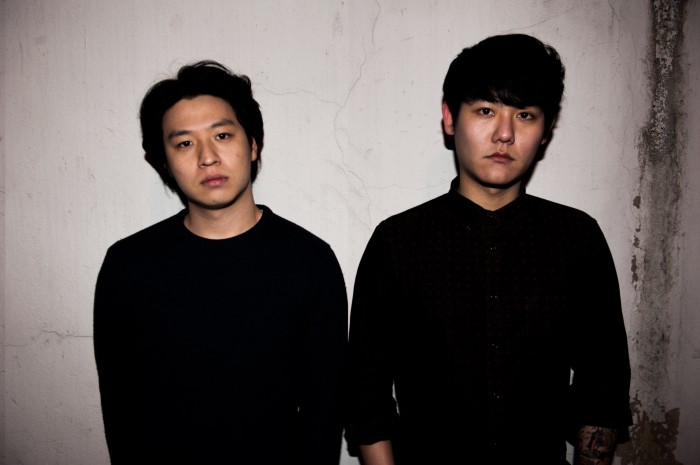 Dead Buttons: Kanghee Lee (Drum/Vocal) and Jihyun Hong (Guitar/Vocal) (Courtesy of the Artist)
Dead Buttons are coming to the UK in May. Not only to promote their first EP, Whoever You Are, but also showing their live performances of tunes that has a mix of garage rock, blues, country, punk, and psychedelic music.
Dead Buttons are a Seoul-based rock 'n' roll duo comprised of Korean guitarist/vocalist Jihyun Hong and Paraguayan/Korean drummer/vocalist Kanghee Lee. As a veteran in Korean indie scene, Hong plays a guitarist for Combative Post. He previously performend together with Sweet Guerillaz, Oi! Resolute, and The Infamous Orchestra. After Lee finished his mandatory service, he and Hong met each other and decided to make Dead Buttons.
They originally performed as a trio in the fall of 2012. Less than two months later after their live debut, they went to Tokyo in December to perform at the Japan-Korean Punk Festival. In summer 2013, Hong and Lee parted ways with the bassist. They decided to start afresh for Dead Buttons. They threw away the older materials and creating new tracks as a two-piece. In February 2014, they issued their first EP, Whoever You Are which consists of five tracks. They had spent a lot of effort in producing this EP for over five hours last December.  
Dead Buttons live performance I Want You at Korea Japan Punk Festival 2013
Whoever You Are presents their energy and effort in creating five tracks within five hours. Each track has its own unique flavour. In addition to that, these tracks bring out lots of youthful rock energy. Both Hong and Lee have their style of playing their own instruments but fully in harmonization. A mixture of genres and style keeps you in a good mood especially when you are either on a road trip or having drinks with your friends. Most importantly, you just want to have fun while listening to their music. I am excited to see and listen to their songs and live performances in the UK.
Before the UK tour in May, Dead Buttons took the time to have an interview including their thoughts about coming to the UK to perform for the first time.
How would you describe your music?
Jihyun: We're a rock 'n' roll band.
Kanghee: That pretty much sums it up perfectly. 
Most K-indie bands consist of three or four members. What is it like to produce and perform music as a two-piece?
Jihyun: We were worried at first about changing to a duo.  But in reality, there wasn't that much of a difference between making music as a trio and as a duo.
What was it like recording your first EP, Whoever You Are?  Why did you decide to record the whole thing in only five hours?
Jihyun: We chose to just do one take of all the songs, that's why it only took five hours to finish the EP.  Recording everything in one take was a great way for us to capture the energy from our live shows on disc.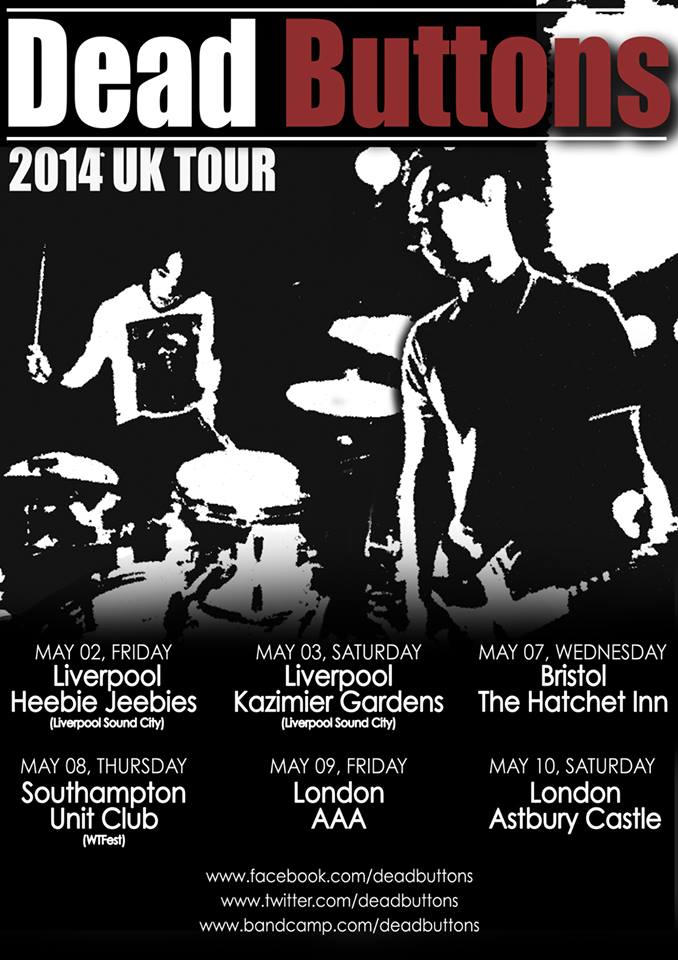 Dead Buttons 2014 UK Tour (Courtesy of the Artist)
What is your opinion about K-indie music slowly becoming known amongst international audiences?
Kanghee: It's great!  Who wouldn't be happy about that?
Jihyun: I agree that it's a good thing.  Hopefully it helps the Korean music scene continue to grow.
This will be your first time touring in the UK.  What are your feelings about your upcoming tour?
Jihyun:  This will be my first time visiting the UK so I'm excited.  But I'm trying not to get too excited.  I hope we can play well and show people what Dead Buttons is all about.
Kanghee: I'm excited and nervous about getting to play in front of new audiences.  This tour should be a really good learning experience for us.
What are you looking forward to doing while you are in the UK?
Jihyun: Our schedule is pretty tight, so I don't know if we're going to have much time do things outside of preparing for our shows and playing.  But hopefully we can make some plans when we arrive to do a few fun things.
Kanghee: We're going to play 6 gigs in 10 days, so I'm not sure what we'll have time to see and do.  If I can find some time to eat fish and chips, I'll be a happy guy.
Live performance at Balcony TV (Source: Balcony TV YouTube)
Who are your favourite UK artists? Why do you like those acts?
Jihyun: The Beatles.  There's no need to explain why.
Kanghee: Since he chose The Beatles, I'll choose The Kinks.
What are your plans for the rest of 2014?
Jihyun: We're hoping to do a South American tour.  Kanghee's from there, and I want to experience the atmosphere and mood of the continent.
Kanghee: I'm not sure if we'll be able to make it to South America or not, but it's definitely somewhere we want to visit in the future.   We're going to release a digital single after our UK tour.  We hope people keep an eye out for it.
Please say a few words to music fans in the UK.
Jihyun: We're looking forward to meeting you all very soon.  I hope we all have a great time together.
Kanghee: Liverpool FC will be the champion of the EPL this season.  I love the UK and can't wait to see you all in a few days!
Thanks to Dead Buttons for having an interview with me. They are looking forward to see you all in the UK. Here are the upcoming live tour dates:
May 2 Liverpool, England @ Heebie Jeebies (Liverpool Sound City) [Website]
May 3 Liverpool, England @ Kazimier Gardens (Liverpool Sound City) [Website]
May 7 Bristol, England @ The Hatchet Inn
May 8 Southampton, England @ Unit Club (WTFest) [Facebook Event]
May 9 London, England @ AAA  [Facebook Event]
May 10 London, England @ Astbury Castle  [Facebook Event]
Follow them on Facebook and Twitter. Purchase their first EP, Whoever You Are, at the iTunes store. You can also listen and purchase the EP at Bandcamp. Keep an eye out for their upcoming digital single later in 2014.
Tags : Dead Buttons,K-Indie,music