Interview with Giacomo Lee
Posted on September 6, 2015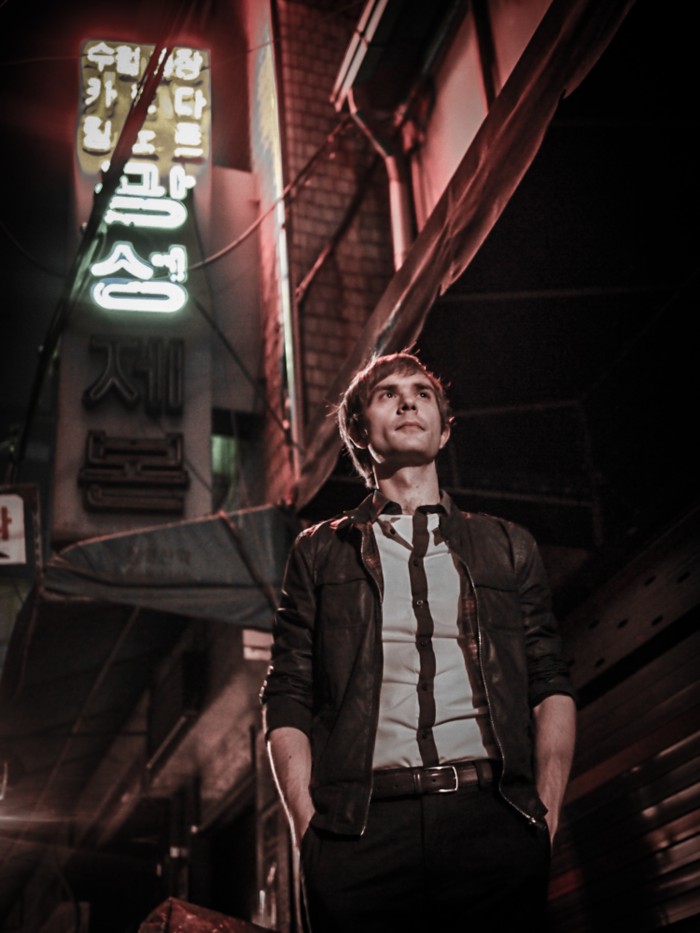 Giacomo Lee (Photo Credit: Simon Slater)
I previously read Giacomo Lee's latest novel, Funereal, that explores the tensions from Korean society, particularly being 'perfect' in the eyes of people, and finding their own happiness and success. In this interview, Giacomo talks about how got himself interested in Korean culture, how did Funereal came about and his points of view about suicide and plastic surgery in Korea.
What made you interested in Korean culture? Why?
Giacomo: I think most people become interested in Korea through the music, or its TV and cinema. For me, it was after I visited the country, and I was struck by the country's tension between its past and the future. It's a country that keeps moving, but still needs time to move on from its history. Cutting edge technologies and makeovers won't be able to hide all that past from the present, I feel.
You've also written articles for different media like YAM Magazine, Asia Pundits and Medium. What kind of areas are you interested in writing?
Giacomo: When I was in Korea, I was really motivated to write about what other travellers weren't writing about, like undiscovered temples, quirky beauty campaigns and comic strips, burgeoning music scenes and geeky televisual fandom enterprises. It was a lot more fulfilling then hearing ex-pats talk about the latest Mexican restaurant, what they were going to watch on Netflix that night, and some failed hipster band they'd seen the night before, trust me.
Some of these articles I wrote for my own blogs, and others for the websites you mentioned. I prefer writing for my own outlets though as I've found most journalists and editors who work exclusively online are not the most professional of people. They're as much as a journalist as I am, which is not much at all really, haha.
How did the story about "Funereal" come about?
Giacomo: Back in 2010, I came across a simple news article about Seoul's coffin academies. It was just a few paragraphs, with next to no pictures. I then started writing the book a year later, and in my mind I imagined these fake funerals were taking place in people's homes or offices. It wasn't until I saw a documentary on the subject in 2013 that I realised they were held outdoors, in fields and woods, but by that point I liked my original idea too much to change it to something closer to the truth. Funereal is after all meant to be a novel, not a news article.
You could say the coffin academy in my book, with its indoor burials, is something that's yet to happen in Korea. But I wouldn't be surprised if some companies have already tried 'burying' people in their apartments. It would be much more convenient, wouldn't it?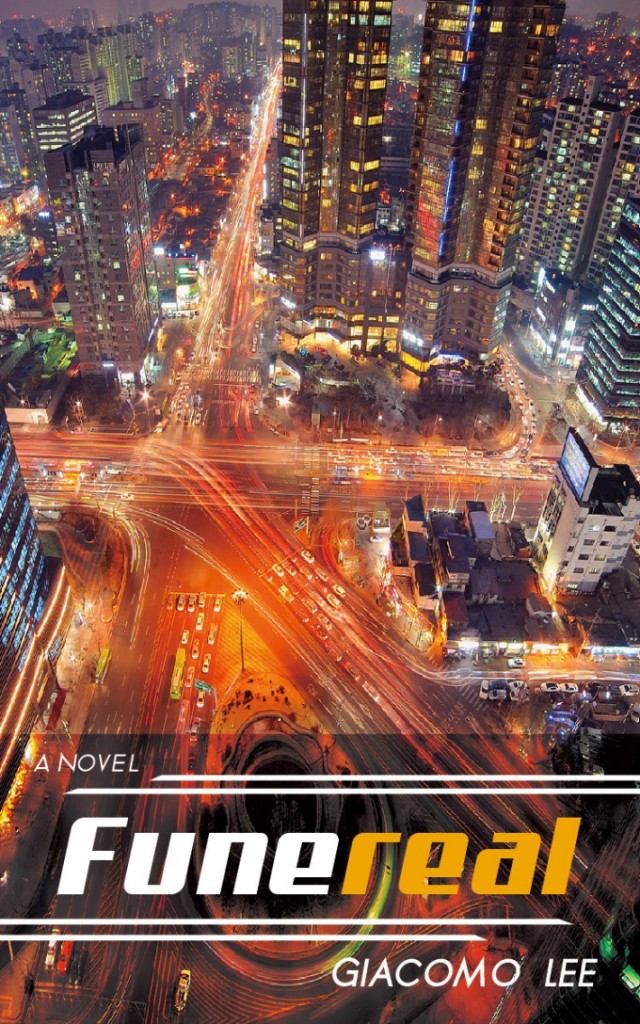 Death and suicide are mentioned at the beginning of the story. In addition to that, in your previous article on Kim Young Ha's editorial about 'I Have The Right to Destroy Myself', he mentioned that he could never write a suicide-filled novel (again). Were there any struggles while writing "Funereal"? Would you write another novel with "Funereal"'s similar theme?
Giacomo: Firstly, I'll say 'No' – I won't ever write a book with a similar theme, and I will probably never write a novel about Korea again. 
Secondly, there were struggles, yes. Not because of how dark the content was, though, but of how I had to be very wary of trying to pinpoint the reasons for Korea's high suicide rate.
I really had to be careful in not applying one big common reason for the various troubles felt by my characters. Only a very didactic author would try that, one trying to impose his or her own solution on the country, as if they're some big foreign saviour of sorts. Only a journalist could and should do that kind of thing, too. But again, Funereal is a novel, not a news article. So I could have my cake and eat it too.
By that I mean in art you can sketch some big existential reason that is universal to all humans around the world, and draw from that in your work. But if I tried to draw on some big reason that's more tangible – e.g. something like, 'Oh, the suicide rate is high because of plastic surgery!', something stupid like that – then you're really setting yourself up for trouble, because you're soon venturing into didactic or journalistic territory that undercuts the universal tenant of all art. Art's main building block is to be understood by all, of course, for art knows all human life is connected by similar things across all centuries in all countries, for all creeds and faiths in the world.
At the same time, to do this you have to show a cross-section of society, and again, that was hard to do. I originally had a few more characters who Soobin encountered in her coffins, but they overbalanced the book, and soon the novel began to read like a check-list of different kinds of dissatisfaction, to be honest with you.
Again, Funereal is not a news article, but you still need to editorialise your work to make sure your message doesn't become diluted by all the noise of the world.
You also mentioned about beauty and plastic surgery within the Korean music and entertainment industry. What is your point of view about the current situation that is perceived based on local and global perspective?
Giacomo: If you watch any media product from any country and witness someone on screen who's had surgery, you're probably gonna think'They look good, so good on them. They've paid a lot, and it's worked wonders.' But if you live in Korea like I did, and find yourself surrounded by more media products in the form of shitty looking posters for umpteen surgery clinics, then it all does start to feel a bit crass and tacky and tawdry.
I'm not saying surgery should be restricted to the rich and showbiz, though. If premium quality is universal, then all is fair. Perhaps surgery only becomes bad though when you notice it. When you see a lot of similar looking faces in the crowd. 
More often than not, the face you notice most often in Korea is the worst looking one, a kind of look I dub 'Lemur-like.' You'll see this face at least once a week or fortnight if you live in Seoul, and it's not a pleasant one. It's the result of bad surgeons and a standard template being set down as the 'ideal' – so a small face, wide eyes, pointed nose. It gives one an uncomfortable, 'uncanny valley' sort of feeling. It just doesn't look real, and only suits some pre-op faces, not every face that walks through the shitting clinic door. And just how safe are many of these clinics in the first place?
You know, we should also ask why is surgery so commonplace in the first place. Is it really there for self esteem, or is it there to impose a beauty standard for society, like everything's become one big talent show? 
If you're happier after surgery, then good for you, and if you believe in fitting in, then that's your choice. But after living in Korea, I'm not really convinced it leaves many people happier. And how many of those in the music industry are truly, genuinely happy after all the surgeries they get, after all they do to their bodies in the name of the game? These K-pop stars are not like the stars you see at the VMAs, and the various fandoms out there need to realise that. They hold very little power and money, and they're not exactly living the high life, reading your Youtube comments and thinking, 'Wow, I truly have made it to the top of the ladder!'
If you have the opportunity to meet your favorite Korean authors, who would it be? Why?
Giacomo: I'd like to meet Yi Sang. Like with Kafka, I'd like to separate the man from the text, to see the real human behind the morosely modernist text. 
Like Kafka, Yi Sang has become his writing, a cypher for depression and alienation in a rule-bound landscape of strange bureaucracy. But maybe he had a sense of humour like I do, and he was merely writing about the darkness because that's what he felt most comfortable writing about. It's like my situation. I don't think about death all day, even if I have written a book almost exclusively about death!
When you are in the writer's block, what would you do to overcome it?
Giacomo: Take a long walk. Get cycling.
What are your recommended places for readers to visit in Korea?
Giacomo: The city of Busan is the best in Korea. It has the best temple in East Asia, Haedong Yonggungsa, which was built by the big blue sea. Haeundae and Gwangalli are great beaches to visit, and Gwangan Bridge is a great sight at night.
In Seoul, everyone should visit Bukcheon Hanok Village, Gwanjan Night Market in Dongdaemun district, and the Namhansanseong Fortress Wall. Then there are all the great districts to walk around and graze in: Sangsu, Hapjeong, Konkuk Uni area, Samcheon-dong, Seocheon-dong, Jamsil, Sinsa. The list goes on and on…
For those who want to become writers, what kind of advice would you give to them?
Giacomo: Don't rush yourself, no matter how far you may think you are from your final destination or dream. Give your idea time to develop, and devote time to each idea you have for a book to see how well it works, and how happy you are to see it through to the end. Never decide on one idea until you've tried all others. Be flexible. Never paint yourself into a corner. And finally, decide if you want to make money from your writing, or simply make a hobby of it. The two are not always mutually compatible.
What are your plans for the rest of 2015?
Giacomo: Work on a new novel, I guess. I'm coming close to finishing promotion for Funereal, so I'm looking forward to getting completely stuck into something else that has nothing to do with this book anymore.
Thank you Giacomo for taking the time for sharing your thoughts about your work and Korea. Looking forward to what kind of novel that he is going to write next. His previous novels and articles that he had written can be found at his official website. You can purchase Funereal at Amazon and iTunes store.  
Tags : Funereal,Giacomo Lee,Literature