Interview with Jambinai
Posted on March 10, 2014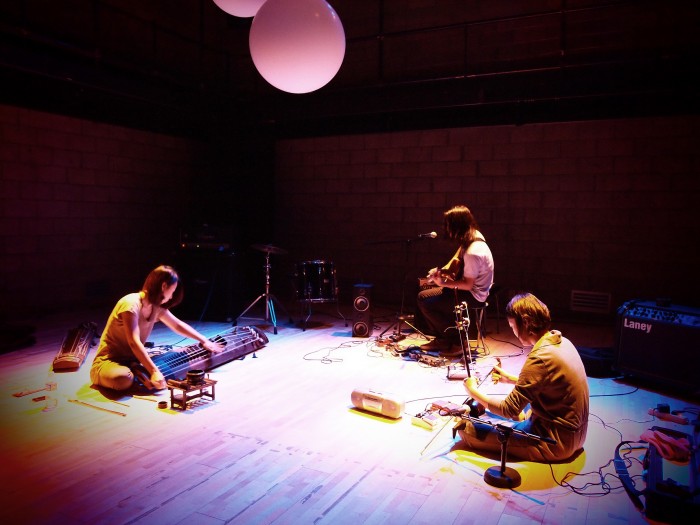 (Source: Jambinai)
Here is a little something that might get your attention: a combination of traditional music and post-rock. You probably think that it doesn't sound right when combining these two different genres. However, Jambinai got what it takes to implement those elements into music that attract the listeners' attention.
Jambinai was formed in 2009 by three members: Ilwoo Lee (guitar and piri (oboe)), Bomi Kim (haegum (fiddle-like instrument), and Eun Young Sim (geomungo (zither)). They became acquaintances during their studies at the Korea National University of Arts.  Later, after graduation, they met again after attending a mutual friend concert. They started talking about Korean traditional music and believed that this genre should be presented in the contemporary music scene. Thus, Jambinai was created with an aim to relive the Korean traditional music in the 21st century.
The Korean folk and traditional music are composed together with metal and electronic music. In September 2011, they released a three song EP through GMC Records. During the summer of 2011, the band performed at the Incheon Pentaport Rock Festival. Then, in November, they came in second place winning the "Jury Prize" at the EBS Hello Rookie Final. Jambinai released their full length album, Différance, in February 2012 which led them to win "Best Crossover Album" and nomination for "Best Jazz & Crossover Performance" at the 2013 Korean Music Awards. Last year, Jambinai played together as a quintet (with touring members Dokyo 13 (bass) and Mounghoon Ryu (drums)) at major international festivals including the World Village Festival in Finland, Cena Contemporanea in Brazil, WOMEX in Wales, and the Oslo World Music Festival in Norway. This year in March, Jambinai embarks, for the first time, in performing their music in the US.
'Time of Extinction' PV
After listening to the album, Différance, I was quite impressed and enjoyed listening to it. Two totally different music genres are well harmonized in these songs. There are no clashes between them. The album consists of various songs with different moods, range from extreme songs (Time of Extinction and Salvation) to calm songs (Connection  and Gam-gin noon wee-ro bi-choo-neun). These songs consist of flow of tunes that will blow your mind away. Jambinai courageously challenged themselves to combine both of these elements while being experimental and put a lot of emotional impact. 
Ahead of Jambinai's first tour in the US, Ilwoo Lee and Eun Young Sim share their thoughts about the music, tours, and their upcoming plans in 2014.
How do you describe your music as?
Ilwoo Lee: Our music is a combination of Korean traditional music and post-rock.
Eun Youg Sim: People who have listened to Jambinai's music have said to us that our music feels familiar but they couldn't hear this kind of music before.
How did you decide to combine traditional music with post-rock elements?
Ilwoo Lee: I like the experimental nature of post-rock.  When I majored in Korean traditional music at university, I always dreamed about making fresh and experimental music and I found many possibilities in post-rock.
(Source: Jambinai)
How is your first album, 'Différance' different from your EP?
Eun Youg Sim: The songs on our EP are longer because, with the EP, we tried to concentrate on our traditional instruments.  With our debut full-length album, Différance, we focused on making more band-oriented music.  The album has a bolder, more powerful, and more experimental sound.  
For first-time listeners, which songs would you recommend them to listen to?
Ilwoo Lee: I recommend they listen to "Time of Extinction" and "Connection."
Bomi Kim: I'd also recommend "Time of Extinction."  The song has really powerful energy.  Lots of other people have told us that they use that song to introduce our music to others because when people hear "Time of Extinction" they are often blown away.
From the album, 'Différance', which song truly represents the band? Why?
Ilwoo Lee: Again, I think that would be "Time of Extinction."  Some people thought that Korean traditional music can't be combined with extreme music.  This song shows that it's possible.
Eun Youg Sim: I think "Time of Extinction" and "Connection" both represent Jambinai well.  Both songs mix elements of rock music with the unique sounds of traditional instruments.  "Time of Extinction" is raw and strong.  "Connection" is soft.  Both are very good at explaining Jambinai.
Live performance on 'Connection' at MBC Nanjang
What is your opinion about how Korean indie music and traditional music are slowly starting to be heard by more international audiences?
Ilwoo Lee: I think not so many people outside of Korea are listening to Korean indie music or traditional music yet. But I would be very happy if they started listening to more Korean music because of us.
This is your first time touring in the US and playing at SXSW. How do you feel about that?
Eun Youg Sim: I feel very honored that we can introduce our music to the US at SXSW. I'm very excited because there will be bands and music fans from all over the world at the festival.  I think we're all very curious to see how people react to our music.
What are you really looking forward to when touring in the US?
Ilwoo Lee: I'm looking forward to playing to new audiences.  The US is the world's number one music market.  I hope we can do really well on this tour and expose more people to our music.
What kind of set list are you going to prepare for your shows in the US?
Ilwoo Lee: We'll be playing music from our EP, from Différance, and some brand songs from our upcoming sophomore album.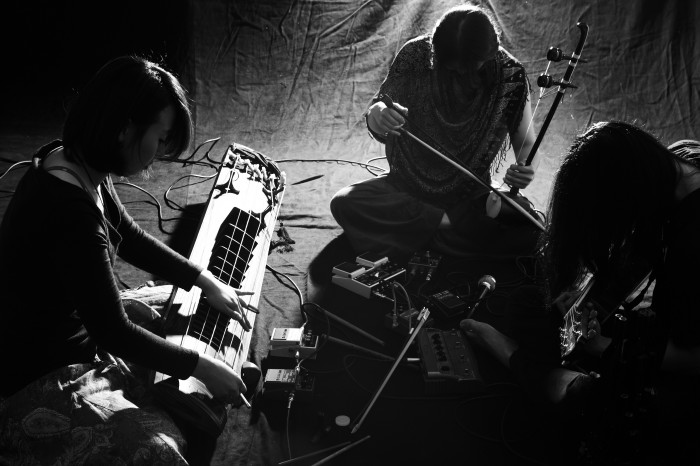 (Source: Jambinai)
You have toured overseas before. What have you experienced when performing in different countries? What is the most memorable experience you've ever had overseas?
Ilwoo Lee: Last year, we played at festivals in Finland, Wales, Norway, and Brazil.  All of the events were great experiences.  I think our most memorable experience came when we played in Brazil for Cena Contemporanea.  The audience really loved our music.  People were crying and kissing while we performed.  We were very surprised by their reactions.
What plans do you have for the rest of the year 2014?
Eun Youg Sim:  We'll release our second full-length album this year.  We're still working on it right now.  We're working very hard and are trying to make something that is truly great.
Ilwoo Lee: In addition to playing at SXSW, we'll also do another American show at the Sierra Nevada World Music Festival in California in June.  In April, we'll play in China for the Sound of the Xity festival and in Amsterdam for the PMPS event as part of the CinemAsia Festival.  And, this summer, we'll be playing at music festivals throughout Europe including Denmark's Roskilde Festival and Slovakia's Festival Pohoda.
Thank you, Jambinai for taking the time to participate in the interview.  Be sure to see their live performances in the US. Here are the following dates:
March 12 Austin, TX @ (3 pm) International Day Stage Austin Convention Center (official SXSW showcase)

March 13 Austin, TX  @ (1:30 pm) Hotel Vegas (Levitation Austin)

March 13 Austin, TX @ (12:00 am) Flamingo Cantina (official SXSW showcase)

March 14 Austin, TX @ (3:15 pm)Spider House (The Texas Rock N Roll Massacre 2)

March 16 San Antonio, TX @ Limelight
Follow them through their Facebook and Twitter. You can purchase the album, Différance, via iTunes.
Tags : Interview,Jambinai,music,Post-Rock,Traditional Music
Comments are closed.