Interview with Kim Jee Woon
Posted on November 29, 2013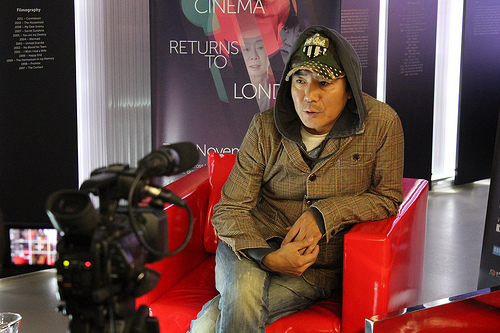 Director Kim Jee Woon (Source: Korean Cultural Centre UK)
During the London Korean Film Festival 2013, four short films, which are directed by Director Kim Jee Woon, were shown to the UK audiences for the first time. There are differences between his feature-length films and short films in terms of storyline, concept, and focus on characters. Also, his short films start to get even more better since his first short film till the One Fine Day. You can check out the review of Kim Jee Woon short films here. Watch the One Fine Day short film which is supported by Kolon Sport.
One Fine Day (Source: Kolon Sport YouTube)
Previously, Director Kim allocate his time to sit down to talk about his short films, including One Perfect Day, which is his first time making a romantic short film, the rising awareness of Korean short films to the international audiences, and his current filmmaking project, Jin Roh: The Wolf Brigade.
What are the reasons behind creating short films? What inspires you to direct and write these films?
Kim Jee Woon: So far, I have made seven short films. Each film, which I had directed, are based on different motivation. For instance, sometimes, some big companies would commissioned me to make a short film as a form of advertisement. Sometimes, it would be a collaborative work with a fashion magazine. Sometimes, I would direct short films as a transistory experiment from one genre to another like an incubating process. By making short films, with cinematic way of playing, it gives less psychological stress compare in making feature length films. I can retain a level of passion and sense of fun. When making feature-length films, the length of time can be long and it can be boring. Directing short films make me quench my thirst which is why I like to do most. 
One Fine Day, is your very first romance film, that you directed. Is it part of experimenting in directing a new genre before making a feature-length film in the near future? Were there any difficulties in doing so?
Kim Jee Woon: I always wanted to do a melodrama film. I wasn't sure whether to make a film as serious melodrama or romantic comedy. In the end, I have chosen romantic comedy genre. I always wanted to do this genre but for One Fine Day, I have to considered the image of the brand, Kolon Sport, an outdoor sport clothing company. I couldn't really make a short film which has the genres which I had done before. So, this is a good opportunity for me to try a new genre and choosing something suitable for the brand. I hope to direct a romantic film in the near future but not sure exactly when.
For the past few years, Korean short films has started to grow. In your opinion, what is the future for Korean short films?
Kim Jee Woon: I don't think that there are very special circumstances for Korean short films to be developed and promoted internationally. However, this year, there is a Korean director that won the category at Cannes International Film Festival. Currently, there are Korean directors who are making short films follow by making feature-length films. There has to be a range of good short films in Korea for that to have a solid future for feature-length films. There are many excellent short film festivals in Korea. These festivals help to promote short films and nurturing talent for future Korean directors. I feel that film festivals played the huge part in doing these activities.
I heard that you are currently working on the adaptation of Jin Roh: The Wolf Brigade. How is the filmmaking progress coming along?
Kim Jee Woon: I have two projects, Jin Roh: The Wolf Brigade and Coward. However, after looking through the script development process, Coward will come first before Jin Roh: The Wolf Brigade. This is because compare to The Last Stand, Coward has less budget. Jin Roh: The Wolf Brigade, in Korea terms, is a blockbuster standard which has a huge production. So, there will be a long process in making Jin Roh: The Wolf Brigade. Thus, I will be making Coward first.
Thank you Director Kim for participating in the interview to share his thoughts about Korean short films and his works. Korean short films are starting to gain its awareness among not only in Korea but also internationally. There are particularly a good number of short films that have innovative storylines and interesting characters that we will love and hate. Although these films are short, they consists of in-depth meaning that will be attached to the audiences' mind and heart. Hope that Korean short films continue to be known among the international audiences.
Tags : Interview,Kim Jee Woon