Interview with Love X Stereo – Project '37', LP and UK Tour
Posted on April 26, 2017
Source: Love X Stereo Facebook Page
Love X Stereo are starting to share music and content including videos across digital news site and social media to further engage with their fans, both local and international. Not only that, they have been sharing their content as part of their project '37' on the Patreon page. You can find more about the project '37' here. They recently made a couple of announcements: (1) will be releasing 4 LPs (digital full-length album) this year, (2) they will be performing at the FOCUS Wales as it is their first time to perform in Europe and will be announcing more gigs in the UK later, (3) 'Rage is Not Enough' MV is out on YouTube and MTV Asia.
Directed and written by Pablo Fuentes Gomez, 'Rage is Not Enough' MV definitely speaks out loud on how we feel towards our inner circle and society affect our mind and emotions: anger and sadness that is about to erupt anytime.
Two days ago, they have announced they have released the vinyl that has six tracks including a special remastered version of "Rage Is Not Enough (Danja Mix) – Side A – Dead Beat Generation / Beauties Die Young / Love Is On The Way | Side B – New World / Hide and Seek / Rage Is Not Enough. You can purchase the vinyl by filling up this form.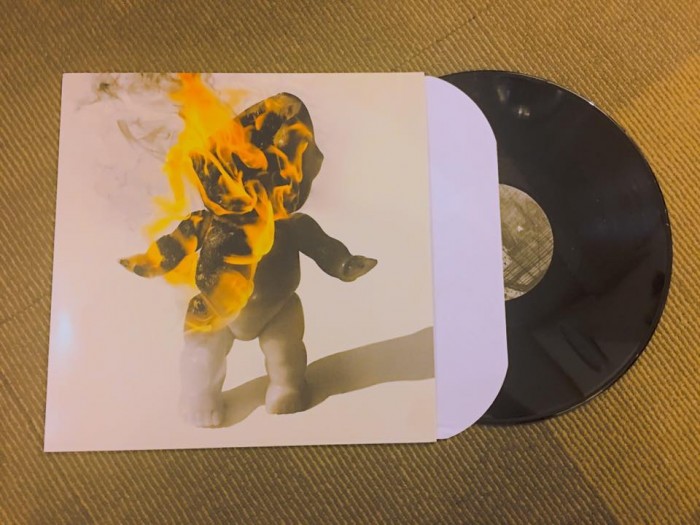 Source: Love X Stereo Facebook Page
We catch up with Annie Ko over Skype interview to ask her about the yearly project '37', thoughts about current music market including their plans on releasing four LPs and their upcoming first UK tour.
What is the story behind running your major yearly project, '37'? Why did you decide to run the project this year?
We started with this idea for a sustainable life as a musician. These days everything change so fast. We have been a band since 2011 as Love X Stereo and being in the music industry for more than ten years. It is more important to have the fan engagement: being in the personal level rather than making physical CDs. As we are an indie band in Korea who wants to get out there, we want to continuously make the best fan engagement with the best content. That's the reason why we started '37'. It is challenging to release three songs and videos a month. The project has been running for about three to four months. It is a fun project to do.
How is the experience like in running '37' so far? Any challenges that you faced?
Now that we have our own studio, we can make as many music as we want without looking for mixing and sound engineer. The only thing that we don't have is time. When we converse with the Patreons, we can see what kind of songs that gained more attraction. It is a very great way to know what music they are into it and what they like about us.
Besides the ten levels that you mentioned in the Patreon page, any surprises coming up in '37'?
We are going to release our first LP in May. We have so far release five EPs and two singles. A number of music critics in Korea have always said that they want to listen to our LP. I understand their point of view because what we thought that we need to be relevant and making sure the LP is perfect. However, things have change. Rather than making the LP in the traditional way, considering what songs to put in the LP and other tons of things to think about for LP, we put these thoughts aside. We decided to divide 37 songs into four LPs for this year, a rebel approach towards the traditional LP in the music industry.
That's interesting. What's your point of view of having LP in the modern music market?
Our approach to releasing the LP will be "not thinking enough and putting it out there". Recently, Drake released an LP that has 18 songs in it. He stated that he is not releasing an LP. He is releasing a 'playlist'. Nowadays, people don't buy CDs especially the CD sales are going down while the record sales are going up. Countries like Japan has a secure industry on their own for many years but now they are facing the situation that the CDs aren't selling as much as they used to. The game is changing. I would like to create a great LP but there's limited budget and resources in making them. Also, you will never know how much investment you will gain based on what you done. We have thought about this after we released our EP We Love, We Leave Pt 2. Although Hide and Seek is popular through listening via online, not many people buy our physical CDs. To be realistic, we decided to focus on digital and get the music out there. So, we will be releasing for four LPs which is not traditional one, it is more of a "mixtape playlist/LP" which we are currently experimenting how to get it out there.
How is the LP music market in Korea?
Music critics want to listen to LP. If you don't have a LP, they don't consider you as a very serious artist which I think it's outdated. Usually these music critics are older than me and into hard rock music that they listened to back in the 80s. I agree but, realistically, back then the musicians released their LP with huge labels behind their back and investment from other companies. These days, indie musicians distribute music by themselves as it's digital and cheap. The whole dynamic has change. If we use the similar method back in the 80s on the current situation, it costs a lot of money. Personally, I would rather engage with the fans more than how fans listen to the music, either traditional or digital.
This will be the very first time that you will be performing in the UK which is the FOCUS Wales. How you guys feel about it?
We always wanted to perform in Europe. This is the first official gig in Europe. There are going to be a couple of gigs in the UK which we will be announced soon. Hopefully, this experience lets us to expand ways to go. Also, hope we can do a tour to approach the fans in Europe.
How about other European countries in the near future?
We were very much asked to come to perform in Berlin, Germany. A lot of people whom we have met have mentioned Berlin so we want to go there at some point. I want to go to Ibiza, too.
Any chance that you would be doing in the UK during your free time?
We are going to make video content and taking footages for our project '37'. We are going to meet and hang out with some artists including Nina, Ooberfuse and Dregas.
If you have the opportunity to collaborate with UK musicians, who would it be and why?
New Order
You have been actively involved in the production for other Korean indiebands like MAAN and Rock N' Roll Radio. Also, your previous oversea collaboration with Danja and Marcella to produce your song 'Rage is not Enough'. What is it like to be involved in producing music with different musicians both local and international especially MAAN, Rock N' Roll Radio, Danja and Marcella?
People think our music is versatile and they are comfortable in working together with us. A lot of the indie musicians in Korea have experiences which are similar to ours. After we have our own studio, we actively collaborate with Korean indie bands compare to other artists. Our involvement in doing music production is that we help out our Korean indie companions. It is complicated to do music recordings in studio in Korea. There are a few sound engineers who understand the dynamic of rock music. If you were to find a studio to record music, you have to pay a ton of money and you might not get the music that you want because they don't really understand what kind of music you are talking about. The musicians work comfortably with us because we know the dynamic of rock and electro music which we have experienced. It is fun to work with them and get feedback from them.
You recently made a collaboration performance with a burlesque play, Heartcore, by Starlight Productions. What are the experiences to perform together that is totally different from your previous gigs?
It was a creative work. Starlight Productions approach us and they want to use our music to choreography. They also asked us to be involved in live performance. Not the first time to perform with dance group but this time it is sexier. Seeing people dancing to your music is totally awesome. We received feedback from the audiences. They didn't know that it was live at first until they realized that we were performing on stage.
Any upcoming projects and collaboration performances that we should keep an eye on?
During our process in project '37', we have collaborated with a couple artists including US musician DISQO VOLANTE who plays the saxophone. Hope to work with Jinkyu from Rock N Roll Radio soon.
Can you say a few words to the readers?
Keep up with us on social media especially our announcement on the upcoming gigs in the UK. Our first LP will be out while we are in the UK. Do buy our LP. If you are interested to listen to our music and videos in advance, visit our Patreon page.
Thanks Annie for the interview. Stay tuned for their upcoming first LP in May and announcement for their upcoming gigs in the UK. Follow them on Facebook, Twitter, Instagram and YouTube. Don't forget to visit their Patreon page to listen to more of their music and videos.
Tags : Electro-Rock,Love X Stereo,music