Interview with The Founder of 'Busan BBQ', Da Hae
Posted on September 24, 2013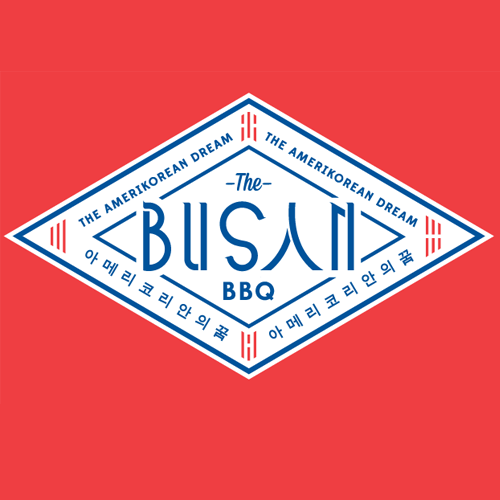 In the beginning of September, I tried out the Busan BBQ that has the flavours that explodes in my mouth. Check out the review. This time, I had the opportunity to have an interview with one of the founders of 'Busan BBQ', Da Hae. She talked about the Korean-American burgers, 'Busan BBQ' trailer, and her passion and experiences through her street food business.
What is "Busan BBQ"? What is the relation to Korean and American burgers?
Da Hae: I'm from Busan, and I think it is important to have a Korean influence on the street food scene. My husband, Gareth, came with me to Korea after we got married last year. It was his first time in Asia and Korea and he didn't know what to expect – but his mind was just blown away and he loved all the food. We wanted to find a way to integrate amazing Korean flavours with street food favourites such as burgers and fried chicken to make Korean food accessible to everyone.
How and why did you decide to start "Busan BBQ"?
Da Hae: In Korea, we tried so many different kinds of Korean street food and fast food. There's so much choice over there! After we tried a bulgogi burger at one fast food restaurant, we thought  "If we made these at home, using fresh ingredients, it will taste even better!" On coming back to England, I made Gareth some bulgogi burgers and he couldn't stop eating them – He ate three burgers in one sitting and kept exclaiming "These are delicious! If only someone would sell these!!". Then we thought – why not us? We love food. Our hobbies are anything food-related such as watching cookery programs, visiting street food markets, eating and cooking. It just made sense!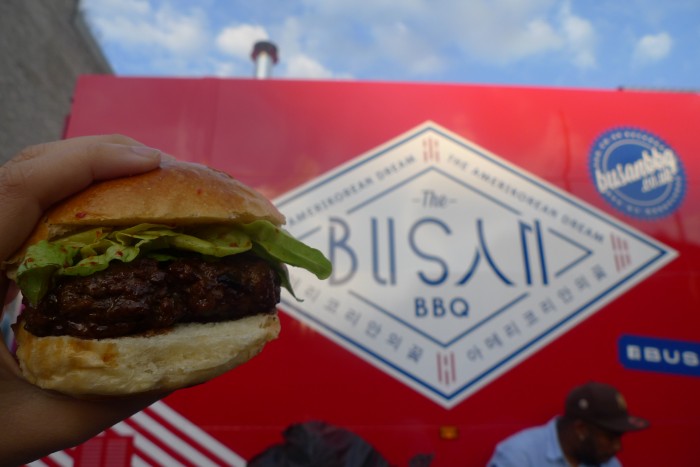 What is unique about the burgers from "Busan BBQ"?
Da Hae: We use good quality meat from our butcher which we marinade in Korean spices and sauces- making super juicy, mouthwateringly tasty burgers.
How do you meet every single customer's taste in London which is a multi-cultural city?
Da Hae: Our bulgogi burger has been popular because it is sweet, juicy and not very spicy. However, for those that can take the heat – we have our spicy pork belly in our gotchujang marinade which is addictive!
What are the customers' responses like?
Da Hae: It's been really good. It's so lovely to hear everyone saying nice things about our food. It's really encouraging and makes us want to work harder.
Do you get any requests from customers?
Da Hae: We have a couple of requests, such as people wanting chips. We might explore that in the future as the menu is constantly developing.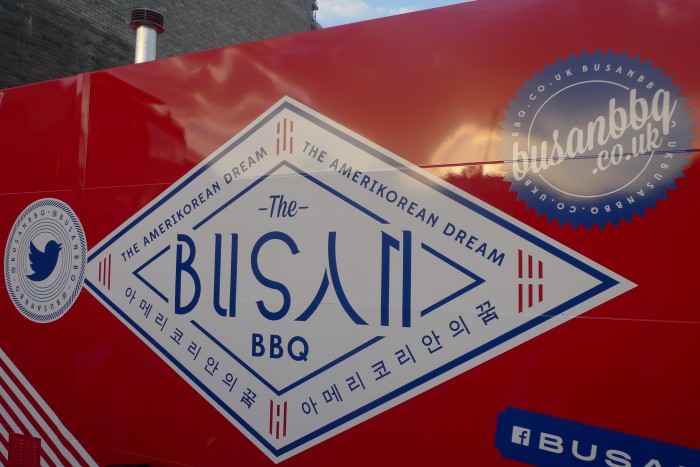 Why did you decide to set up a "Busan BBQ" trailer? Do you have plans to travel to other parts of the UK with the trailer?
Da Hae: Yes, we would love to do festivals next year. We really want to get the name out there. Not just in London, everywhere. We are more than happy to travel. We want Busan BBQ to get well-known and for people to love the food.
What are the meanings behind the postage stamps on the "Busan BBQ" trailer?
Da Hae: The Busan BBQ trailer has stickers on the front which we replicate on the packaging. Each sticker has a different Korean proverb that has been translated in to English. We liked the fact that it adds something quirky and different but also goes back to my Korean background.
For those who are new to the K-town burgers, what would you recommend?
Da Hae: On our menu, we have the "doshirak" (lunchbox). This is a slider bulgogi burger, a slider of pork belly, and a piece of Korean fried chicken. It's a great way to taste a little bit of everything so that you can see what your favourite is and then come back to order that next time.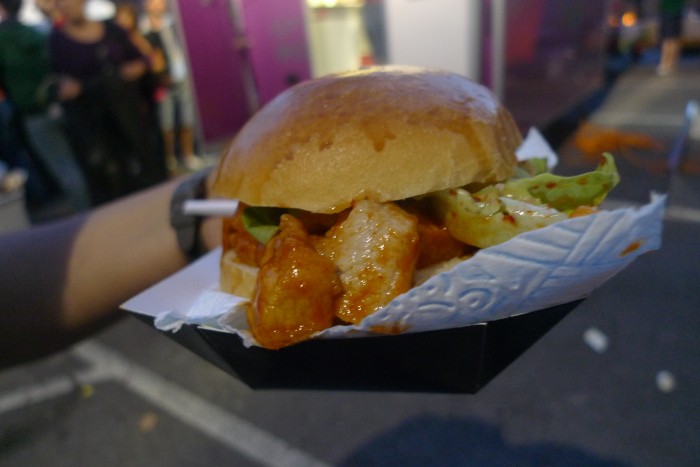 Any plans in adding something to the "Busan BBQ" menu?
Da Hae: We have so many ideas at the moment. Different recipes and things to try out. However, we have to limit ourselves to what we have on the menu as we're just starting out and we want the quality to be good and consistent. Watch this space though as we definitely have some exciting specials that we can't wait to get out there!
Do you think using Instagram is a way to connect with the customers?
Da Hae: I am quite a big Instagram user. I'm so swayed by food pictures on Instagram –  and looking at all the pictures always makes me so hungry. It's a great tool to engage with other foodies and get people talking about your food. We repost pictures that others have posted of Busan BBQ and we hope that the pictures will encourage more people to come and find us and try our food.
Have you ever thought to set up your restaurant in the future?
Da Hae: At the moment, we really want to grow the trailer side of the business with the possibility of having a couple more down the line. A restaurant is something we would think about in the future, but at the moment, we're really enjoying being part of the street food scene.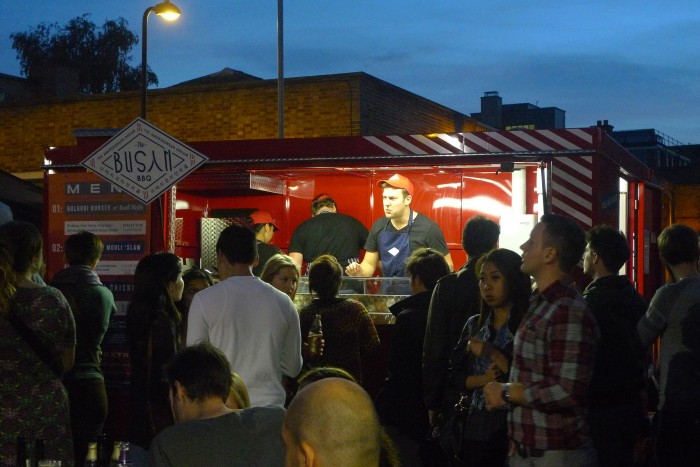 What have you learn so far since starting the "Busan BBQ"?
Da Hae: It's definitely a lot of hard work but it's really rewarding. As I was saying earlier – it's so lovely to receive positive feedback, it makes all the long hours worthwhile. Busan BBQ is something that we're really passionate about – it's so much fun that you just want to keep going.
What are your future plans for "Busan BBQ"?
Da Hae: Just basically to keep improving. We've only been up and running for a month or so – and in that space of time, we've already learnt a lot. The whole thing has been a learning process and I'm sure it will continue to be. We really want people to share our passion for Korean food and hopefully Busan BBQ will help give Korean food the recognition it deserves.
Thank you, Da Hae for participating in the interview. Mark your calendars because 'Busan BBQ' will be around at the some locations in London. Here are the following details:
 5 October: Urban Food Festival, Shoreditch High Street

13 October: Newington Green Market
To find out where they will be heading next follow them on Facebook, Twitter, Instagram (busanbbq), and their official website.
Tags : Burgers,Busan BBQ,Food,Korean-American burgers