Interview with …Whatever That Means
Posted on January 9, 2015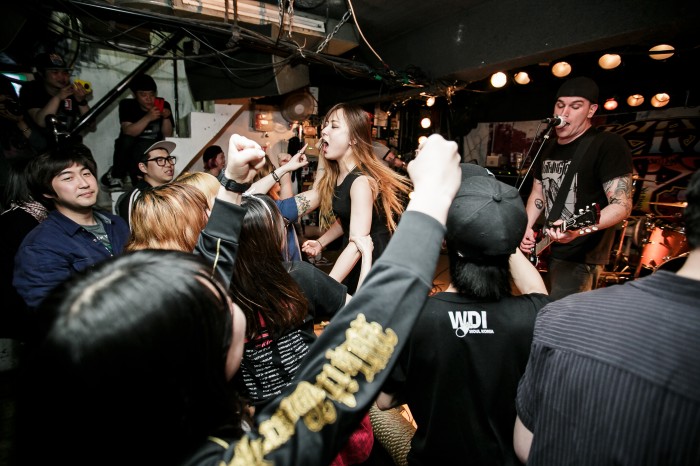 Credit: Ken Robinson
On the previous weekend, I was listening to …Whatever That Means latest album, "Sixty-Eight, Twenty Two", and 'wow' it brought me back in time. The time when you just locked your room door, blast your favourite rock music, and then jumping on the bed and rock on with the music while at times you might pull on the air guitar. It brought me good memories as …Whatever That Means music is classic with ongoing powerful blast from the 1990s. I am excited to be going to one of their gigs in Malaysia as they will be coming for the Winter Tour 2015.
While …Whatever That Means are preparing for the Winter Tour 2015, Jeff (vocals and guitar) talks about their music, tours including Winter Tour 2015 and Korean indie music scene.
You started off as a one-off project band at your (Jeff and Trash) wedding. What made you decide to continue to perform as a punk rock band?
Jeff: I had wanted to play in a punk band here in Korea ever since I'd discovered the punk scene. The thing is, I'd been playing in bands since high school but had never been the principal song writer.  I didn't think I could do it, but the first two songs I wrote for our wedding show went over okay, and Honggu (our original drummer) liked them and wanted to keep the band going so we decided to just go for it as see what happened. The first WTM show was also Trash's last show with her old band, BBLT, so I spent most of our honeymoon convincing her to play with Honggu and me. It just all kind of worked out that we were ready to play together and were having fun with it so that was that.
What is unique about your "melodic punk rock" music?
Jeff: I don't claim to be doing anything completely new, but we do pull from a lot of different influences throughout the punk rock genre. We want our music to have a lot of energy and a lot of melody. Sometimes, songs are really pop punk, and other times, they're really aggressive. There are times that you can tell we love Bad Religion and raging guitar solos and other times when you can tell that we've been listing to a lot of Midwest pop punk like The Copyrights and The Manix.  Overall, I think our music takes people back to that great time in the 1990s when punk rock was the biggest thing around.
What is the actual meaning behind your latest full-length album, "Sixty-Eight, Twenty-Two"? How is it different to your previous releases?
Jeff: After our US tour in 2011, the band took a one-year hiatus while I was going to graduate school in the US. Trash and I were living in the town where I grew up, but I felt really homesick for Korea.  One night when I was really missing Seoul, I signed on to Google Earth and found that the Hongdae Park (one of the main places punks used to hangout late into the night) was 6,822 miles from our apartment in Pennsylvania. When I was writing the lyrics for the song, I decided to break it up as, "68, 22" just because it sounded better, and I wanted it to be a little cryptic.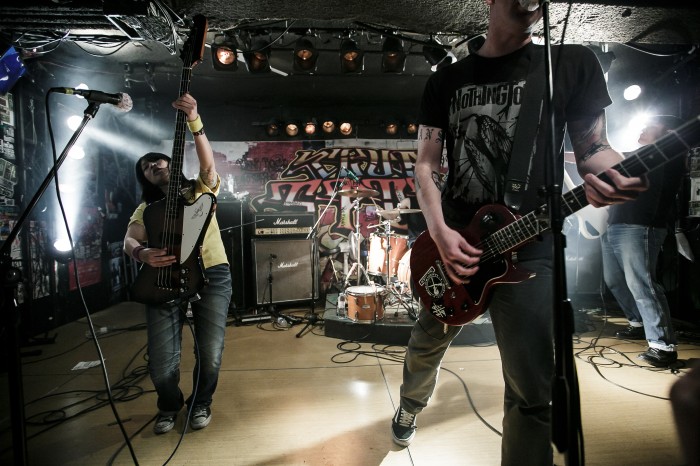 Credit: Ken Robinson
How is the production process like in making your latest album? What is it like working together with Jonghee Won of Rux during that process?
Jeff: This was our second full length, and we decided to take the process into our own hands as much as possible. I bought a bunch of recording gear, and we set up the extra bedroom in our apartment as a home studio that we now call Binary Studios. Our good friend, Kirk, is a professional sound engineer and he offered to help us. So he sat down with me at the beginning and made all the recording pre-sets. Then, I ran all the recording sessions and did the initial mix. After everything was ready, I took it to Kirk and he worked on all the details in the final mix and mastered the album. It was also nice to be able to just relax and not worry about time limits whenever we went into the studio. It was a lot of work but really fun and we learned a lot about the whole recording process.
Working with Jonghee was a really great experience too. Rux is one of Korea's most influential punk rock bands, and Trash and I have both known Jonghee for years so having him sing our title track about finding a home in the Korean punk scene just felt right. Since we were recording everything in Binary Studios, we were able to keep things really informal. Jonghee came over, worked on his tracks, and Trash made dinner for all of us. It kind of felt like having a friend come over to hangout on a normal weeknight.
What songs would you recommend to the new audiences to listen to? Why?
Jeff: Our sound definitely changes from song to song. I'd recommend listening to "Punk Rock Tourist" to hear our more aggressive sound, "Sixty-Eight, Twenty-Two" to hear our pop punk side, and "The Goodbye Note" for a little skatepunk. That would really give people an idea of what we're all about.
What kind of music you grew up listening to since young?
Jeff: I grew up during the American punk explosion in the 90s so for me, it was all about bands like Bad Religion, The Descendents/ALL, Face to Face, Social Distortion, NOFX, Less Than Jake….Pretty much anything on Epitaph, Fat Wreck, Asian Man, or Tooth & Nail. Trash grew up here in Korea. She was actually into metal before she discovered punk. For her, Japanese skatepunk bands like Hi-Standard, Shachi, and Dustbox were more influential before she joined WTM.
Asian Prodigy MV (Source: …Whatever That Means YouTube)
You had toured not only in Korea but you had also toured in the US and Malaysia. What were the struggles and enjoyment you had when performing in different countries?
Touring is always a bunch of ups and downs. We've played some really great shows with amazing bands and incredible crowds. We got to play at the historic 924 Gilman Street in Berkeley, CA and played the coolest house show ever at The Nemesis House in Tacoma, WA on our last tour. Both of those were amazing. On the flip side and we've showed up at venues to find out they forgot we were coming or thought it'd be ok to just have us play a few songs between solo acoustic acts on their open mic night, but you just kind of learn to go with the flow when that stuff happens.
The biggest struggle is probably just that we've gone through a lot of member changes over the years so we've never been able to do two tours with the same lineup. When you're living in a van or jumping from hostel to hostel, it's really important that you know how to not piss each other off. That takes time, and we've never been able to work on that as a whole band. Beyond that, I'd have to say that having members who snore ridiculously loud has always been the hardest thing. Hahaha. Seriously. I'm talking about snoring that is so loud you can't sleep for days at time, but I'm happy to say that is a problem we won't have to deal with anymore.
You had your two-week Malaysian tour in 2010 and you will be coming back to perform again. What are the unforgettable moments you had in Malaysia in 2010? What will you most looking forward to during the Winter Tour 2015?
Jeff: The whole thing was a really cool experience. We had only been a band for 8 or 9 months, had just recorded our first EP, and none of us had ever toured internationally before. Some of the best memories…..We went to Borneo to play one show. When we got there, we found out it was a huge showcase with about 20 bands playing, and each band was only allowed to play 3 songs. We were a little bummed about that at first, but when we got up to play our 3 songs, everyone went absolutely NUTS! And then they let us play one more song, which was cool. We spent a lot of time in KL too, and every night, whether we had a show or not, people came to our hostel to just hangout and make us feel welcome. It was about as good of an experience as anyone can expect on their first tour.
For this tour, honestly, we're stoked about everything. Dean (Kids On The Move) has helped book all our shows this time around, and the schedule has worked out really well. We're going back to The Wall in Batu Pahat. We played there last time, and it ended up being the first time we ever played as a 3-piece band because our lead guitarist had food poisoning. That was a huge moment for us so it'll be cool to play there again. Most of all, I think we're just really excited to show everyone how far we've come as a band. I think we have better songs now and put on a much better show now than we did 5 years ago.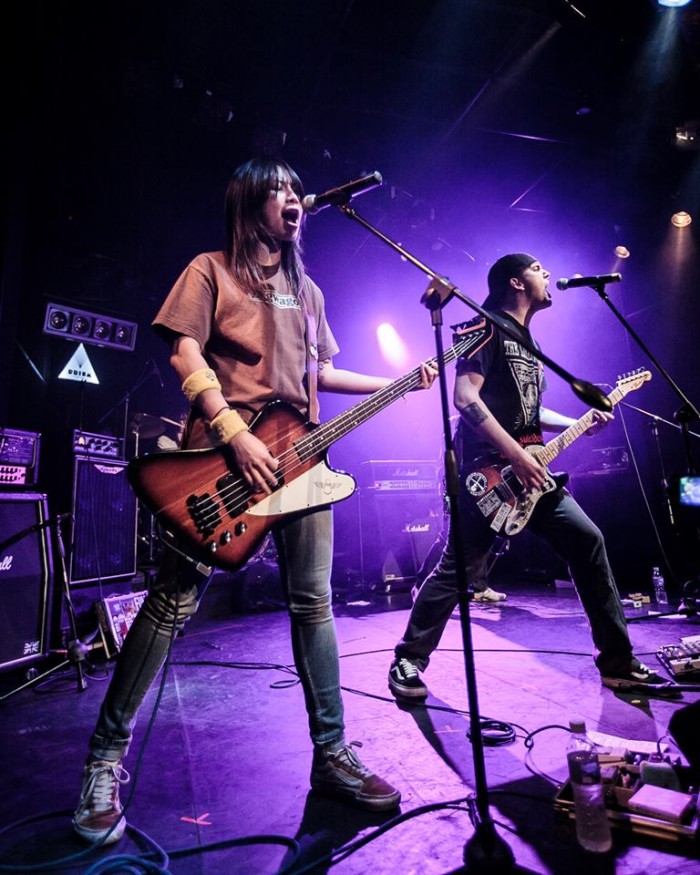 Credit: Ken Robinson
You were featured in the documentary, "Us & Them: Korean Indie Rock in a K-pop World". What are your thoughts about the awareness of Korean rock music in both local and global perspective?
Jeff: Whether you're talking local or global, I think there isn't nearly enough awareness of Korean punk and hardcore. When we travel abroad, everyone knows about K-Pop, but unless people know The Geeks or have seen some of the bands that have gone to SXSW, it's not uncommon to hear, "I didn't even know there was punk in Korea." Here in Korea, people know it exists, but the masses are still so focused on K-Pop. Unless people are actually part of the scene, they don't seem to pay much attention to it. There are certain times of the year, like during Zandari Festa or the big summer festivals, when people pay closer attention to what's going on, but overall, rock music isn't a big focus here.
What are your future plans this year?
Jeff: Well, right now, we're in the middle of writing our next release. We're hoping to start recording that soon after we get back from Malaysia and Singapore. Then, we want to head back to the US for another tour this summer. Those are the two biggest things right now.
Any messages you would like to say to the readers?
Jeff: If you haven't heard us before, you can check us out at: www.whateverthatmeans.bandcamp.com and keep up with tour news at www.facebook.com/whateverthatmeansmusic and www.tiny.cc/wtmwinter2015
We'll see you guys soon!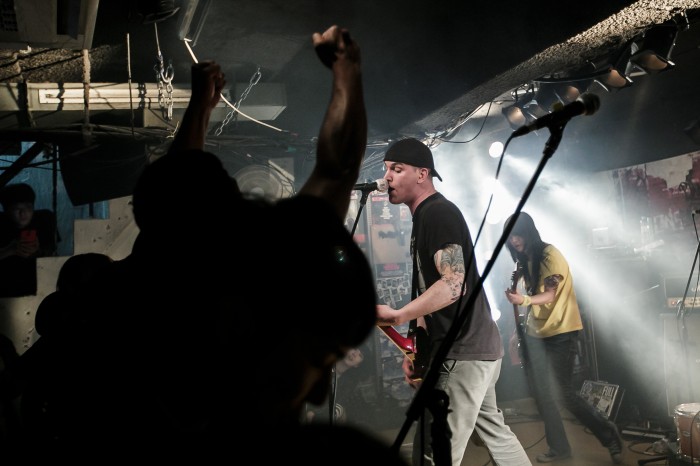 Credit: Ken Robinson
Thank you Jeff and …Whatever That Means for interviewing with us. Their tour is going to start soon from Seoul to Singapore and Malaysia. Check out the tour details here. I am totally excited about going to one of their gigs and letting me reignite my crazy childhood memories. So, head to one of these venues and rock out with the 1990s melodic punk rock music.
Tags : K-Indie,music,Punk Rock,Rock,Whatever That Means