Kimchinary: "Orchestra" in the Burrito
Posted on October 7, 2013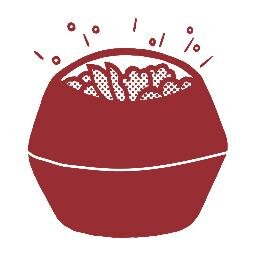 (Source: Kimchinary Twitter)
Kimchinary is well-known for the Korean tacos that I decided to try again at the KERB's 1st birthday party near the Granary Square, King's Cross, London. By the time I reached to the Kimchinary stall, there was a huge queue waiting to get their food. That time, Kimchinary were selling burritos. Since I was already in the queue, I might as well try some before I regret.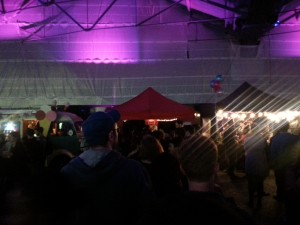 Long queue at the Kimchinary stall
I waited for about 30 minutes until I finally reached the Kimchinary food stall.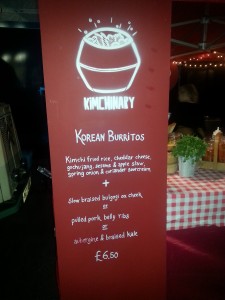 You have a choice of fillings to be in your burrito. If you want meaty burrito, you can have either slow braised bulgogi ox cheek or pulled pork belly ribs. If you want vegetarian, then aubergine and braised kale is a good option.
The lovely lady, Hanna, and her friends will ask you what burrito do you want. Then, they will get the burrito ready. This is done by warming the burrito wrap a bit at the flat griddle. Next, they add the fillings including kimchi fried rice, cheddar cheese, gochujang, sesame and apple slaw, spring onion, and coriander sweet cream. After wrapping the burrito up, they will warm it up over the flat griddle before giving them to you.
From left to right: Hanna and her friends preparing the burritos – The fillings in the burritos before serving
Finally, my friend and I got our meaty burritos. Once we bite into those burritos, I felt the sensational moment. Metaphorically, I could feel that I was listening to the sounds of the orchestra. In my mind, I could hear and feel the fireworks and orchestra that truly amazed me. I tasted every single ingredient within the burrito. I can taste the cheese, spicy gochujang sauce, the meaty and spicy proteins, the freshness of the slaw, the kimchi, and other ingredients. These individual ingredients with unique tastes harmoniously blend well together into one. I ate the whole thing happily till my tummy is satisfied. Even my taste buds were dancing, while eating the burrito.
Kimchinary burritos brought me to a harmonious food "orchestra"
It was worth the 30 minutes wait to "enjoy" sensing the tastes of the "orchestra". Sadly, I didn't get the chance to try out the tacos that I had the last time during the K-Music Festival. Hopefully, I will visit Kimchinary again next time.
Kimchinary stall are the common food traders for KERB and Urban Food Fest. For the KERB, they can be found at the Granary Square near the King's Cross station during lunch hours from Tuesday to Friday. As for the Urban Food Fest, they might be there on some Saturdays. To find out more where they will be, follow them on Twitter.
Tags : Burrito,Food,Kimchinary