KOFFIA's Success in Introducing Korean Films to the Australian Audiences
Posted on September 16, 2013

(Source: KOFFIA Facebook)
KOFFIA (Korean Film Festival in Australia) is back with the 4th edition of the film festival with the theme 'The Many Faces of Korean Cinema'. It has been visited three cities of the east coast of Australia: Brisbane, Sydney, and Melbourne. This film festival highlights directors, actors, and actresses that bring impact to the modern Korean cinema. It also brings the audiences through the wonder experiences of Hallyuwood with diverse themes of Korean films.
I spoke with the artistic director of KOFFIA, Kieran Tully, who share his thoughts and experiences in KOFFIA.
What is the purpose of doing KOFFIA and why?
Kieran: The purpose of KOFFIA is to bring Korean cinema to a wider audience, by introducing it to the Australian public. The reason for this is we believe the Korean industry produces a wealth of talented filmmakers and strong stories that will no doubt resonate with foreign audiences. Thus, we hope KOFFIA can help enlighten some of the mysteries of Korean film to the Australian public and in turn hopefully develop their interest in Korean culture.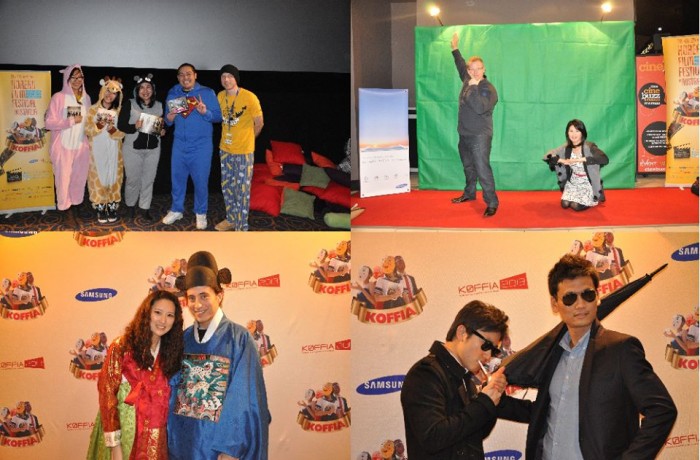 Cultural Events at KOFFIA (Source: KOFFIA Facebook)
What are the programmes that you provided for the audiences during the KOFFIA?
Kieran: We have feature film and short film programs each year at the festival, covering a wide variety of current and classic hits from South Korea, as well as international Korean stories. We also feature a wealth of industry forums, filmmaker Q&As and cultural activities. Examples of these include "Gangster dressup with Oldboy" and "Free Frozen Yoghury couple themed session of Architecture 101". These cultural events are aimed at immersing our audience in the festival experience, and giving them a well-rounded Korean cultural experience. 
KOFFIA has set up a short film competition in the programme. Do you see great opportunities for participants to share their love for Korea through films?
Kieran: Absolutely, our KOFFIA Short Film Competition program is one of the elements of the festival we are most proud of, as it brings the Korean and Australian industries closer together than ever before. Originally only open to Korean-Australian filmmakers, we have opened it up for the last 2 years to any filmmaker based in Australia that wishes to embrace Korea through the medium of film. The films are getting better and better each year as the competition rises, and it has garnered great support from local educational institutions. We hope for even bigger things for the competition in the near future. 
What are the genre of films that you had shown to the Australian audiences?
Kieran: We screen Korean films from nearly every genre possible! This year for instance we have paired our film lineup in 9 themes, which included Indie Thrillers (Pluto and Pieta), family dramedys (Boomerang Family and Miracle in Cell 7), romance (Architecture 101, Whatcha Wearin'?), crime (The Berlin File and Nameless Gangster), period (Masquerade), animation (Approved for Adoption), documentary (9 Muses of Star Empire) and many more. Our theme for this years festival was presenting the "Many Faces of Korean Cinema" to highlight this very fact, that Korean cinema cannot simply be pigeonholed in to one type of film, in fact many of the films cross genres in their own right such as A Werewolf Boy being romance, comedy, drama, fantasy, sci-fi etc.
We have never come across a genre and thought "Oh, that wont work with an Australian audience" and we hope to keep such a diverse lineup in future editions of the festival.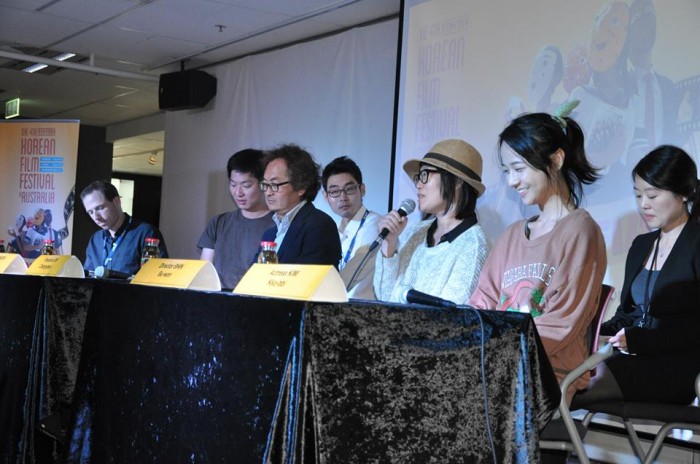 A free discussion forum about 'Thrilling Shorts and Dark Matters' with Actress, Kim Kko Bbi, Director Moon Byoung Gon, Director Shin Su Won, and Producer Lim Chung Geun (Source: KOFFIA Facebook)  
Why have you selected Brisbane, Sydney, and Melbourne as the key locations to hold the KOFFIA in Australia?
Kieran: The festival originated from Sydney, a city known for its multicultural makeup. It is also the home to the largest Korean community in Australia, and for this combination of factors we thought it would be the best place to start the festival. KOFFIA attracts roughly a 25% Korean audience each year, with 75% of attendees identifying as other cultural heritages, such as Australian, Chinese, Indonesian etc. Our promotional materials are often produced in multiple languages, such as English, Korean, Chinese, Japanese, Thai, Vietnamese etc to try and tap in to the wide market of culturals that have become hooked on Korean pop culture, be it film, drama, music or something else.
Melbourne on the other hand while still having avery multicultural makeup, is a city known for its arts and culture enthusiasts. Melbournians have had a much greater connection to Korean film through the likes of Melbourne International Film Festival, and we aim to continue on this progression of representing Korean film.
Brisbane has a slightly different makeup again, with the 2nd largest amount of Koreans living in Australia, but many of those being young working holiday students who find work on the farms of Queensland. Thus, we have tried to cater a program to a more youthful and cult loving audience in Brisbane.
Overall, all states have embraced KOFFIA significantly, and we hope to be able to branch out from the East Coast of Australia in future editions, to get to the likes of Adelaide, Perth and other territories.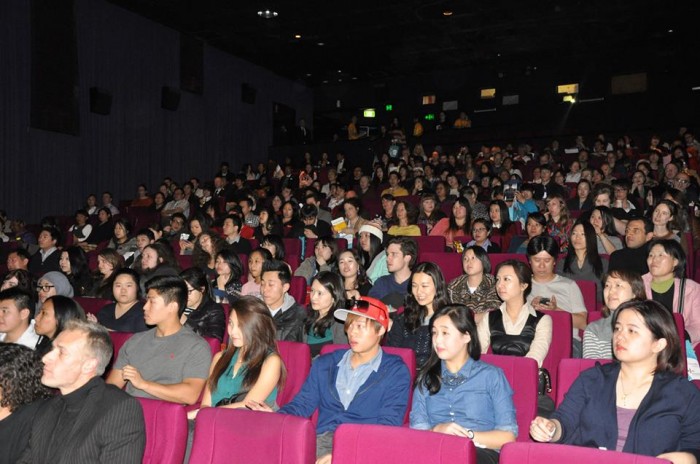 Audiences at KOFFIA (Source: KOFFIA Facebook)
How were the audiences' responses and experiences in KOFFIA?
Kieran: They have been beyond our imagiations! In the 1st edition of KOFFIA, based on surveys and audience feedback, 99% of audiences stated that they would come back to KOFFIA for a 2nd year. Since then, this standard has been maintained, with nearly every film ever screened at the festival receive an average of 4 or 4.5 stars or higher from the audience. It is clear that Australians love Korean film content, and we hope to be able to bring them more and more each year.
Among the programmes and films that are provided to the audiences, what have been the most popular ones so far?
Kieran: There is a big star system in the Korean industry, which often guides audiences decisions as to what film to see. We have experienced this at KOFFIA also, with the likes of The Man From Nowhere (starring Won Bin) and A Werewolf Boy (featuring Song Joongki) selling at record rates. While the highest rated film of the year from audiences has varied across genres, in 2010, it was Kim Ahjoongs 200 Pounds Beauty (a romantic comedy), in 2011 it was Joint Security Area and A Barefoot Dream, in 2012, it was a close tie between Late Blossom and Sunny, while in 2013, the current stand outs are Masquerade and Miracle in Cell 7.
In terms of other cultural events, have your name written in Korean also proves popular as its both fun and educational, while our Hanbok dressup events are the clear popularity winners.
Do you think that Korean films and culture should be given the same limelight as K-pop?
Kieran: Absolutely. We know that K-pop has a more widespread appeal and interest than Korean film, but we are trying to develop the interest and if we can work with those passionate K-pop fans, then that's all for the better. Many people that attend the festival come from an entrance via K-pop or Korean dramas, and hence back to the "Many Faces of Korean Cinema" which sees stars pull in audiences. Korean film does astounding figures locally at the box office and with the such it has achieved at major international film festivals, there is no reason why we should not be trying even harder with trying to get Korean film out to an international audience.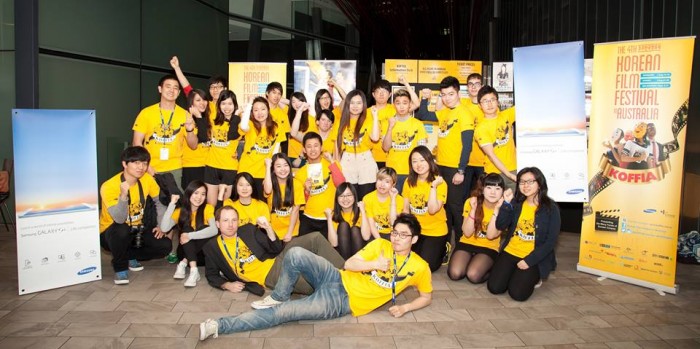 The KOFFIA team (Source: KOFFIA Facebook)
What have you and your team experienced and learned so far from this year's KOFFIA?
Kieran: This year's KOFFIA has indicated to us that Korean films have the power to make you laugh, cry, shriek and giggle all at once. They are full of drama and emotion and that is what makes them accessibly to a wide audience. If we can try to open up audiences preconceived perceptions about certain film genres, then I am sure we could get even more people watching modern vibrant Korean cinema.
SGJG: Any plans for doing South Korean film related activities in Australia?
Kieran; Yes, I also program a very successful weekly Korean film night that is held in Sydney at the Korean Cultural Office. It screens around 45 times per year and presents a range of genres of Korean film, cultural activities, industry forums, themed parties and more. It's a great way to tie people over until the next KOFFIA comes around, and as its free it allows us to attract new audiences more easily. It packs our the KCO nearly every week, and recently celebrated its 100th Korean Film Night in July with My Sassy Girl. Heres to 100 more Cinema on the Parks!
I would like to thank Kieran Tully for taking his time to participate this interview.
So, if you happen to be in Sydney, why not drop by at the Korean Cultural Office, Sydney to watch weekly Korean film nights, which is also know as 'Cinema on the Park'. The weekly film nights are held every Thursday. Visit their website and Facebook page to find out more.
Tags : Australia,Brisbane,Events,Film Festival,KOFFIA,Melbourne,Sydney