Mimi (2014)
Posted on March 20, 2014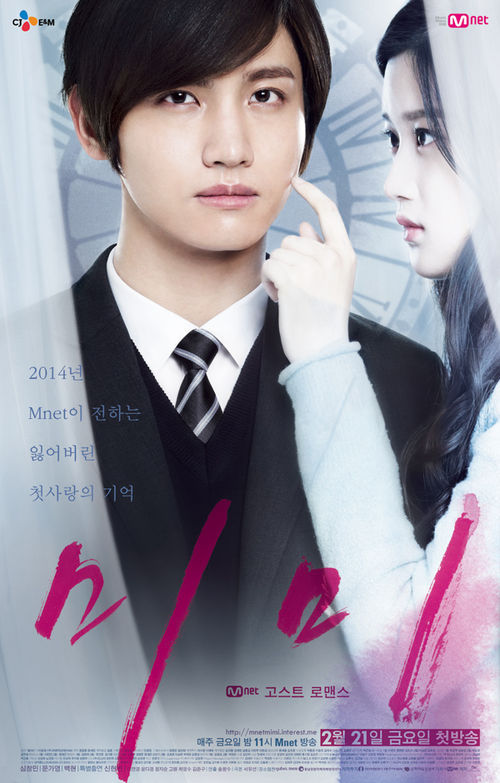 Han Min Woo (Shim Chang Min), a webtoon writer, writes a webcomic titled 'December 8' after he found a memo from his desk calender. Soon, the webcomic becomes very popular and he gets a lot of pressure from work as he has to send it in before deadlines. Due to workload and pressure, he constantly has severe headaches and, sometimes, doubts about his true self. At the same time, he wonders about the memo which led him to find his memories in high school where he met his first love, Mimi (Mun Ka Young). The four episode drama is a remake of the 2007 film, 'M'.
(Source: SMTOWN YouTube)
At first, I thought it will be a very common storyline with so much cliches: meeting first love in high school, forgetting about her, and then the girl died in a car accident. Later, when I start watching Mimi, it was way totally different from my previous thoughts about it.
The narrative is delicate with full of soft emotional impact that touches my heart. There are questions to why Min Woo ended up being so stressful while Mimi looks on. Then, questions are answered as the viewers are brought back to their high school days where they met. One of the scenes which I enjoyed is when Min Woo walks into his own past where he meet the 'high school' Min Woo and Mimi. It leads the viewers in walking into the memory lane while finding the 'treasure'. There were not so much confusions in this drama as the viewers follow along with Min Woo finding his missing past and first love, Mimi while he is given three matches in a box, three chances to see Mimi.
Main characters, Min Woo and Mimi, are simple but light emotions that is classic and meaningful. Honestly, Chang Min fits well in acting in serious and emotional drama. Although his character is quiet and sensitive, which he didn't say quite a lot, his actions and emotions are spot on. His facial expressions, especially his eyes, are portrayed how Min Woo is trapped in his zone with a particular lost memory. In every episode, he did well in developing Min Woo's character. Mun Ka Young portrays the innocent girl next door, Mimi, with simple but delightful expression while having sensitive feelings and worries for Min Woo. She has a bright personality with strong heart full of simple emotions that make you feel impressed with her acting.
The overall filming, in terms of location and lighting, is done wonderfully. The lighting, which are placed on each location, amplifies the type of atmosphere either mysterious, romantic, delightful, or scary. Also, I was impressed with how the cameras were focused in different angles that give certain mood especially the close-ups. The choice of soundtrack suits well with certain scenes including the dramatic piano song that evokes pain of looking into the lost memory. Even with modern technology of filming, the team makes both drama and narrative look classic with breathtaking emotions.
(Source: SMTOWN YouTube)
A four-episode drama didn't make me feel bored while watching it. The narrative is simple, classic, and delightful while it slowly builds up in answering all the questions that Min Woo had wondered. The romance of Min Woo and Mimi is sweet, innocent, and lovely that will brings you light laughter and tears. At the same time, keeping yourself wonder how Min Woo has three chances to see Mimi before she leaves. Mimi is one of the short dramas that you should not miss out because of its simple and classic but strong narrative.
Rating:  8/10
Tags : drama,Mun Ka Young,romance,Shim Chang Min,TV